Read This Before You See Night Teeth
This content was paid for by Netflix and created by Looper.
Get ready to sink your teeth into a bloody good nightlife adventure when "Night Teeth" hits Netflix on Wednesday, October 20. The film follows an unsuspecting college student who moonlights as a chauffeur and bites off way more than he can chew when he has to drive two mysteriously charming women around all of Los Angeles for a night of party-hopping ... and soon finds himself immersed in a dangerous underworld of bloodthirsty creatures. From there, he'll have to grapple with rival vampire covens and a secret war unfolding between these creatures of the night and the protectors of mankind who hope to put them into their coffins for good before sunrise.
This twisty new thriller is bound to get your pulse racing, so before "Night Teeth" arrives to spice up the Halloween season, here's a look at what else you should know about this exciting new movie.
A toothy lineup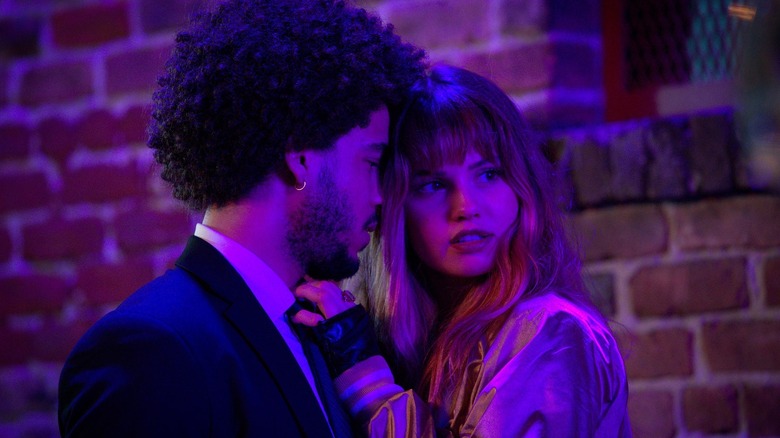 Kat Marcinowski/Netflix
"Night Teeth" features some of the hottest young actors in the game. Leading the cast of this new horror flick is Jorge Lendeborg Jr., who stars as Benny, the student and part-time driver who's inadvertently thrust into a fang-filled world. Lendeborg has appeared in a number of major films recently, playing Jason Ionello in the new "Spider-Man" film franchise, Nick in "Love, Simon," Memo in "Bumblebee," and Tanji in "Alita: Battle Angel." Lendeborg was a must-cast for director Adam Randall and was actually the only name on his list to play Benny. 
The actresses portraying the two vivacious vampires who take Benny for a real ride are Lucy Fry and Debby Ryan. Fry, who plays the deadly Zoe, is perhaps best known for her roles as Marina Oswald in "11.23.63," Eve Thorogood in "Wolf Creek," and Tikka the elf in "Bright." She's also no stranger to the world of vampires, as she previously portrayed Lissa Dragomir in the 2014 adaptation of "Vampire Academy." As for her character in "Night Teeth," Adam Randall has developed an intriguing backstory for Zoe: She initially found herself on the West Coast after escaping the witch trials in Europe and found the freedom of the Wild West to be a perfect paradise for her to roam in. 
Meanwhile, Ryan, who plays the alluring Blaire, is known for her breakout Disney Channel roles of Bailey Pickett ("The Suite Life on Deck") and Jessie Prescott ("Jessie"), along with her turns as Patty Bladell in "Insatiable," Nikki in "Horse Girl," and Holly in "Sing It!" Interestingly, the two actresses were initially set to play each other's roles, as they read for both parts. And both actresses perform a majority of their own stunts and fight scenes in the film. In fact, they were so good at hand-to-hand combat that it inspired the addition of a major fight sequence that wasn't in the script.
A blood bank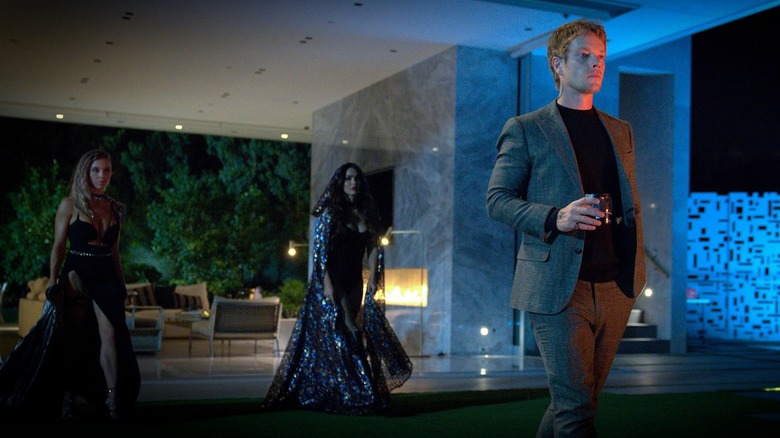 Kat Marcinowski/Netflix
Meanwhile, Alfie Allen stars in the film as Victor, and audiences will no doubt recognize him for his Emmy-nominated role as Theon Greyjoy in "Game of Thrones." Allen is also known for his role as Iosef Tarasov in "John Wick" and as Isaac Pincher in "Harlots." Raúl Castillo stars in the film as Jay, Benny's beloved brother and the leader of the human guard in a clandestine war with the vampire world. Castillo recently starred as Mikey Guzman in Zack Snyder's "Army of the Dead" and is also known for his roles as Felix Osorio in "Seven Seconds," Nick in "Atypical," and Baco in "Vida." Megan Fox stars as Grace, and you may know her for her work in the "Transformers" and "Teenage Mutant Ninja Turtles" franchises, along with her impressive performances in films like "Jennifer's Body" and the television series "New Girl."
The cast is rounded out by Alexander Ludwig as Rocko and Sydney Sweeney as Eva. Ludwig is perhaps best known for his unforgettable roles as Cato in "The Hunger Games" and as Bjorn Lothbrok in TV's "Vikings." Plus, he recently starred as Andrew in the Netflix holiday romance "Operation Christmas Drop" and appears as Ace Spade in the series "Heels." And audiences no doubt recognize Sweeney for her standout work on various TV shows, including her roles as Emaline in "Everything Sucks!," Eden Spencer in "The Handmaid's Tale," Alice in "Sharp Objects," Cassie Howard in "Euphoria," and Olivia Mossbacher in "The White Lotus."
A fang-tastic twist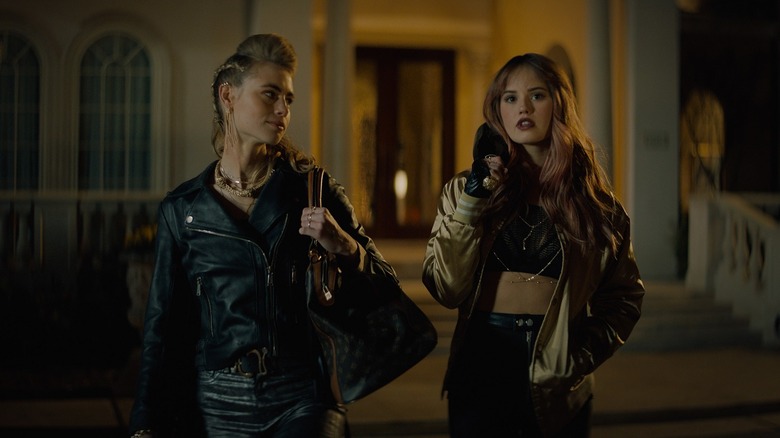 Kat Marcinowski/Netflix
In addition to the exciting on-screen talents, "Night Teeth" also boasts some behind-the-scenes creatives with some very impressive credentials. For example, the film is directed by Adam Randall, from a script by Brent Dillon. Randall has quickly made a name for himself in the thriller genre, thanks to his work behind the lens on films like "Level Up," "iBoy," and "I See You."
Plus, the film is produced by Vincent Gatewood from Unique Features, alongside Ben Pugh and Charlie Morrison of 42 — the production team behind standout Netflix films like "Sand Castle," "In the Shadow of the Moon," and "Outside the Wire," along with the upcoming miniseries "The English Game." Also producing "Night Teeth" is the legendary Robert Shaye — who's been behind some of the all-time greatest horror films like "A Nightmare on Elm Street" and the striking miniseries "The Liberator" — as well as Erica Steinberg, whom you might know for her work as executive producer on Quentin Tarantino films like "Kill Bill," "Death Proof," and "Inglourious Basterds."
In other words, "Night Teeth" is absolutely oozing with talent both in front of and behind the cameras, and the story also features a sharp new twist to the vampire genre. The rivaling vampires of the story are divided by their various ages, rather than familial clans, and it's the oldest vampires who have their own territories to govern and gain wealth from, along with younger vampires who do their bidding. One way to tell the younger vampires apart from their elders is that their fangs are shorter and still growing. This gives some tasty new meaning to the phrase "long in the tooth." All in all, audiences are in for a wild ride indeed when "Night Teeth" arrives on Netflix just in time for All Hallows' Eve.