Mike Myers Wants To Make Another Austin Powers Movie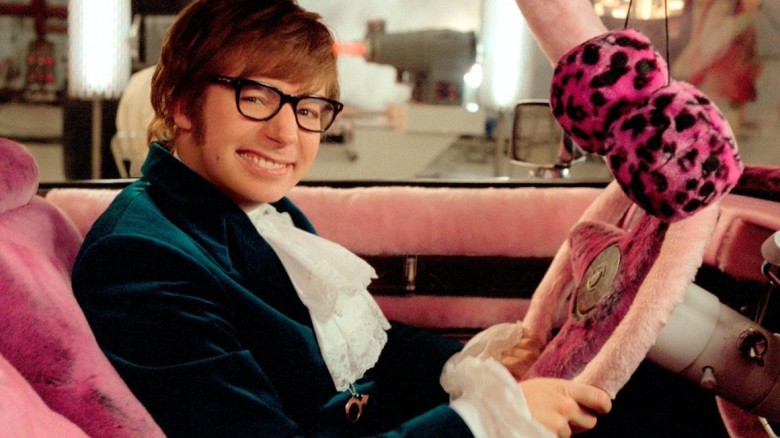 New Line Cinema
Groovy, baby. (Sorry, we couldn't resist.)
Austin Powers: International Man of Mystery just celebrated its 20th anniversary, and in honor of the big milestone, The Hollywood Reporter published a retrospective filled with filmmaking stories, behind-the-scenes set secrets, and plenty of hilarious anecdotes. But it also featured a conversation between creator and star Mike Myers and director Jay Roach, in which Myers revealed he's interested in making another Austin Powers movie.
Roach, who helmed the 1997 original as well as 1999's The Spy Who Shagged Me and 2002's Goldmember, stated that he and the minds behind the shagadelic franchise "have talked about [making a fourth movie] for 15 years." However, Roach explained that Myers would need a clear-cut concept mapped out before they could dive into an additional installment. Otherwise, don't expect the smooth-talking spy to return any time soon.
"We don't want to do [Austin Powers 4] unless we came up with something that lived up to the concepts in our mind. Until Mike feels like he has a concept that earns a fourth, it won't happen. But if it did, we have all agreed that we would be delighted to get back into it."
Myers echoed his sentiments, and said, "I would love to do another, but you just have to see."
It certainly seems the dynamic duo would be more than happy to make a fourth flick, so long as the idea behind it is solid enough to pursue. But it's not as if Austin Powers sequels have performed poorly in the past. Though critics argued whether the second and third films were as charming as the 1997 original, The Spy Who Shagged Me and Goldmember were massive box office successes, raking in $312 million and $296 million, respectively.
Previously, both Myers and Roach have hinted at a possible return to the spy series. In 2005, Entertainment Weekly reported that Myers had said there was "hope" for a fourth film and mentioned he misses "doing the characters." Just last year, in an interview with Larry King, Roach stated, "Mike Myers and I talk about [making another Austin Powers movie] every time we get together. I would say it's in a latent phase right now, but someday if we find the right idea that seems to have it earn itself, for sure [we'd do it]."
While we wait for more information on a possible Austin Powers 4, check out the other films you had no idea were already 20 years old.