The Walking Dead Character You Didn't Know Jeffrey Dean Morgan's Son Played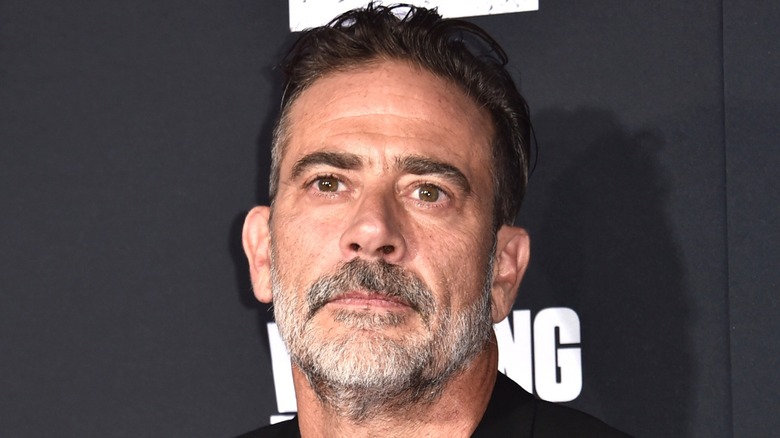 Alberto E. Rodriguez/Getty Images
After years of enduring the zombie-apocalypse on AMC, "The Walking Dead" is finally coming to a close with its final season. It's been a great ride that has given fans some truly memorable characters along the way, but Jeffrey Dean Morgan's Negan is arguably the most iconic villain in the entire series. Season 6 teases Negan's imminent arrival when Rick's group clashes with the Saviors before the man himself finally makes a stunning entrance in the devastating finale.
Negan certainly knows how to make an entrance, choosing to execute Abraham (Michael Cudlitz) and Glenn (Steven Yeun) with his barbed wire baseball bat. It's horrific and heartbreaking to watch, especially when Glenn isn't quite dead and says "I'll find you" to Maggie before Negan carries on beating him. Since then, "The Walking Dead" leads the villain down the path of redemption. Not only does he spend seven years locked up for his numerous crimes, but he saves Judith (Cailey Fleming) in a snowstorm in Season 9, and even gains Alpha's (Samantha Morton) trust as a Whisperer before killing her in Season 10.
It says a lot about Jeffrey Dean Morgan's performance that he manages to sway some fans over with Negan's storyline. It was also great to see his backstory fleshed out in Season 10, Episode 22, "Here's Negan" — which explains who the character was pre-apocalypse. It even introduces Morgan's real partner, Hilarie Burton-Morgan, as Negan's wife Lucille. Jeffrey Dean Morgan's son, Augustus, also stars as a surprising character in "The Walking Dead" Season 11.
Augustus Morgan vs. Alexandria teenagers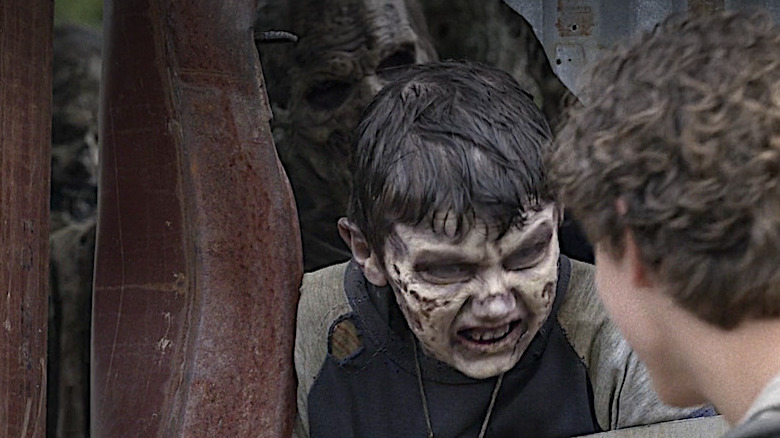 AMC
Augustus "Gus" Morgan made his debut on "The Walking Dead" in Season 11, Episode 5, "Out of the Ashes" as a young Walker who the teenagers in Alexandria are taunting. He appears through a hole in the huge fences protecting the community, and the teens keep offering their arms to him before snatching them away — it's a pretty dangerous game. The "Talking Dead" Twitter account also shared the clip online, including the moment that Judith tells the older teenagers to stop playing.
Jeffrey Dean Morgan took to Instagram to show off photos of Gus on set wearing the full zombie make-up for the series as well as a time-lapse of the make-up artists turning his son into one of the undead. The star wrote in the caption "My dude. Me, @hilarieburton and George "THATS MY BOY!! We are super proud of Gusy Dean." He also added, "Thanks to @amcthewalkingdead and @gnicotero for making a dream come true... a damn hoot!"
It's a shame the star didn't get to share an extensive scene with his son, but it's still cool that the AMC series found a way to get Gus in on the action.