What Is AHS Ensemble Actress Jessica Lange Doing Now?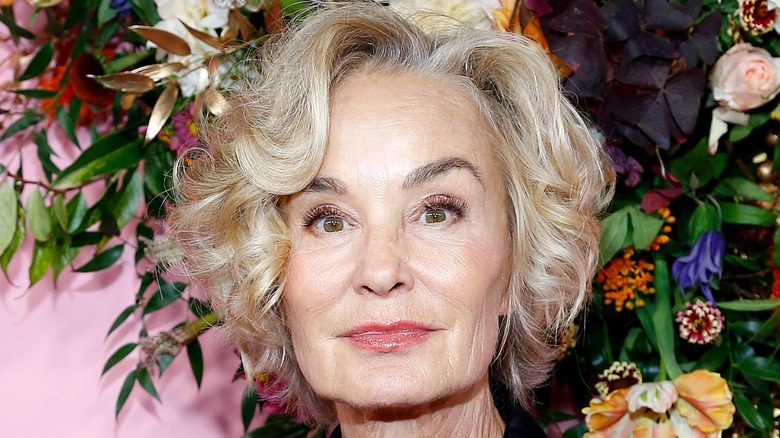 John Lamparski/Getty Images
Jessica Lange starred in the first four seasons of "American Horror Story," but left the successful anthology series after "AHS: Freak Show." Lange returned for Season 8 "Apocalypse" to reprise her Season 1 "Murder House" role as Constance Langdon, but that's the last we've seen of her.
Before playing the "American Horror Story" characters Constance, Sister Jude ("Asylum"), Fiona Goode ("Coven"), and Elsa Mars ("Freak Show"), Lange had a long and successful career as a film actress. After starring in remakes of "King Kong" and "The Postman Always Rings Twice," Lange earned two Oscar nominations in 1982. She brought home a gold statue for Best Actress in a Supporting Role for the gender-bending comedy "Tootsie," and received a best actress nod for the movie "Frances." Lange worked steadily for the next two decades. She earned her third Oscar nomination for playing a woman struggling to save her farm in 1984's "Country," and her fourth for playing country music legend Patsy Cline in "Sweet Dreams." She won her second Oscar for her role as an emotionally volatile and promiscuous military wife in 1994's "Blue Sky." 
The point is: Jessica Lange isn't one to just rest on her laurels.
Lange's decision to collaborate with Ryan Murphy proved to be a mutually beneficial one. Murphy had a marquee name (the development deal to match it), and Lange's roles in "American Horror Story" brought her back-to-back Emmy nominations from 2012-2015, winning in 2012 and 2014 for Lead Actress in a Movie or Miniseries. When she left "AHS," she left on top. Here's what she's doing now with all that talent and acclaim.
Lange is attached to several high-profile projects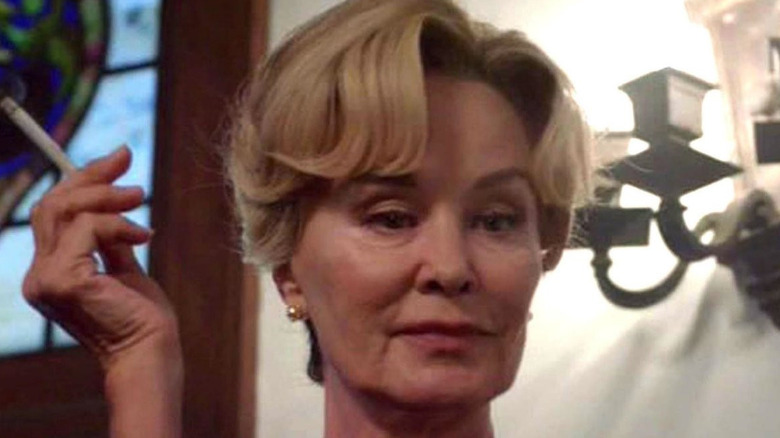 FX
Although Lange stepped away from "American Horror Story," she continued to work with Murphy. Lange starred as the legendary Hollywood actress Joan Crawford in Murphy's limited series "Feud: Joan and Bette." The show chronicled the off-screen antics of long-time rivals Crawford and Bette Davis (played by Susan Sarandon) during the filming of "What Ever Happened to Baby Jane?" Lange also appeared in Season 1 of Murphy's Netflix series "The Politician."
In 2019, IndieWire reported that Murphy and Lange were developing a project about Marlene Dietrich set in 1960s Las Vegas, but there have been no recent updates. Fans of "AHS: Freak Show" know that Lange's Elsa Mars was obsessed with the screen legend. In August, Deadline announced Lange is attached to director Francis Coppola's "Megalopolis." That film is still in the early stages of development, and Lange is not confirmed to star in the big-budget epic. If Jessica Lange does sign on, Coppola hopes to begin filming sometime in fall 2022.
After Lange's triumphant "American Horror Story" Season 8 return, fans hoped they'd see the 72-year-old actress in future installments, but it seems unlikely. "I did this because it was recreating Constance, which was — for me, it was a very important time when I did that first season, 'Murder House.' But I don't think I would want to start from scratch and create a character," Lange told The Wrap in 2019.
Seems like she's got her eye on different cinematic adventures.