Netflix's League Of Legends: Arcane Just Revealed Its Star-Studded Cast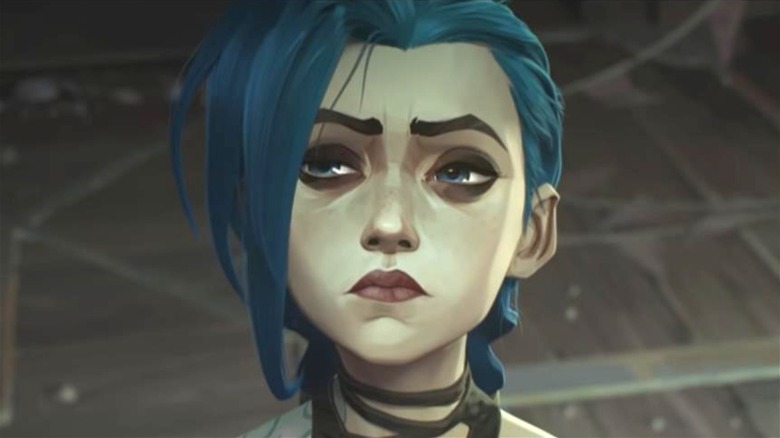 Netflix
Before "League of Legends" became a household name, "Warcraft 3" mod "Defense of the Ancients" and "Dota" set the groundwork for what would become the multiplayer online battle arena (MOBA) genre. "Dota 2" is now perhaps the closest direct competitor to "League of Legends," and it likewise served as the source material for the Netflix animated series "Dota: Dragon's Blood," which was enough of a success that it's coming back for a second season on a date that has yet to be announced.
Netflix will soon become home to an animated series based on "League of Legends" titled "Arcane." The streaming giant first showcased what its "League of Legends" show will look like in a short teaser trailer released in May 2021. Whereas the visual appearance of the "Dota" series is inspired by Japanese anime, "Arcane" more closely resembles "LoL" developer Riot Games' key art for its playable characters, called Champions.
On September 21, Netflix detailed the cast of "Arcane" for the first time in a series of tweets shared to its Netflix Geeked account, revealing that the series will feature some big voice acting talent behind its animated heroes.
The legends behind the legends
Leading Netflix's cast announcement for "League of Legends: Arcane" is Hailee Steinfeld as Vi. Steinfeld's acting career includes an Oscar nomination for her performance in "True Grit" at just 13 years-old, in addition to the titular role in the upcoming Disney+ series "Hawkeye." Vi, meanwhile, is an existing Champion in the "League of Legends" universe whose fighting style revolves around using two large metal gauntlets as weapons. She'll be joined by Ella Purnell, who recently starred in Netflix's "Army of the Dead," as Jinx, another champion that has long been a part of "League of Legends" canon.
The rest of the "Arcane" cast announced thus far includes Kevin Alejandro as Jayce, Jason Spisak as Silco, Katie Leung as Caitlyn, Toks Olagundoye as Mel, JB Blanc as Vander, and Harry Lloyd as Viktor. Jayce, Caitlyn, and Viktor are all existing Champions playable in "League of Legends." Silco, Mel, and Vander, meanwhile, are characters that will be newly introduced upon the premiere of "Arcane."
For fans of "League of Legends" hoping for additional details about "Arcane," Netflix's recent Twitter thread also promised the debut of a full trailer on September 25.