DOTA: Dragon's Blood Season 2 - What We Know So Far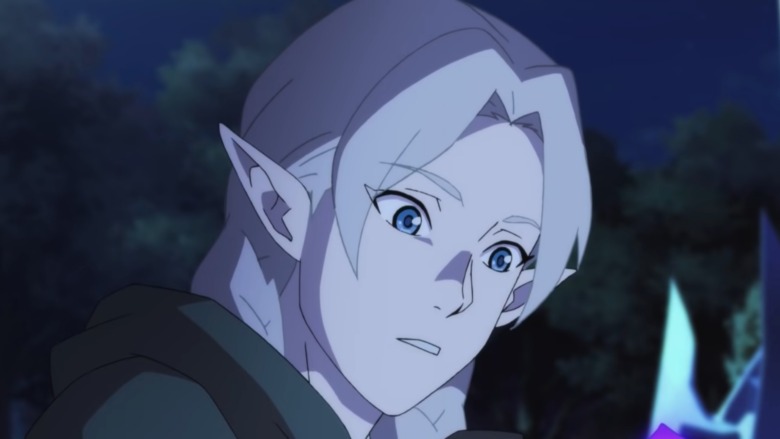 Netflix
Adapting video games into movies and TV shows is a risky proposition that can easily backfire, but shows like Castlevania and DOTA: Dragon's Blood have defied the odds. Not only did they bring beloved titles to Netflix, but they proved successful enough to warrant multiple seasons. Yes, DOTA 2's Twitter account just confirmed that a second season is already in development. The announcement is a welcome one, since we also recently learned that Castlevania's upcoming season will be its last. Nature abhors a vacuum, so when one king falls, another must appear to claim the crown.
While you could spend your time waiting for the next season of Dragon's Blood by playing DOTA 2, that isn't going to solve the nagging questions of who will star in the upcoming season, when you can watch the season, and what new plot twists to expect. Those are all good questions, and we will do our best to answer them. Here's everything we know so far about Season 2 of DOTA: Dragon's Blood.
Who will star in DOTA: Dragon's Blood Season 2?
According to the DOTA 2 Twitter page, DOTA: Dragon's Blood Season 2 is currently "in the works," so it's too early to tell who or what will show up. However, since the first season ended on multiple cliffhangers, it's safe to assume many characters who starred in the first season — such as Invoker, Terrorblade, and Davion — will line up for round two. Odds are, they will be played by the same voice actors: Troy Baker, Yuri Lowenthal, and JB Blanc. 
Moreover, the Twitter account of Studio Mir, the company that drew Dragon's Blood Season 1, posted character study images of side players Gwanwyn, Captain Frühling, Drysi, and the Shopkeeper, which might imply they will return for another season. But what about new characters? Fans no doubt want to know about any potential additions who derive from the source material's roster of playable heroes?
Shortly before the DOTA 2 Twitter page broke the news about Dragon's Blood Season 2, the Netflix Geeked Twitter account beat them to the punch with a picture of two characters lounging next to a wall. The one on the right is a man with silver hair (an anime staple), and on the left is, um, a bipedal muskrat? In all seriousness, though, the latter character bears more than a passing resemblance to Brewmaster, but for all we know they are just members of the same race. Moreover, since that account posted only one still screenshot, we don't even know whether these characters will play an important role or not.
When will DOTA: Dragon's Blood Season 2 be released?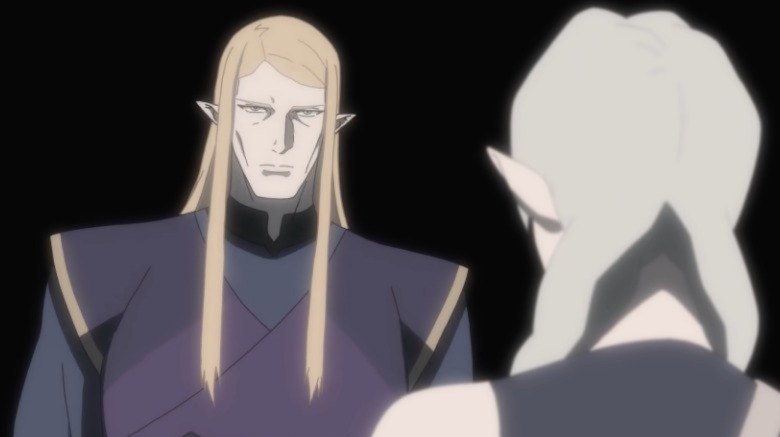 Netflix
Because DOTA: Dragon's Blood's second season was just announced with a Twitter message, we can't really guess when the season will be ready. Since all we really have to go on is that artwork from Netflix Geeked, we can only say that development is substantially underway.
When DOTA: Dragon's Blood was publicly announced, audiences had to wait a month for the eight-episode first season. But that announcement featured a trailer to hype the show, as well as a firm release date. Since a Season 2 trailer has yet to appear online, it's anyone's guess when the next few episodes will drop, and anyone has indeed guessed.
Several commenters who responded to the initial announcement have speculated the trailer will grace the annual DOTA esports tournament, The International (TI), which is scheduled for August. A good assumption, but since audiences had to wait one month after the first DOTA: Dragon's Blood trailer for the show to actually premiere, odds are the same will also apply to Season 2. Fingers crossed for a September release.
What is the plot of DOTA: Dragon's Blood Season 2?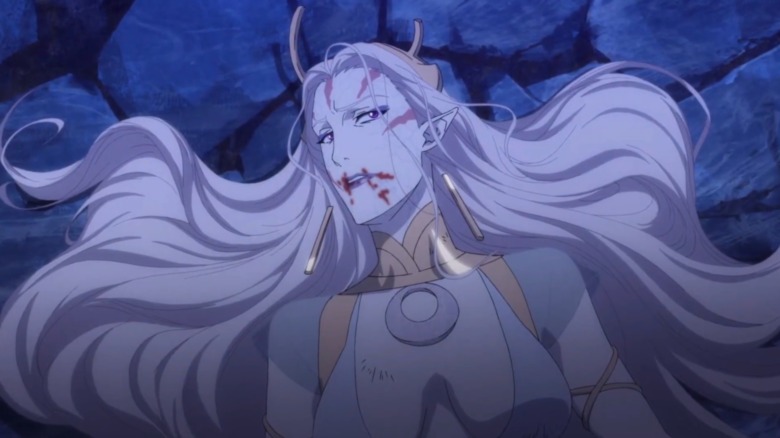 Netflix
Season 1 spoilers ahead: When we last left DOTA: Dragon's Blood, the show left audiences on several cliffhangers. Invoker's 1,000-year revenge plot against the goddess Selemene (Alix Wilton Regan) bore bloody fruit, and Terrorblade was well on his way to acquiring more Eldwurm souls. On the protagonist side, Davion was restored to human form after going berserk, but he still had an Eldwurm inside him, which could reemerge at any second. So while the upcoming season's plot is a mystery, it could go in several different directions.
With Selemene left in a helpless state, Invoker could kill her, but he could just as easily seize her power for himself. Moreover, without Selemene, what will happen to her Dark Moon Order? As for Terrorblade and Davion, they will eventually come into conflict since Terrorblade wants all the Eldwurm souls for himself, and one currently resides within Davion. However, one of the show's writers, Ashley Miller, revealed during an interview that he wants to produce several more seasons, so maybe that confrontation will be pocketed for a third or even fourth season. You can't properly end an action cartoon without a climactic battle.
Don't expect to learn any crucial plot-relevant facts about Season 2 until the trailer hits, hopefully this summer.