Centaurworld Season 2 - What We Know So Far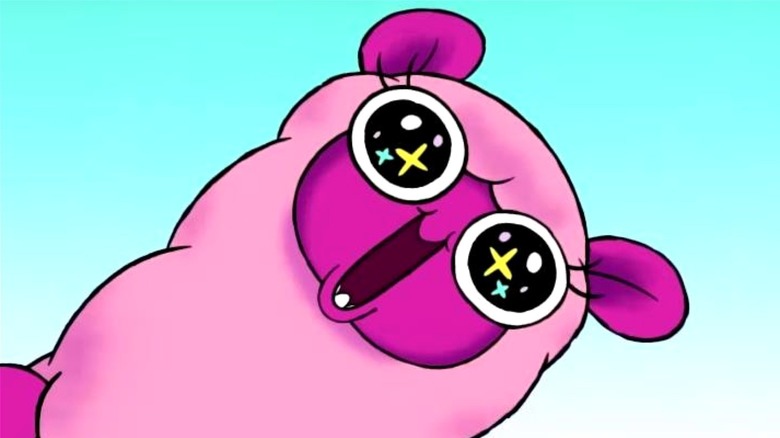 Netflix
If you haven't seen "Centaurworld," it can be a little hard to describe. The short version is that it's a whimsical, 10-episode musical with surprisingly adult themes and dark undertones, which makes it one (of several) of Netflix's most intriguing new releases. The long version: it's about a warhorse who becomes unstuck in the multiverse (played by the versatile and talented Kimiko Glenn) and finds herself trapped in a Dr. Seuss-ish hellscape defined both by its lollipop-and-gumdrop aesthetics and its mysteriously macabre denizens — almost all of whom are centaurs.
The warhorse, appropriately named Horse, teams up with an alpaca, giraffe, zebra, finch, gazelle, ficus tree, and hippopotamus (all centaurs, by the way) to navigate this new world and return to her own universe. Along the way, though, they're waylaid by talking leaves, aloof mermen, narcissistic tigers, judicial moles, and legitimately heartbreaking themes, accompanied by incomprehensible forces of darkness.
It's a unique blend of absurdism and somberness, and Season 1's unanswered questions have fans curious about the show's future. Will it continue to balance those themes, or will it fully embrace the dark turn that made the first season such a standout in Netflix's animated lineup?
When will Centaurworld Season 2 come out?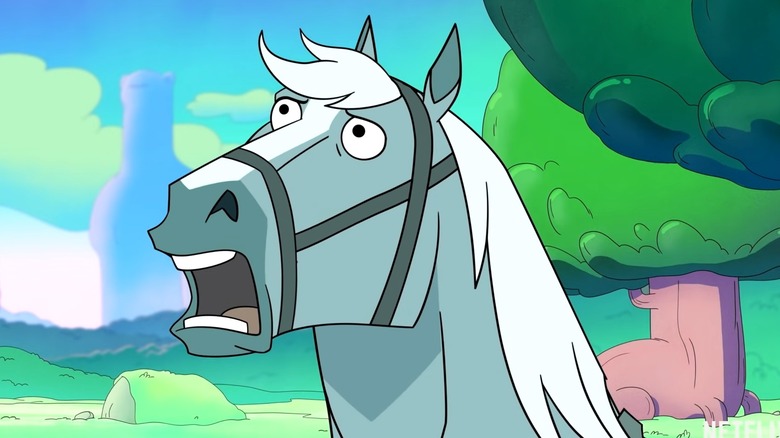 Netflix
Netflix has been pretty tight-lipped about the future of "Centaurworld," but according to a September 2019 press release, the streaming giant originally committed to 20 episodes. Only 10 of those episodes have been released so far, so even though Netflix hasn't yet announced a second season, it's almost certainly on their production schedule. So if it's not a question of "if," it's a question of "when" — when, that is, can viewers expect to see those remaining 10 episodes?
There have been no formal announcements by anyone from the show's staff, cast, or production companies, but we can do some back-of-the-napkin math and guesstimate a release. First: Netflix originally announced the show on September 3rd, 2019. Second: the first season of "Centaurworld" was later released on July 30th, 2021. For those keeping score at home, that's a whopping 23 months of production — but fans almost certainly won't have to wait that long for Season 2. With an existing 10 episodes to build upon — and an incumbent cast of actors, writers, and animators — our best guess for "Centaurworld" Season 2 to release is sometime mid-2022.
Who will be in Centaurworld Season 2?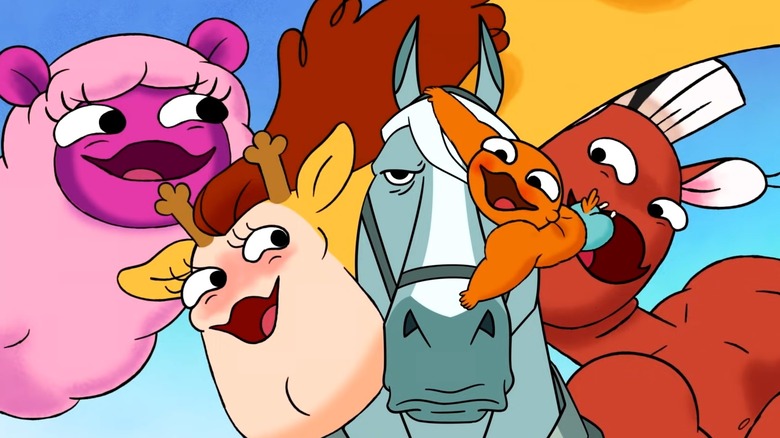 Netflix
One of Season 1's defining hallmarks was the voice and musical talent assembled for the cast. Actress Kimiko Glenn was joined by musical star Megan Hilty (Wammawink), actors Parvesh Cheena (Zulius), Chris Diamantopoulos (Ched), Josh Radnor (Durpleton), and showrunner Megan Nicole Dong (Glendale).
Netflix has not yet confirmed the return of any of these cast members, but together, they represented the show's core ensemble of characters. And — barring any significant creative differences or contract disputes — the plot of "Centaurworld" demands that they all return in prominent roles (especially Dong as Glendale since she, you know, literally runs the show). Also — if the cliffhanger ending of Season 1 is any indicator — supporting cast members like actresses Jessie Mueller (Rider), Renée Elise Goldsberry (Waterbaby), and Lea Salonga (the Mysterious Woman) will return to play important parts in the ongoing story.
But outside of the usual suspects from Season 1, it's really anyone's guess about who else might appear. At this point in time, Netflix hasn't yet made mention of any new characters or cast members for future episodes.
What will happen in Centaurworld Season 2?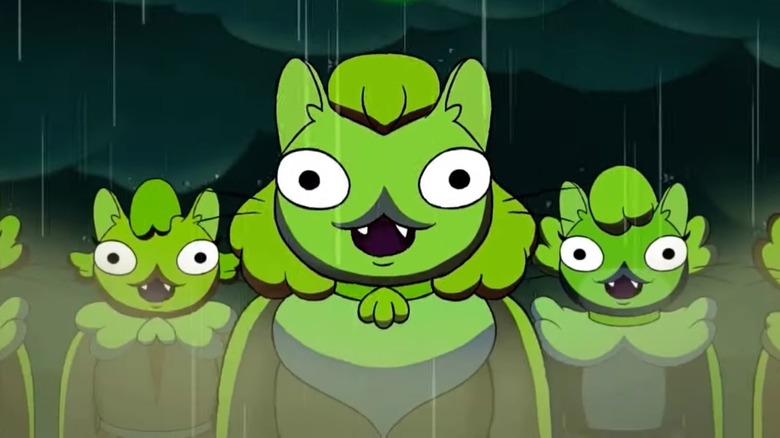 Netflix
The first season of "Centaurworld" was packed full of singing and dancing, jokes and banter ... and horrifying eldritch nightmares. What does showrunner Megan Nicole Dong have planned for the next 10 episodes?
Back in July, she sat down with Collider critic Rafael Motamayor and discussed the development of "Centaurworld"  Season 1. For nearly 20 minutes, the duo explored the show's influences, themes, character designs, and more — but before the interview wrapped up, Motamayor asked where Dong's creative sensibilities might lead the show in the future.
"I think after establishing this world [in Season 1]," Dong replied, "I would love to kind of take it to different places, kind of meet different centaurs, different communities that we haven't met yet, and kind of areas that we haven't explored. But also, I really want to show more of the lore and the backstory. [...] Why there's so much darkness in addition to all the absurdity of the show. So kind of exploring more of the history of it is something that I'd love to do."
As previously mentioned, there's no official release date, as of yet, but keep a lookout for more "Centaurworld" news over the coming months.