The Surprising Guest Star Ike Barinholtz Couldn't Get On Chicago Party Aunt - Exclusive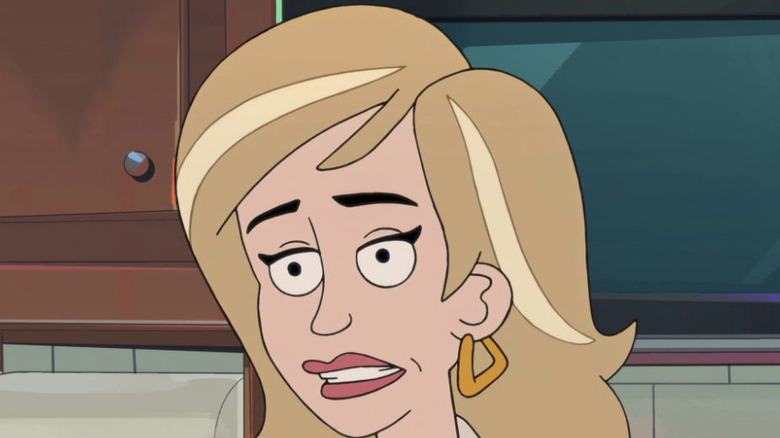 Netflix
Netflix's new animated series "Chicago Party Aunt" is a love letter to Chicago — and the '80s. While it may take place in modern Chicago, tell that to the series' main character Diane Dunbrowski (Lauren Ash). Given its deep Chicago roots, which fans may have surmised by the title, it's only fitting that the show's creators were hell-bent on getting some iconic Chicago natives to lend their voices to the show. 
The music, arts, and sports scenes are all vibrant fixtures of the city, offering ample directions to choose cameo talent. However, you win some, and you lose some. While "Chicago Party Aunt" nabbed the band, Styx, they weren't able to get another top choice Chicagoan to grace the screen.
During an exclusive interview with Looper, "Chicago Party Aunt" executive producer and Mark actor Ike Barinholtz deep dished on the one Chicago staple the series failed to nab and how that Styx scene happened. 
The iron bear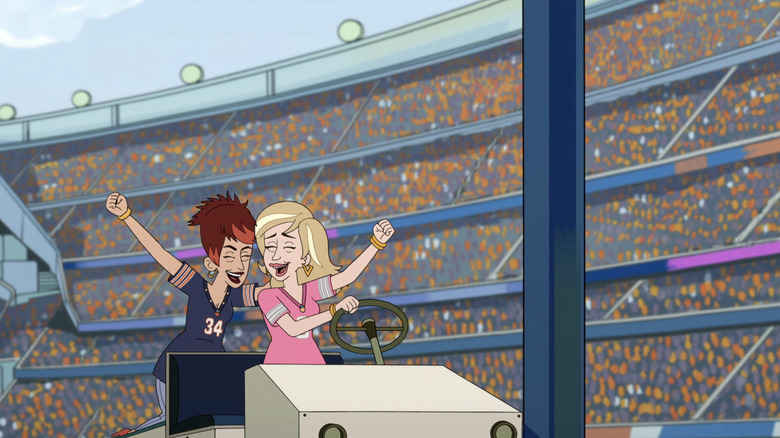 Netflix
On if the show wanted to get anyone to guest star that didn't work out, Barinholtz said, " That's a good question. Let me see, let me see. I'm pretty sure we reached out to Mike Ditka, and I don't think we heard back, which I think Mike doesn't do this kind of stuff." He added, "He doesn't. He was definitely someone that we would love to have on the show at some point. I think he's kind of the big one."
For anyone who needs a Chicago sports refresher, "Iron Mike" Ditka played for the Chicago Bears from 1961 to 1966, and he became head coach for the team for a decade in 1982. He was also the first tight end to make it into the Pro Football Hall of Fame. So, he's kind of a big deal in Chicago.
"We were really lucky with not just our main cast, but with our guest stars," Barinholtz noted. "They really got some just great people, especially in kind of Season 2. We just break into like some really, really, really fun names of some of our cool, famous friends. So we've been really lucky. But Ditka. We're coming for you, Mike." Anyone friends with Mike Ditka?
Styx and stones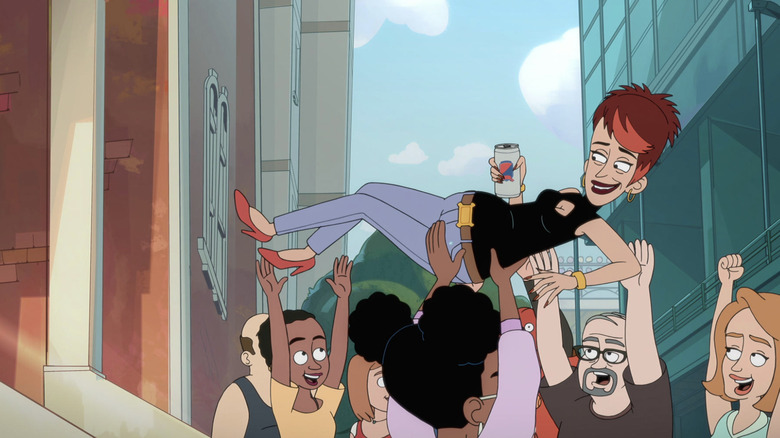 Netflix
On the Styx party scene and how involved the band was, Barinholtz said, "That's another thing that probably was the biggest source of conversation in the room, was just which Chicago-originated celebrities will be on the show. And I think if you're someone of a certain age and you spend your whole life in Chicago, Styx is maybe as important as the Beatles or the Rolling Stones. They are, they are Chicago or Chicago, but a little bit downstate."
He added, "Cheap Trick is from Rockford, I think. All of this to say, yeah, [...] I think [Styx] did do their own voices. I can't remember, but I do remember at one point reaching out to a friend. I texted one of the producers, 'Let me reach out to my friend who's buddies with Dennis DeYoung.' And the producer wrote back, 'That's awesome.' So, yeah, but them and Andy Richter and there's just ... We really just got some super fun Chicago-y folks to come on board."
Barinholtz recalled some other bands tossed around to appear: "Yeah, Cheap Trick. That came up a lot. There was lots of talk of Van Halen. It's that very specific sound of just every single bar in Chicago playing one of those songs from 1980 to 1993. Poison, a lot of Poison. Yeah. So that's definitely Diane's band."
Fans can now binge the first eight episodes of "Chicago Party Aunt" on Netflix.