Eraser: Reborn - What We Know So Far
JC Olivera/Getty Images
Where the films of Arnold Schwarzenegger are concerned, there is a clear hierarchy at play. For example, one is more likely to revisit "Terminator 2: Judgment Day" or "Kindergarten Cop" than, say, "Batman & Robin" or "End of Days." The 1996 Chuck Russell-helmed action flick "Eraser" probably falls somewhere in the middle, though it probably lands closer to the classics in the pecking order. Although critics were mixed on the film (via Rotten Tomatoes), "Eraser" clearly made a connection with audiences; per Box Office Mojo, it raked in over $242 million at the worldwide box office.
So, it should come as no surprise that Warner Bros. has returned to the "Eraser" well. As reported by Deadline, a reboot of the Schwarzenegger original — aptly titled "Eraser: Reborn" — was shot under the radar over the summer and is currently in post-production. Per the report, "Eraser: Reborn" was directed by John Pogue, who has helmed such projects as the 2014 supernatural thriller "The Quiet Ones," and also wrote "U.S. Marshals," "The Skulls," and 2002's "Rollerball." Producers on "Eraser: Reborn" are Hunt Lowry ("The Last of the Mohicans") and Patty Reed ("Deep Blue Sea 3"). The script was penned by Michael D. Weiss ("Hostel: Part III," "The Butterfly Effect 2").
Here are all the other details we know so far.
What is the release date of Eraser: Reborn?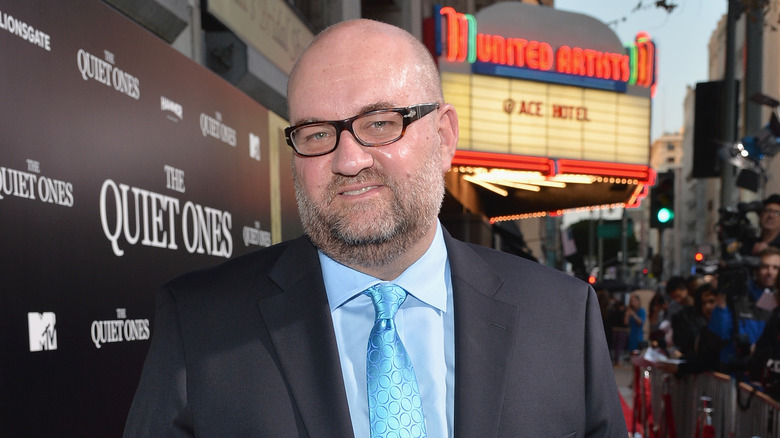 Alberto E. Rodriguez/Getty Images
Given that "Eraser: Reborn" is already in the post-production phase following its low-key shoot, it would stand to reason that audiences will be able to see the action flick sooner rather than later. According to Deadline's September report, this appears to be the case. Per the outlet, the "Eraser" reboot is currently on track for release in spring 2022. This is the earliest potential date, and there is always the possibility that the movie could hit a release delay. Intriguingly, if "Eraser: Reborn" does hit that spring 2022 release date, it will arrive nearly 26 years after the June 1996 premiere of the original "Eraser."
Details on the release strategy for "Eraser: Reborn" were also revealed in Deadline's report. It is the outlet's understanding the Warner Bros. movie was made for Warner Bros. Home Entertainment, not HBO Max. That may suggest this new feature will show up on some other streamer, as well as on-demand and other home release options. However, there has been no word about a theatrical release, so it is unclear if this pic will ever head to your local cineplex.
Who is in the cast of Eraser: Reborn?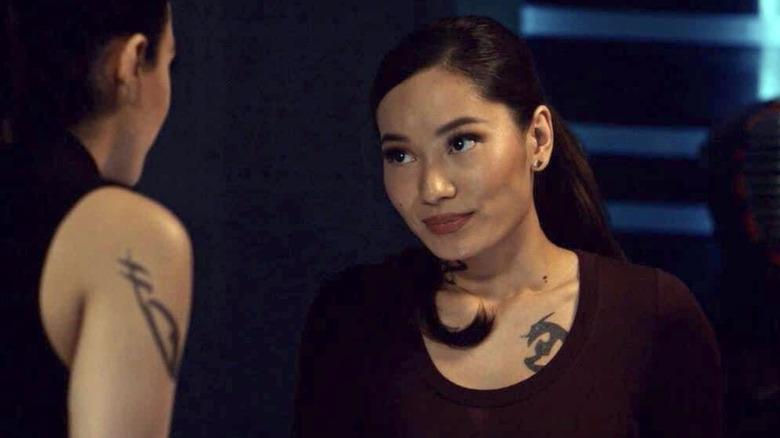 Freeform
Arnold Schwarzenegger doesn't appear to be making a return for this "Eraser" reboot, but the film does feature a cast of young stars that should draw in audiences, particularly those belonging to fans of the Freeform series "Shadowhunters." "Eraser: Reborn" stars "Shadowhunters" alum Dominic Sherwood as U.S. Marshal Mason Pollard, who fakes the deaths of high-profile witnesses to ensure their safety. Based on Deadline's reporting, it's unclear if Mason has any connection to Schwarzenegger's character, John Kruger.
Joining Sherwood is his "Shadowhunters" co-star Jacky Lai, who joined "Shadowhunters" during Season 3 to play the role of Aline Penhallow (via IMDb). The "Eraser: Reborn" cast also includes McKinley Belcher III (via IMDb), who played Samuel Diggs in the PBS series "Mercy Street." Belcher also starred as Anthony Carter in the Fox series "The Passage" and played Agent Trevor Evans in Netflix's acclaimed crime thriller "Ozark." Finally, Eddie Ramos was announced as a cast member. Per his IMDb profile, he is perhaps best known for his work as gang member Tupi on the TNT series "Animal Kingdom." No details about the characters these three actors play in "Eraser: Reborn" were revealed by Deadline.
What is the plot of Eraser: Reborn?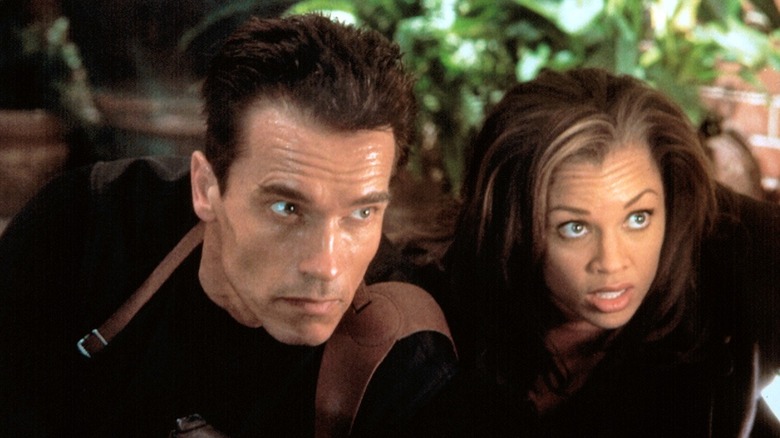 Warner Bros.
As of September 2021, precious few details are known about the exact plot of "Eraser: Reborn." For now, we only have this excerpt from the Deadline report: "The film follows U.S. Marshal Mason Pollard, who specializes in engineering the fake deaths of witnesses that need to leave no trace of their existence." Details for "Eraser: Reborn," including any possible ties to the 1996 movie, will likely be revealed in a trailer, which should arrive in the next few months.
That said, the original film may offer clues about where the reboot could go. In "Eraser," John Kruger (Arnold Schwarzenegger) is a U.S. Marshal who works with the Witness Security Protection Program (WITSEC). Like Mason Pollard (Dominic Sherwood), it's Kruger's job to "erase" witnesses, meaning he fakes their deaths to protect them from those who wish to silence them before trial. On one particular mission, Kruger must erase Lee Cullen (Vanessa Williams), who discovers and later copies evidence that her employer, a defense contractor known as the Cyrez Corporation, is secretly producing an electromagnetic rifle for distribution on the black market. During the film, Kruger attempts to protect Cullen, only to discover that government agents and some of his oldest allies are involved in the conspiracy.