The Unexpected Way Adam Driver Got Involved At The 2021 Emmys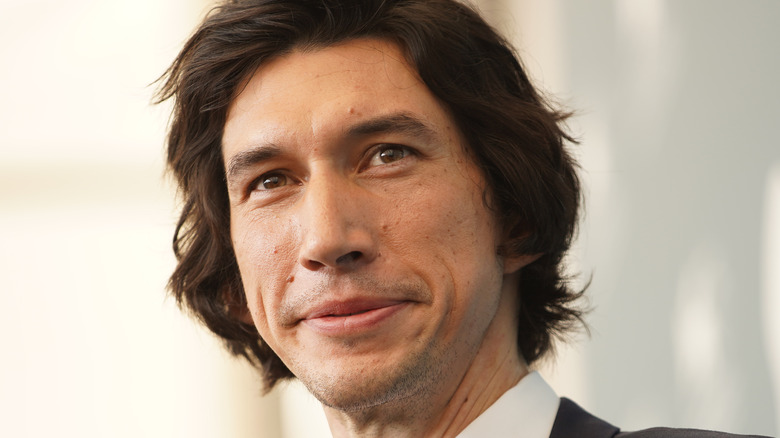 Denis Makarenko/Shutterstock
Adam Driver got his start on television, and earned numerous fans years before he became a "Star Wars" bad guy, so it's probably not a huge surprise that his name popped up during the 2021 telecast of the Emmy Awards. However, the way it happened was quite unexpected — because Driver wasn't mentioned for his breakthrough role on HBO's "Girls," or even for his memorable skits on "Saturday Night Live," but rather, in relation to a long-running joke by John Oliver.
During the Emmys, Oliver's late night show "Last Week Tonight" took home the award for outstanding writing for a variety series, and as the writing team went up to the stage, writer Chrissy Shackelford dedicated her win to the real Kylo Ren himself, proclaiming "Finally, we would like to dedicate this award to Adam Driver. He knows what he did, and we know what we'd like him to do."
What's the reason for this namedrop, though? While frequent viewers of "Last Week Tonight" are probably still laughing — the actor's namedrop is, if anything, a show of loyalty to the fans who've stuck with the program so long — other Emmy viewers were likely left scratching their heads.
John Oliver has been ribbing Adam Driver for a long time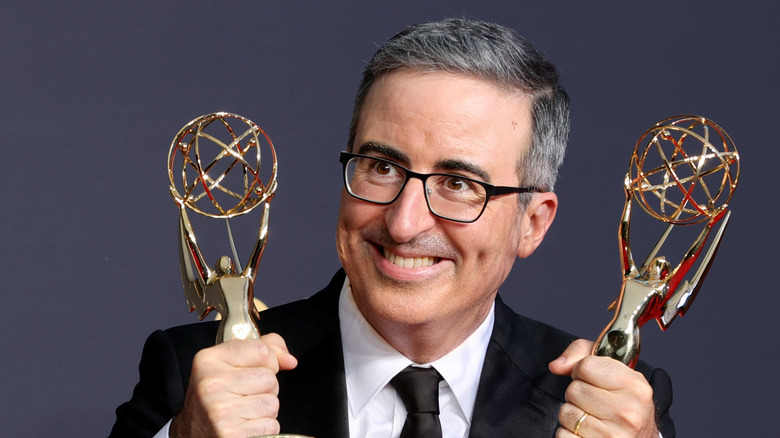 Rich Fury/Getty Images
As it happens, John Oliver has spent a long time peppering episodes of "Last Week Tonight" with references to a crush on Adam Driver, first going back to a February 2020 episode (via Mashable), with these references escalating in inappropriateness and frequency throughout the season. These requests from Oliver have included demands that Driver sneeze in Oliver's McFlurry, crush his ribcage, step on his throat, or slap a restraining order on him, to name a few. These jokes (or are they?) culminated with a cameo appearance from Driver himself, via Skype, in which he chided Oliver for his "obsession."
And now, he's been thanked on the Emmys, and it all comes full circle. 
According to an interview on "Late Night With Seth Meyers," recapped by The Hollywood Reporter, the running joke sprang from the fact that the first time it was used, it received "real resistance" from the show's audience. "It felt like only 40 percent enjoyed it. So we did it as a callback a few weeks later and they weren't really happy to have it back. So, at that point, it became something of an obsession in our staff," Oliver explained.
Now that the joke has escalated all the way to the Emmys, what comes next? Only John Oliver and the writers of "Last Week Tonight" know for sure.