The Real Reason Adam Driver Walked Out Of This Interview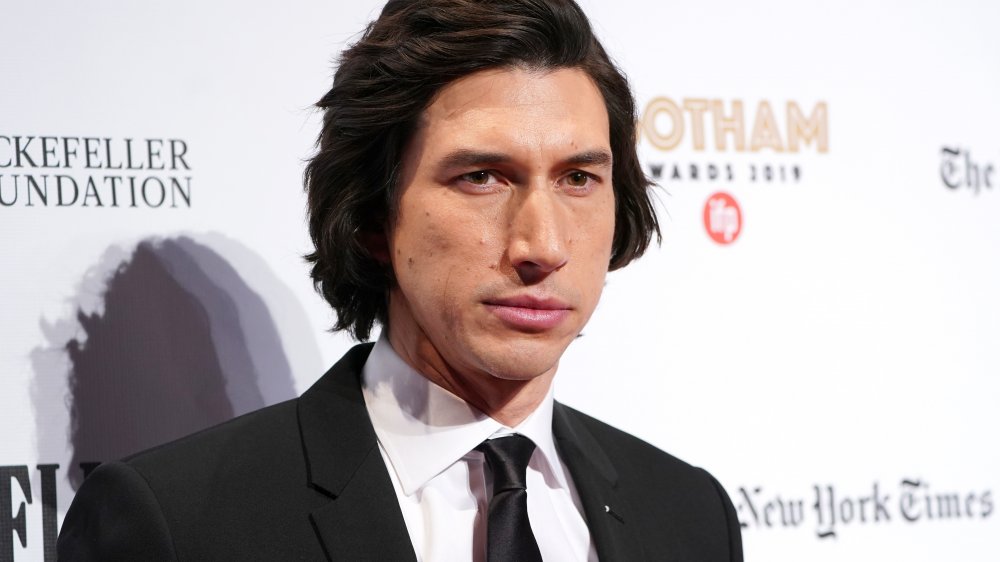 Jemal Countess/Getty Images
Adam Driver will do anything for his roles... but he won't do that.
During a recent interview with NPR anchor Terry Gross on her signature show Fresh Air, Driver walked out of his end of the discussion when Gross played a clip from his new film Marriage Story. As reported by The Daily Beast, the Rise of Skywalker star really didn't want to listen to himself sing Stephen Sondheim's "Being Alive" — a showstopper from the musical Company, which factors into Marriage Story — and left the NPR studios in New York in the middle of the interview. (Gross records her Fresh Air appearances in Philadelphia.)
At a crucial point in Marriage Story, Driver sings "Being Alive," a song about overcoming fear and reticence to seek out a real, human connection despite loneliness and the threat of rejection. Noah Baumbach's latest film chronicles the crumbling marriage between Charlie (Driver), a New York-based theatre director, and his eventual ex-wife Nicole (Scarlett Johansson), an actress from a show business family in Los Angeles. Though many fans of both Driver and Sondheim praised the actor's heart-wrenching, honest performance of "Being Alive" in connection with the film's story, it's clear that Driver had no interest in revisiting the moment for himself.
Driver was told the clip would be played and was encouraged to remove his headphones, but he still left the interview when his rendition of "Being Alive" was played. In an email to The Daily Beast, Fresh Air's executive producer Danny Miller confirmed that Driver walked out, writing, "We don't really understand why he left. We were looking forward to the interview — Terry thinks he's a terrific actor, he was a great guest when he was on [Fresh Air] in 2015 — so we were disappointed that we didn't have a new interview to share with our listeners about Marriage Story."
Ultimately, the show simply ran a re-run of an interview with Conan O'Brien, with Gross noting beforehand that Fresh Air "had promised you an interview with actor Adam Driver today, but unfortunately, we weren't able to do it as planned."
Adam Driver always avoids watching or listening to his own performances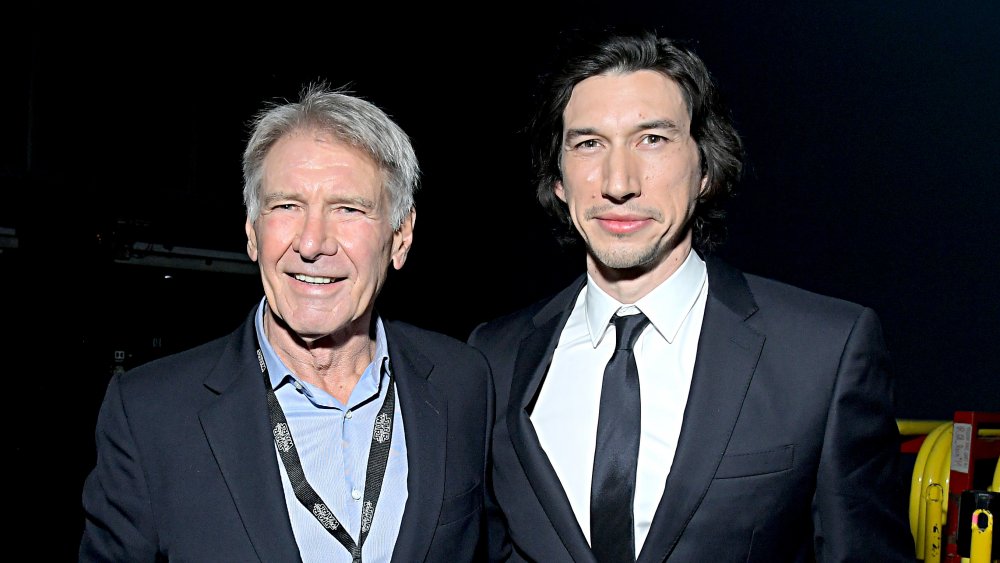 Charley Gallay/Getty Images
Whether or not Driver handled the situation correctly, his reaction shouldn't come as a huge surprise — especially not to Gross. During the aforementioned Fresh Air interview in 2015 to promote a different Baumbach movie, While We're Young, Driver removed his headphones when a clip from the film played. Gross noted to Driver at the time, "So I should say, I just listened back to that clip, but you didn't. You declined to hear it. You took off your headphones. Why don't you want to hear the clip of your film or your own work?" Driver responded with a laugh, "'Cause I don't want to hear the bad acting that probably was happening during that clip." 
When pressed by Gross, who asked if it throws Driver off to hear his own performance, he continued, "Yeah, no, I've watched myself or listened to myself before, then always hate it. And then wish I could change it, but you can't. And [...] I think I have, like, a tendency to try to make things better or drive myself and the other people around me crazy with the things I wanted to change or I wish I could change." He then told Gross that he avoids watching past performances, and hadn't ever sat down and watched his brief appearance as Samuel Beckwith in Steven Spielberg's Lincoln or his many scenes from HBO's Girls.
If you've ever read or seen an interview with Driver in the past, you've probably heard him discuss his stance on watching his own performances. In a recent New Yorker profile, Driver doubled down on this viewpoint, telling the publication that after watching his performance in the Coen Brothers' 2013 film Inside Llewyn Davis — in which he only appeared in once scene — he swore off watching his own movies.
For the past couple of years, Driver has mostly stuck to his guns where watching himself on screen is concerned. When forced to watch 2015's The Force Awakens, which features Driver's first appearance as the now-iconic Star Wars villain Kylo Ren, he said he felt physically ill: "I just went totally cold, because I knew the scene was coming up where I had to kill Han Solo, and people were, like, hyperventilating when the title came up, and I felt like I had to puke." He also told Howard Stern that he felt like he had to overcome his fear for the Star Wars premiere, saying, "Because we did so much work on it ... It seemed like I should just try getting over it. And it's Star Wars. I can't literally believe that I was in it." When 2018's BlacKkKlansman premiered at Cannes, Driver went so far as to hide in the green room, only emerging to take his bow alongside director Spike Lee and co-star John David Washington.
Steven Soderbergh, who teamed up with Driver for Logan Lucky), told The New Yorker in that same profile that he understands why Driver doesn't like revisiting his work: "I think he's rightly concerned that he would become conscious of himself in a way that would be harmful to his acting." 
Though some feel that it was inappropriate for him to walk out on Gross — one tweet even compared his objection to a Kylo Ren hissyfit — others, like The Good Place's Jameela Jamil, asked those criticizing Driver to be sensitive. In any case, whether or not he had warning about the clip, it's understandable that he hoped the Fresh Air team would abide by his wishes and simply edit the clip in at a later time.
You won't be able to hear Driver on Fresh Air, but you can currently watch the actor in Marriage Story, streaming now on Netflix. Starting on Thursday, December 19, he'll hit the big screen for the final installment of the Skywalker Saga, The Rise of Skywalker.