Here's Where You Can Watch Venom: Let There Be Carnage For Free At Home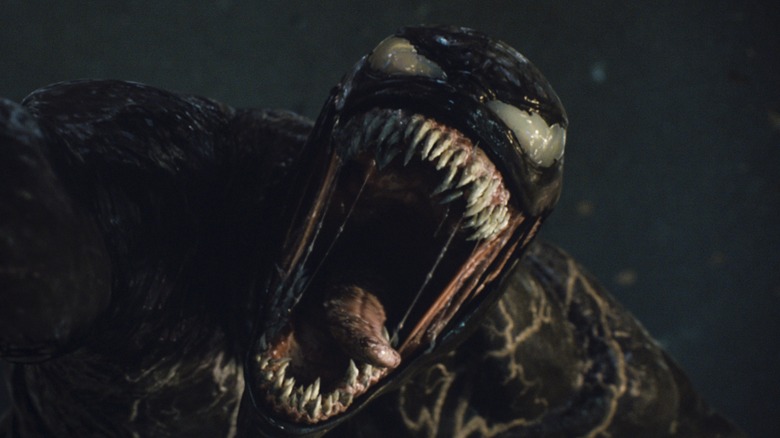 Sony Pictures Releasing
The last two years have been tumultuous for, well, everyone, but also for the people behind every highly anticipated movie that was set to release in 2020 and then rescheduled again, and again. The release date for "Venom: Let There Be Carnage" has bounced around so many times, it's nearly as chaotic as the symbiote's breakfast preparation in the movie's trailer. Now, with two weeks to go until its October 1 release, it seems like fans will finally get to see the "Venom" sequel, which will push the limits of its PG-13 rating.
However, for anyone unwilling or unable to go see the new movie in theaters, what are the other options? Since the end of 2020 and the buzz of "Wonder Woman 1984," audiences have gotten used to feature films being released on streaming platforms the same day as in theaters. Warner Bros. has been doing the double-release all year with their film slate on HBO Max, while "Black Widow" landed on Disney+ — for a premium — upon its premiere.
Still, some studios haven't committed to the at-home options, while others are changing their plans. Marvel's "Shang-Chi and the Legend of the Ten Rings" debuted exclusively in theaters and earned enough to prove that is still a viable option. Here's where "Venom: Let There Be Carnage" stands.
There are no free at-home options for Let There Be Carnage just yet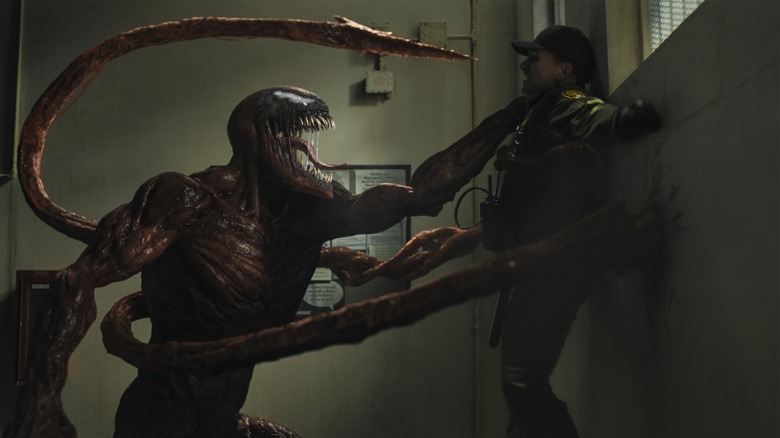 Sony Pictures Releasing
For now, there's no option to watch "Venom: Let There Be Carnage" at home. It's going to be released exclusively in theaters before most likely moving to the typical websites, like Amazon, YouTube, and Vudu, where the VOD will be available for rent or purchase.
Sony, which distributes the film, has made a deal with Netflix for the streamer to have first access to Sony's movies after their theatrical and VOD release beginning in 2022. After the window for Netflix, Sony's feature films will go to Disney's streaming sites, like Disney+ and Hulu, according to The Hollywood Reporter. However, since "Venom: Let There Be Carnage" comes out in 2021, it's not included in this deal. As a result, its streaming future is uncertain.
The first movie, "Venom," still isn't available through any streaming subscriptions, either. It's only out on paid-VOD. This might change in the future, but for now, if you need to catch up on "Venom" before the sequel, check out our article explaining its ending.