Is Birth Of The Dragon Based On A True Story?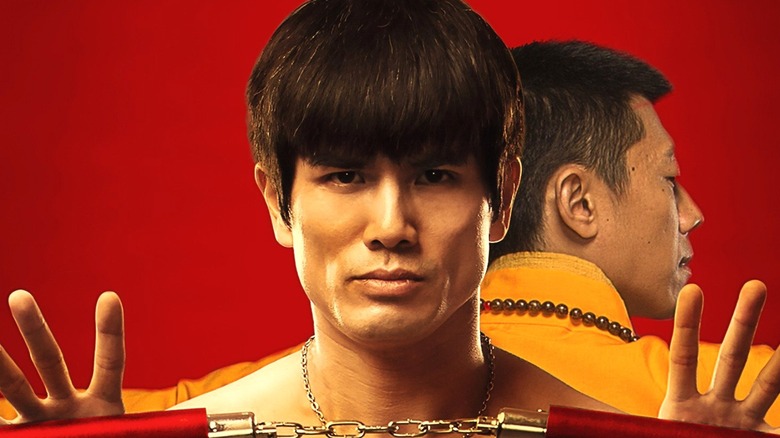 BH Tilt/WWE Studios
"Birth of the Dragon" tells the story of Bruce Lee and his big fight with Wong Jack-man. The 2017 movie stars Philip Ng as Bruce Lee, Xia Lu as Wong Jack-man, Billy Magnussen as Steve McKee, Qu Jingjing as Xiulan Quan, and trans Chinese ballet star Jin Xing as crime boss Auntie Blossom.
The film focuses on Lee and his conflict with Wong Jack-man in the early 1960s, but its viewpoint character is Magnussen's McKee, who trains under Lee as he's the only martial arts teacher in Chinatown who will train any race. This, combined with his new techniques and brash interpersonal demeanor, leads to Lee irking both local and international kung fu masters.
This all, of course, results in Lee challenging Wong Jack-man to a fight. As the two martial arts legends cross paths and prepare for their inevitable battle, the audience is forced to ask: Who will win, and perhaps most importantly, is any of what they're seeing based on actual history?
Birth of the Dragon is a very fake movie about a very real fight
The Bruce Lee vs. Wong Jack-man fight is still one of the most storied martial arts matches in history, despite the fact that no one really knows what went down because it was conducted privately. According to Vice, only 7 people were spectators of the bout. All of which is to say that, while the film is based loosely on an actual event, most of the characters and moments depicted in it are fictional (via THR).
Lee's widow, Linda Lee Cadwell, has previously reinforced the narrative that Wong challenged Lee because he was teaching Americans. She has also said that the fight ended quickly with a decisive victory for Lee. However, in his biography of Lee, author Matthew Polly casts doubt on her framing of events. "Bruce Lee, like many husbands, was not always completely honest with his wife," he wrote. "When his young, pregnant, Caucasian wife asked him why this fight was happening, he could either admit that he had insulted every single kung fu master in San Francisco or he could say something like 'They don't want me teaching kung fu to white people like you, sweetheart.'"
According to "Birth of the Dragon," the fight ended in a truce, but we have many reasons to doubt the narrative put forward by the film, including the fact that it invents the white character of Steve McKee to serve as its primary protagonist instead of Lee or Jack-man. That's a decision that, as many critics rightly pointed out when "Birth of the Dragon" was first released, is practically unforgivable.