The Morning Show's Hasan Minhaj Dishes On Its Star-Studded Cast And Hilarious Moments On Set - Exclusive Interview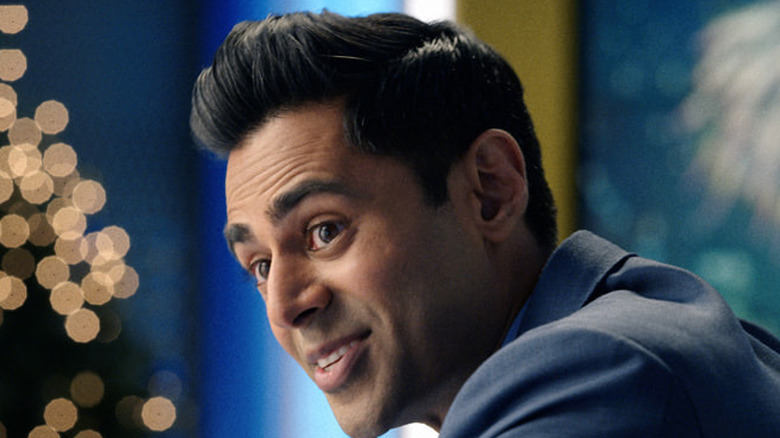 Apple TV+
After appearing on "The Daily Show" on and off for four years, actor Hasan Minhaj snagged a leading role on Apple TV+'s similarly named "The Morning Show" as Eric Nomani. With the perfect news anchor demeanor and a penchant for late-night comedy, it's no surprise Minhaj keeps scoring these roles. 
Keeping with his comedy background, the actor appeared in Mila Kunis and Kate McKinnon's 2018 film "The Spy Who Dumped Me" as well as shows like "Arrested Development" and "Champions." On "The Morning Show," however, Minhaj had a chance to delve into some darker topics in this titillating dramedy that depicts the grittier aspects of life and TV. Minhaj works alongside an equally talented pool of stars including Reese Witherspoon (Bradley Jackson), Jennifer Aniston (Alex Levy), and Steve Carell (Mitch Kessler).
During an exclusive interview with Looper for the new season of "The Morning Show," Minhaj dished on what it was like working with America's sweethearts Aniston and Witherspoon. He also revealed the way he and Witherspoon tease each other on set — and just what it was like to film a song and dance number with Witherspoon.
Working with America's sweethearts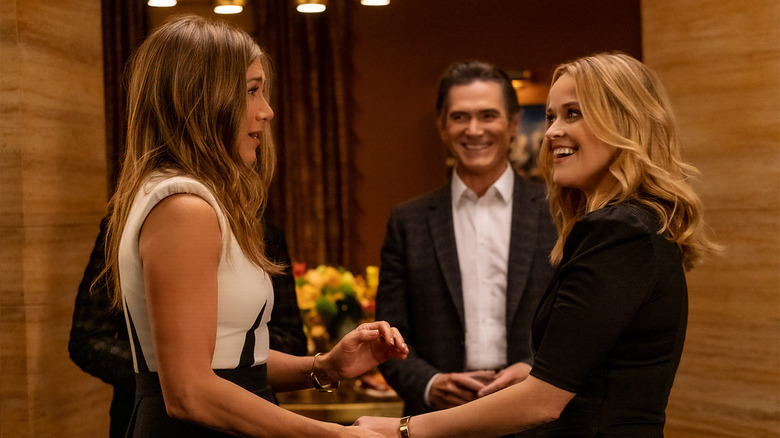 Apple TV+
"The Morning Show" cast some powerhouse stars. What was it like working with Jennifer Aniston and Reese Witherspoon? And have there been any fun behind-the-scenes moments with them on set?
Oh yeah. It was such a thrill to work with both Jennifer Aniston and Reese Witherspoon. They are masters of their craft. And I know this is a controversial take: They are both America's sweetheart, and I got to see why. They're really, really lovely human beings, and they just bring it. I got to do really fun scenes with both of them, got to do a really fun song and dance number with Reese Witherspoon. 
I got to have a very intense argument with Alex Levy, played by Jennifer Aniston. So that was really fun. Behind the scenes, Reese is really funny. Reese sometimes would roast me, and we would continue playing out the scenes between Eric and Bradley. So sometimes she would just call me Eric behind the scenes, and I'd be like, "Bradley Jackson, I'm coming for your spot." And she's like, "No way, Eric." So that was really fun. Doing bits, doing bits with Reese Witherspoon was great.
Made for The Morning Show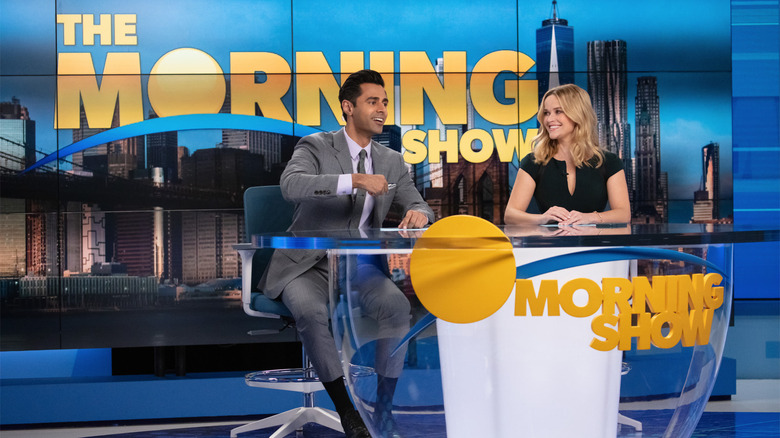 Apple TV+
Steve Carell is known for his hilarious ad-libbing on set. Has he done that on "The Morning Show," and what's it been like working around him?
Oh, I actually didn't get to do any scenes with Steve, but the scenes that I got to see that were my own, or I got to see some Billy Crudup scenes, we keep it pretty close to what's actually on paper. Kerry [Ehrin] is such an incredible writer and producer and showrunner. The scripts would come in, and they'd be absolutely brilliant and amazing. So we kept it pretty close to what was actually on paper.
Was it nerve-wracking coming into Season 2 of an established show with such a prominent cast? And did anyone give you any advice or pointers or anything like that?
You know what's interesting is, I've played a fake TV anchor for the past seven years of my career. So it wasn't really a stretch for me. I actually felt Chris Rock told me this. He was like, "You don't really have to act. You already look like you could host a morning news show. They have to act." 
Every day, Reese Witherspoon has to get up and be like, "How do I play a TV anchor?" Jennifer Aniston has to be like, "I'm Jennifer Aniston. How do I play a TV anchor?" I already looked like comedy's Fareed Zakaria, so I'm ready to go.
Dancing with Reese Witherspoon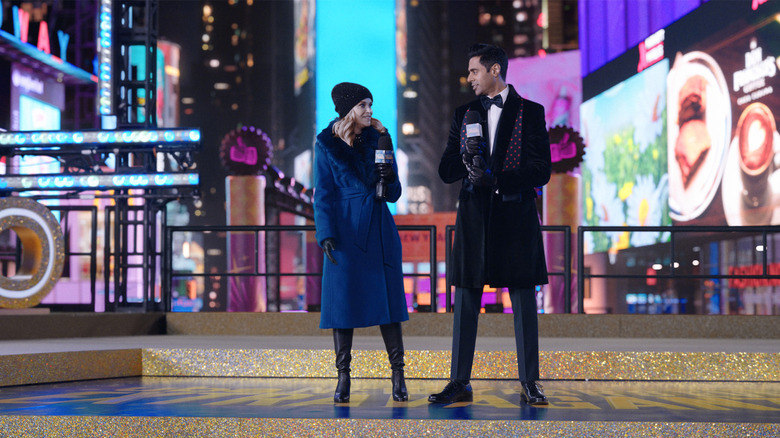 Apple TV+
What was it like filming that incredible song and dance number with Reese?
I took it really seriously. I had the choreographer send me the iPhone video the night before. I was in my hotel room, making sure I hit all my marks. I really got into the body roll. I was like, "Okay, shoulders, chest, stomach." I was doing the whole thing. I was like, "Okay, add this." 
We're doing all this stuff that was extra. It didn't end up making some of the first episodes, but I took it very seriously. And I want everybody to know, I genuinely was trying my hardest. I know people are supposed to do it and be like, "Oh, it's a morning news anchor who's bad at dancing, but he thinks he's good." I genuinely was trying to be good.
Is there anything we can expect from a gag reel? Any hilarious things?
The gag reel. Yeah. There were times that we broke. Hopefully, they release extras. That'd be really funny, like bloopers and stuff. That'd be really fun.
Tune into new episodes of "The Morning Show" airing Fridays on Apple TV+.