A Major Character Was Initially Supposed To Die In Guardians Of The Galaxy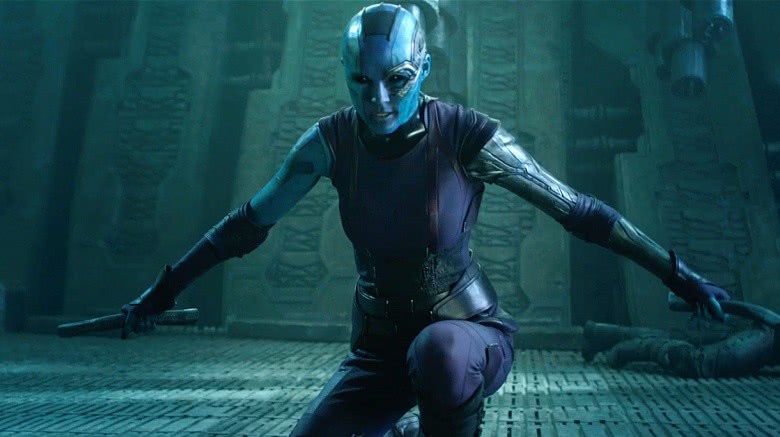 Things were almost very different for the Guardians of the Galaxy. According to star Karen Gillan, her character Nebula was initially set to die in the first movie, something which would have had huge repercussions on the upcoming Vol. 2.
Nebula, Gamora's villainous adopted sister, is set to play a much bigger role in Vol. 2 than she did in the first movie, with writer/director James Gunn teasing that the film will spend a lot of time delving into the strained relationship between the siblings. However, according to Gillan, their relationship could have ended in tragedy in the first movie, had Gunn decided to stick with the original script.
"I definitely had a feeling that there was room for the character to expand in the future," Gillan told Digital Spy of reading an early draft for the film, which featured Nebula's death. "She obviously did not die, then I found out that she was coming back for the second movie and then I found out we got to explore all these amazing things about her past and her relationship with Gamora, her sister, so I was really happy."
It's beginning to seem like Nebula may be prepping to join the Guardians as a full team member, with Gunn revealing that the sequel will bring up a lot of questions about who is in the right in the Nebula-Gamora fight. Considering Gillan has already confirmed Nebula's appearance in Avengers: Infinity War, it would make sense for her and Gamora to put aside their differences and for her to become one of the film's reluctant heroes.
Gillan, though, is focusing on a different future for her character, saying she has been pushing for a Nebula and Gamora spin-off movie. "I don't know if it's ever going to happen, but I would love it," she said. "I think it would be amazing to see a female-driven film like that. We have Captain Marvel coming up, which is quite exciting. We could do with some more females at the forefront."
Nebula and Gamora will be on screen again in Guardians of the Galaxy Vol. 2, due out May 5. While we wait, see which future superhero actress almost got the part instead of Gillan.