The Best Time Charlize Theron Ever Broke Character In A Million Ways To Die In The West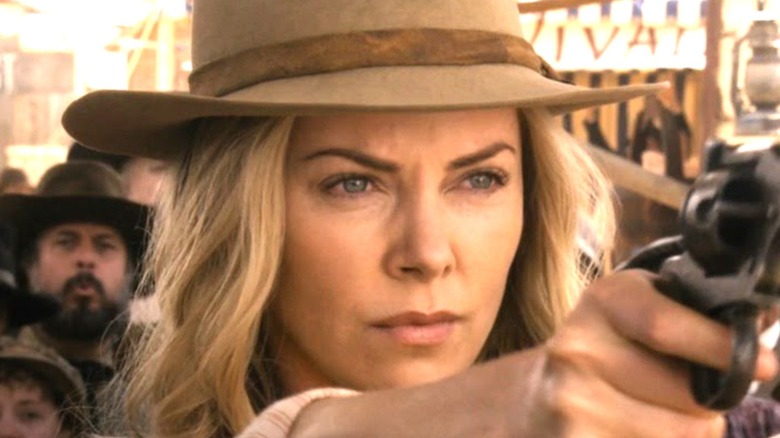 Universal Pictures
Charlize Theron is no stranger to the film industry. After debuting in 1995, her first major breakout role was in 2003's "Monster" where she played Aileen Wuornos, notoriously known as America's first female serial killer. Since winning an Oscar in 2004 for her performance as Wuornos, she has gone on to star in other big hits such as "Mad Max: Fury Road," "Snow White and the Huntsman," and "Tully." It's no doubt that Theron has immense talent and versatility as an actress, but even some of the most gifted actors can break character while filming. Such was the case in Seth MacFarlane's 2014 satirical comedy western film "A Million Ways to Die in the West."
The movie takes place in Arizona in 1882 where Theron plays Anna, a beautiful and enigmatic woman who comes into town and intrigues the timid sheep farmer Albert (MacFarlane). All hell breaks loose when Anna's fearless gunslinger husband, Clinch (Liam Neeson), arrives and Albert's courage is tested. The stacked cast also includes Amanda Seyfried (Louise), Neil Patrick Harris (Foy), Giovanni Ribisi (Edward), and Sarah Silverman (Ruth).
In an interview with Collider, Theron admitted that she chased after MacFarlane to cast her in the role of Anna. After decades of mainly appearing in action and drama films, Theron wanted to play a character that was humorous, carefree, and different from any role that she's played before. It certainly was a good choice because Theron's comedy chops are gold. 
Theron couldn't stop laughing during the pot cookie scene
It's understandable that with Seth MacFarlane as your co-star, busting a gut from laughing too hard is expected. For Charlize Theron, that certainly was the case in one of the film's scenes involving a pot cookie. While Albert and Anna are sitting on a large tree branch looking out at the vastness of the valley and mountains waiting for the sun to set, Anna offers Albert to try a bite of a cookie. He becomes suspicious and immediately affirms that it's a pot cookie. After a few moments of sweet and silly banter between the two characters, MacFarlane takes a tiny bite and is then encouraged to take a bigger one. Theron begins laughing and can't contain herself.
The chemistry between MacFarlane and Theron is incredibly natural. When a prairie dog pops up from the ground, Albert (clearly high) becomes frightened, thinking that it's going to read his mind. Theron breaks out in genuine laughter and MacFarlane goes with it. Even though the film wasn't a success critically, this improvised scene is moviemaking magic at its most heartwarming and earnest.