The Real Reason Seth MacFarlane Thought Ted Was Going To Be A Total Flop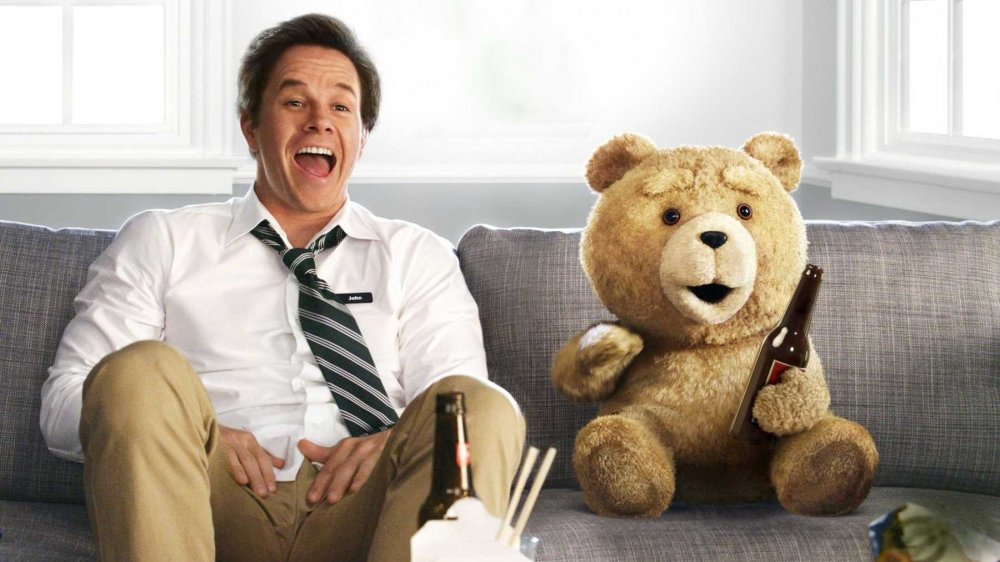 Universal Pictures
Hindsight may be 20/20, but it's hard to imagine Seth MacFarlane's feature-length directorial debut, Ted, as anything but a hit. When the film was released in 2012, it brought in nearly $550 million at the global box office, making it the highest-grossing R rated comedy at the time, according to Box Office Mojo. The raunchy Mark Wahlberg-starring flick about a slacker who is best friends with his anthropomorphic, foul-mouthed teddy bear also fared pretty well with critics. By just about any metric, Ted was a success.
However, during the making of the film, MacFarlane apparently didn't see it that way. During a conversation about his career on Couch Surfing, Ted co-star Joel McHale revealed that MacFarlane was open and honest about his misgivings during the production of the movie. McHale summed it up by saying, "When we were first making this Seth MacFarlane was like, 'I don't know if this is going to work. A puppet? Mark Wahlberg?' He was saying that stuff out loud."
Considering MacFarlane's TV hits with Family Guy and American Dad, it's hard to imagine him lacking confidence in his own project, even one as outlandish as Ted. As it turns out, the writer and director had a few reasons to doubt the movie's potential for success.
Despite Seth MacFarlane's past success, he was worried that Ted fail
Universal Pictures
According to McHale, MacFarlane's apprehension about Ted came from his modest attitude: "I mean, he's a very humble guy. And then, of course, it was just a monster [success]."
Humble or no, MacFarlane had good reason to worry about Ted's prospects. R-rated comedies have historically faced more uncertain fortunes at the box office than their tamer counterparts. In fact, according to a 2014 report by The Wrap, R-rated movies make significantly less on average than PG-13 rated movies.
Comedies, in particular, often have a hard time capturing blockbuster levels of success, even after the juggernaut that was The Hangover. In 2017, Deadline looked at the paltry box office pulls of would-be R-rated comedy blockbusters such as The House, Baywatch, and Rough Night as part of a trend wherein few films of that category break the $100 million mark. In fact, when Good Boys premiered in 2019, it was the first R-rated comedy to take #1 at the box office since 2016's The Boss (via Market Watch).
Thankfully for MacFarlane, Ted proved to be an exception to the rule.