Beast Boy Will Be On DC's Live-Action Titans Series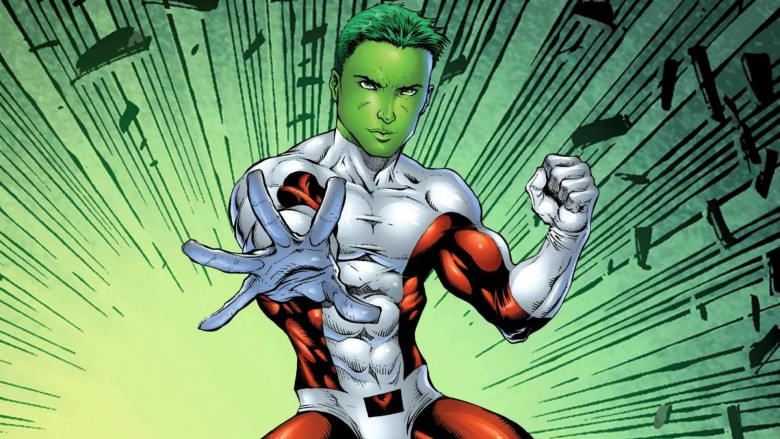 DC Comics
The lineup for DC's upcoming live-action Titans digital series might get a little more humor and a lot more green.
DC boss Geoff Johns, who will produce the series with Arrowverse head Greg Berlanti, hinted in a tweet that the popular Beast Boy will be a part of the show. "Very happy to be writing the Titans again and working with this crew! Extremely excited. Will be something very different. #BeastBoy."
While not entirely unexpected, it's the first semi-official mention of Beast Boy in connection with the series. The initial synopsis only mentioned three Titans by name: Dick Grayson, Starfire, and Raven. However, the press release also included a classic cover for The New Teen Titans that includes Beast Boy, Robin, Starfire, Raven, Kid Flash, Cyborg, and Wonder Girl.
It's unlikely that Kid Flash will show up on Titans as that character is already a part of the CW's The Flash, and Cyborg has been upgraded for the big screen in Justice League.
Beast Boy, whose real name is Garfield Logan, first appeared in a 1965 issue of The Doom Patrol, and the character has long been associated with the Teen Titans. The son of scientists living in Africa, he contracted a rare illness called Sakutia that is lethal to every species except the West African green monkey. To save his life, his dad used an untested serum to change him into one of those monkeys for a day to kill the virus. But it unintentionally turned him green and gave him the ability to morph into any animal.
The character is known for his sense of humor, but he's also got a lot of emotional baggage after his parents were killed in a boating accident that Beast Boy believes he could have prevented.
After an extensive history in the comics, Beast Boy became a recurring character on Young Justice, Teen Titans Go!, and also played a big part in the animated adaptation of Teen Titans: The Judas Contract. He would seemingly be a perfect fit for the new Titans series.
The show is the centerpiece of the new DC Digital Service, and it's expected to arrive sometime in 2018. Until then, check out the untold truth of Teen Titans Go!.