The Freddy Krueger Movie That Almost Never Got Made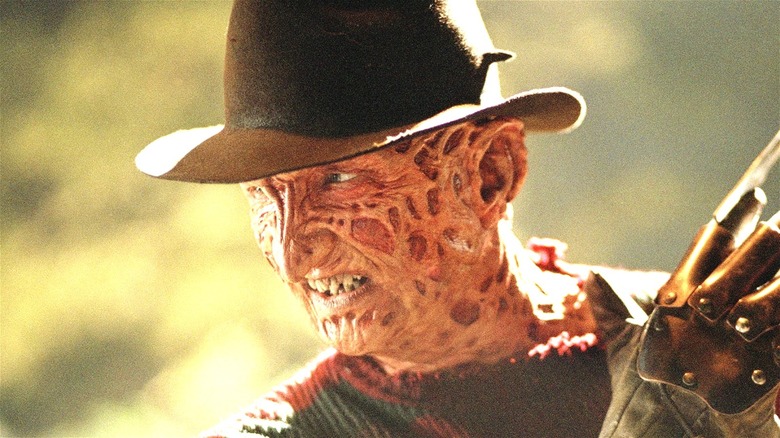 New Line Cinema
Freddy Krueger is a horror icon. The "A Nightmare on Elm Street" star makes up an unholy trinity of late '70s/'80s movie monsters that includes him, Michael Myers from "Halloween" and Jason Voorhees from "Friday the 13th." In the beginning at least, Freddy stood out among that crew both for actually speaking and for being supernatural. We don't find out about the Curse of the Thorn (the source of Michael Myers' immortal evil) until "Halloween 5." Likewise, Jason Voorhees doesn't go full zombie until "Friday the 13th Part VI: Jason Lives."
However, despite how consistent Freddy Krueger is from the star by comparison, he does change a lot over the course of the "A Nightmare on Elm Street" franchise. For one thing, the makeup that Robert Englund wears as Freddy changed, sometimes from movie to movie. You can especially see a difference in the second film, "Freddy's Revenge" — a film which is also distinct for using Freddy as a vehicle to speak about the challenges of being a gay man in the 1980s.
Freddy has gone through a number of growing pains. We got rewrites about his origins in "A Nightmare On Elm Street V: Dream Child," and we find out Freddy was abused by his stepfather Edward Underwood (Alice Cooper) in "Freddy's Dead: The Final Nightmare." Most of all, the iconic macabre sense of humor he's so known for doesn't really start to develop until around "A Nightmare on Elm Street 4: The Dream Master," when Freddy kills Debbie Stevens (Brooke Theiss) by turning her into a cockroach and squishing her to death inside an insect trap.
But the most challenging moment in Freddy's storied career was when he faced off against Jason Voorhees — and probably not for the reasons you think.
Freddy vs. Jason vs. the 1990s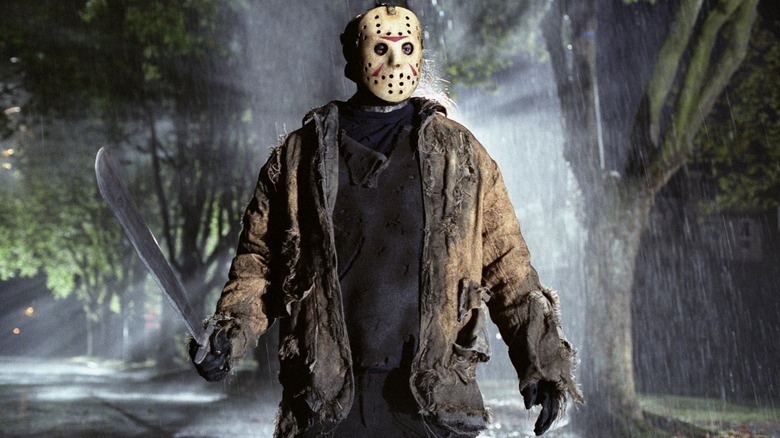 New Line Cinema
The 1980s were great for movie monsters. The 1990s, however, were a very different story. Jason Voorhees and Freddy Krueger, especially, began to suffer from slasher burnout as fans began to lose interest. "Jason Goes to Hell" is considered a low mark for "Friday the 13th," and, while "Wes Craven's New Nightmare" is an interesting exploration of Krueger, its less than $20 million box office take wasn't exactly awe-inspiring for investors.
1993's "Jason Goes to Hell" ended on Jason's hockey mask being dragged to hell by Krueger's knife glove, but how do you make good on a crossover between two horror titans when neither of them is at their box office prime? The answer, as you might have guessed, is that you don't — at least not right away.
It took a decade after that to get "Freddy vs. Jason" up on the silver screen and it nearly didn't happen for many reasons. In fact, an attempted match up between the two characters first dates back to 1987 when Jason creator Sean Cunningham attempted to make it happen. Unfortunately, the characters were under different ownership at the time — Paramount owned Jason and New Line owned Freddy, according to "Crystal Lake Memories: The Complete History of Friday The 13th" by Peter M. Bracke.
By the time New Line acquired "Friday the 13th" at the end of the '80s, Jason and Freddy became two ships constantly passing in the night. Freddy was in "New Nightmare" and then Jason was in "Jason's Dead."
Then there was the long road to "Jason X," the film which brought Jason to space — and which also cost the most money of any film in that franchise while also tanking at the box office (via The Numbers). "Jason X" didn't even see daylight until 2001.
This is all pre-cursor. Once "Freddy vs. Jason" was greenlit, it had even more challenges.
The search for writers and a director was harder than you'd think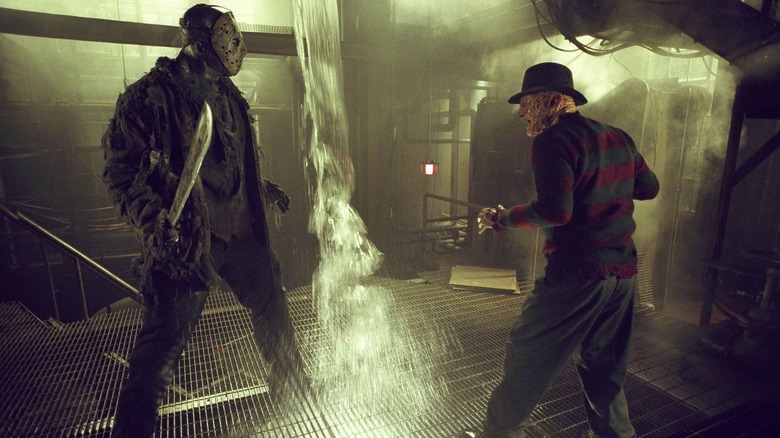 New Line Cinema
There are two things to discuss about "Freddy vs. Jason" — the many scripts for it and the path towards finding its director. As we mentioned earlier, the concept of a "Freddy vs. Jason" dates back quite a ways, so the '90s saw many different scripts floated.
The first known script from Lewis Abernathy involved the revelation that Freddy was a counselor at Camp Crystal Lake and intentionally killed Voorhees as a child. "Hellboy" co-writer Peter Briggs similarly rewrote both character's backstories by having the Voorhees family originally living on Elm Street — and being involved in Freddy's death. There's even a story by long-time "Star Trek" writer/producers Brannon Braga and Ronald D. Moore that would've involved Freddy and Jason merging into a two-headed beast.
The most important player in wrangling this mess into a reality was New Line senior VP of production Stokely Chaffin, whose previous work on "I Know What You Did Last Summer" and general love of horror as a genre put gas in the "Freddy vs. Jason" tank.
Chaffin was so dedicated to getting the project write, she interviewed 60 different people for he role of director before bringing in "Bride of Chucky" director Ronny Yu. Combined with a script by Damian Shannon, Mark Swift, and David S. Goyer, the rest (for the most part) is history. "Freddy vs. Jason" made its way to theaters on August 15, 2003 raking in over $114 million at the box office.
Nearly two decades after the concept was first thought up, "Freddy vs. Jason" made its way into theaters, reintroducing the pair and making them, however briefly, the iconic killers they had been in their heyday.