Doritos To Release Bags That Play Guardians Of The Galaxy Vol. 2 Soundtrack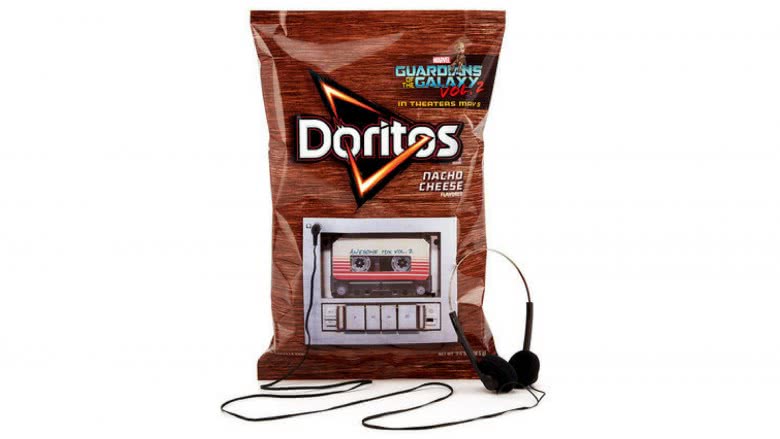 If you've always dreamed of a Doritos bag that plays ELO's "Mr. Blue Sky," you're in luck. Billboard reports that Marvel's Guardians of the Galaxy Vol. 2 will partner with Doritos to release a snack bag that plays the entirety of Awesome Mix Vol. 2 while also providing delicious chips.
The limited-edition bags feature the Awesome Mix Vol. 2 cassette tape image on the front, with an actual built-in player containing the movie's soundtrack, featuring songs like "Surrender" by Cheap Trick, "Brandy You're a Fine Girl" by Looking Glass" and "Guardians Inferno" featuring David Hasselhoff's rap debut.
Don't worry about the bag dying while you jam out; it's rechargeable, so you can keep it around and listen to the sweet sounds of "Wham Bam Shang-A-Lang" forever. (You will need to plug in your own headphones, though.)
"The Guardians of the Galaxy Vol. 2 [promotion] was yet another way for us to take an amazing musical pop culture hit and elevate the experience," said Ryan Matiyow, senior director of marketing for Frito-Lay North America. "Can you imagine a better way to listen to this soundtrack than with a bag of Doritos? We couldn't either."
Mindy Hamilton, Marvel Entertainment's senior vice president of global partnerships, echoed the statement. "Marvel and Doritos have a very similar set of core fans," she said. "So we wanted to maximize availability of this soundtrack by making it as accessible in a unique way."
There's word yet on how much the bags will cost, but they'll be available for purchase on Amazon on April 28, while supplies last (which we have to imagine won't be very long). Doritos will also hold rocking events in New York and Los Angeles on May 5, the day Vol. 2 will premiere. So if you live in one of those cities, you also have a chance to win one of the bags for yourself.
We may have never realized that we needed Fleetwood Mac's "The Chain" to come from our Doritos bag before today, but we are now 100 percent sure we can't live without it.
While we wait to blend rocking tunes and Nacho Cheese Doritos, see how the Guardians of the Galaxy should really look based on the comics.