The Shockingly Famous Artwork On The Wall In Pawn Stars
"Pawn Stars" has become a cultural institution. It's easy to forget it's more than merely a TV show, as the Gold & Silver Pawn Shop is actually a place of business. 
The transactions on the show might be real, but they also buy plenty of other items to turn a nice profit in Las Vegas. People walk in with valuable objects, and after a bit of haggling, they usually come to an agreement for the "Pawn Stars" crew to take the item off the customer's hands. But that's only half the battle for Rick Harrison and his team.
After purchasing items, it's up to them to sell them to someone else as quickly as possible. Otherwise, the item ends up sitting on the shelf for months or even years on end. The guys may like historical artifacts, but they like making money more. That's why you tend not to see too many items stick around in the glass cases for very long on the show. The biggest counterexample to that is the giant Jim Morrison painting hung in the shop since the beginning of the series. You may think the Harrisons have kept it around just because it looks cool, but the artwork is more significant than you may have realized.
Speed artist Danny Dent created the Jim Morrison piece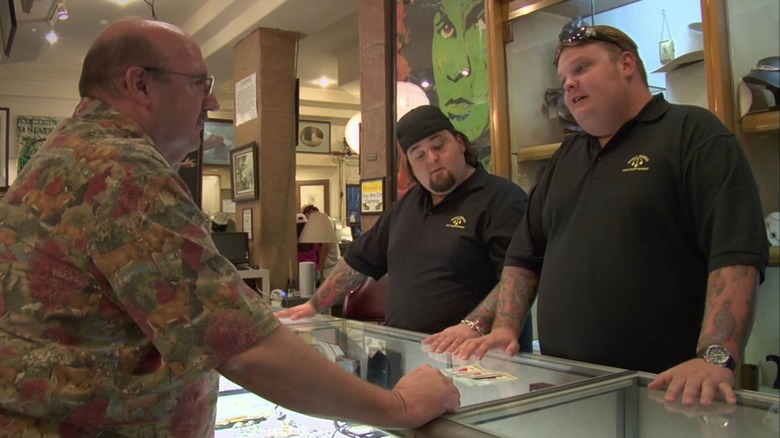 History
The "Pawn Stars" crew is always ready to make a buck. Early in the show's run, you could find a price tag for the Jim Morrison painting; however, over the years, it's since received an update with a listing mentioning how it's not for sale. Keeping it to improve the overall vibe of the store must be seen as more critical to the Harrisons than making a little more money, and once you know the history of the painting, you'll see why.
It's not just any work of art. Speed artist Danny Dent created the painting, and as the title suggests, speed artists work to create something as quickly as possible. It needs to be seen to be believed, so check out this video of Dent creating a beautiful portrait of Jimi Hendrix on a wall in three minutes. What's even more impressive is that he does it all by memory. There's no reference source; it's literally Dent throwing paint against a canvas and managing to create something extraordinary.
Each painting Dent made was one-of-a-kind, and he became a Las Vegas fixture by performing his art at casinos around the city. At one point, he even made a portrait of President Gerald Ford in eight minutes (via The New York Times). Dent passed away in 2004, but his work lives on. And it's abundantly clear the "Pawn Stars" crew is a big fan of his career.