Sony's Animated Spider-Man Movie Will Be A 'Throwback'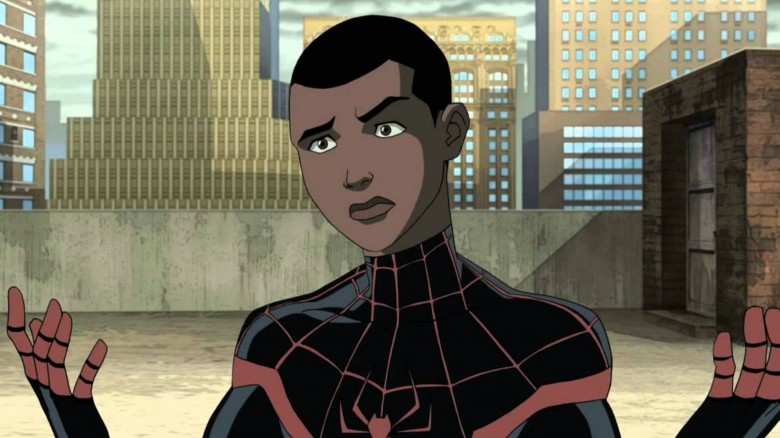 There's an animated flick starring a new Spider-Man looming overhead, and details are still elusive. But one of the key members of the voice cast recently dropped a few hints.
We know that Sony's untitled Spider-Man feature was written by Phil Lord (The LEGO Movie, Han Solo) and will star Shameik Moore (Dope) as the voice of Miles Morales, an alternate version of the teenage Web Slinger who is of black and hispanic descent. And we also know that Liev Schreiber (Sabretooth in X-Men Origins: Wolverine) will play the unrevealed villain. But beyond that, there's still a lot of mystery.
However, Schreiber recently sat down with Collider and offered up a few thoughts about the script. "I think real hardcore Spidey fans will be able to follow this with great ease," he said. "It will feel very familiar, in a good way, in a kind of throwback way."
While that sounds awesome, it begs a few questions. For one, how is it a throwback? Morales first appeared in a 2011 Ultimate Fallout comic, and he assumes the mantle of Spider-Man after the death of Peter Parker. The character doesn't have a long history in the Marvel universe, so Schreiber probably means that the script evokes a simpler, brighter storyline from the days before comic book movies took a darker turn.
And the fact that Schreiber refers to it as "familiar" is also interesting because Morales isn't all that well-known. His origin story is similar to that of Peter Parker's, so this could be a new spin on that classic tale.
But Schreiber said something else that could be very telling: he signed up for the flick because of his kids. "It was my children, really," he said. "People know me from things like Chuck and Ray Donovan, and I now have an 8-year-old and a 9-year-old, and I would very much like to do things that they can see so they know what their father does."
That likely means that the movie will be family-friendly, as Schreiber wouldn't have come aboard otherwise.
We'll certainly find out more as we get closer to the release date of December 21, 2018. Meanwhile, take a look back at the insane history of Spider-Man.