Richard E. Grant Explains Why Everybody's Talking About Jamie, Dishes On Loki - Exclusive Interview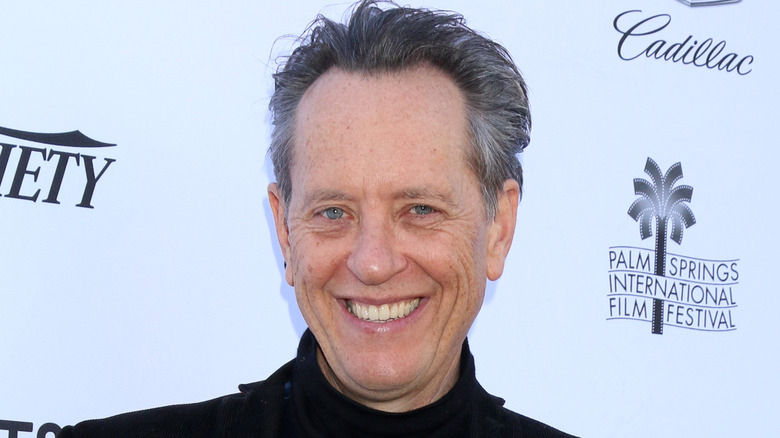 Kathy Hutchins/Shutterstock
We may receive a commission on purchases made from links.
Since his film debut as an unemployable actor in the comedy drama "Withnail & I" in 1987, Richard E. Grant has proven he's just the opposite in real life. Having amassed more than 130 credits in film and television to date, Grant's worked with some of the most esteemed filmmakers in cinematic history, from Francis Ford Coppola ("Bram Stoker's Dracula") and Martin Scorsese ("The Age of Innocence") to Robert Altman ("The Player" and "Gosford Park") and James Mangold ("Logan").
The amazing thing is, those films came before Grant's biggest career breakthrough with his Best Supporting Actor Oscar-nominated turn opposite Melissa McCarthy in the 2018 biographical crime comedy "Can You Every Forgive Me?" Since then, Grant is in more demand than ever, having landed roles in such high-profile projects as the film blockbuster "Star Wars: Episode IX — The Rise of Skywalker" and Marvel's hit Disney+ series "Loki."
Up next for Grant is a pivotal role in the movie adaptation of the hit stage musical "Everybody's Talking About Jamie." Debuting on Amazon Prime Video on Friday, September 17, the film tells the true story of Jamie New (Max Harwood), a gay teen in Sheffield, England, who faces school bullying and shaming as he pursues his dream of becoming a drag queen. Grant stars as Hugo Battersby, a costume shop owner whose days transforming into the famous drag queen Loco Chanelle are long behind him. But when Jamie finds his way into his shop in search of a costume for his act, Hugo is ignited by the 16-year-old's passion and becomes his mentor to help the resilient teen realize his goal.
In an exclusive interview with Looper to talk about the film, Grant also discussed the highs and lows of his career, his work with Coppola and Scorsese, and his memorable appearance as Classic Loki in "Loki."
Grant says his Loco Channelle costumes informed his performance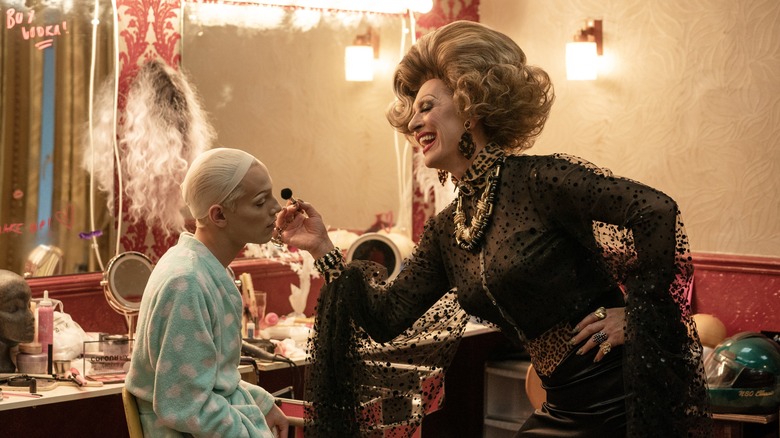 Amazon Prime Video
I love how the movie kicks off with the intro, "This story really happened. And then we added singing and dancing." That has to be the ultimate sort of movie project that you want to participate in because obviously you're telling a true and heartfelt story, yet you're doing it in the most spectacular, Barbra Streisand-type of movie musical way. 
Yes. Except that unfortunately I don't have the singing chops that the great Streisand has, sadly.
Movie costumes are so important to a role, and can be so informative and empower characters. I love how your Loco tells Jamie of the power a costume gives a drag queen. What sort of emotions did you experience the first time you suited up in drag for this role in the ensemble and director Jonathan Butterell yelled, "Action?"
Great question. I had an incredible team of people. I had somebody to teach me the Sheffield accent, and a dance choreographer to teach me how to walk with a load of sass, and sashay away and all that stuff. Guy Speranza designed a spectacular costume with a double D cup bra, and Guy Common and Nadia Stacey came up with the makeup and hair design. All of those things combined, it was a real team effort. I felt like one of those old veteran Ferraris turning up at a pit stop in Le Mans racetrack, when you've got 60 seconds to change the wheels, change the oil, change everything. And that was all, it took them about two and a half hours to get me to look like that. Getting into the heels, it felt transformative. By the time you're in gear and you're 6-foot-7 tall, you feel empowered. It's bizarre.
Successes and failures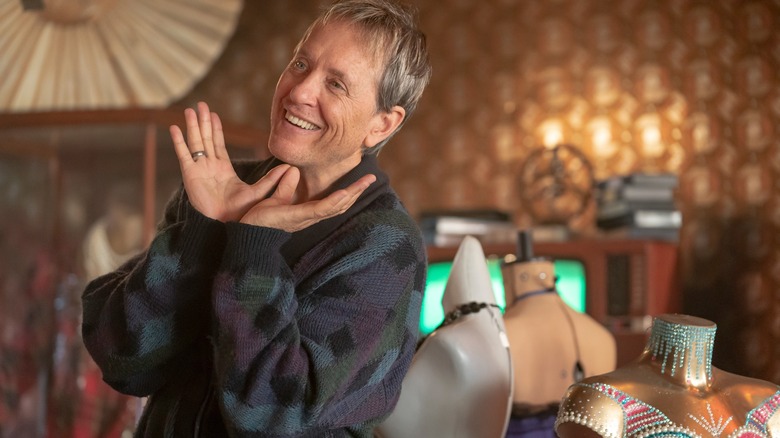 Amazon Prime Video
Your background includes stage as well as film and television. In a way the film has stage performances, yet they are done in a cinematic sort of way. To bring that stage sensibility, that film sensibility, all together must be the best of both worlds for an actor.
I hope so. I was inspired by a drag artist in England called David Hoyle. He was absolutely brilliant and incredibly vulnerable, the same age as me. He'd been through all the AIDS epidemic of the '80s and '90s. He had real-life experience to inform how I approach this part. I binge-watched 11 seasons of "RuPaul's Drag Race" over three weeks. That was the best education I could have possibly had. I found out just how much courage and sass it takes to be a drag queen — to hold your own.
Any great actor will tell you that they have been shaped in their lives and their careers by the failures, just as much as their successes. Since you're playing Loco Chanelle as somebody who appears to have their glory days behind them, how difficult is it for you to bring past despair that you might've suffered as an actor to this role? I would imagine, again, those failures had to have to helped you in some sort of way.
I think that for the most part, unless you're Tom Cruise, the ratio of hits to misses is probably ... there are many more misses, so you're much more familiar with that. Certainly, the amount of times you get told "No" as an actor in your life, you're well-versed in rejection. That's something you can draw on very easily. There's a rich seam of that in every actor I know.
Well, it's interesting, because I know when you were making the interview rounds for "Can You Ever Forgive Me?" You addressed your role in "Hudson Hawk," which turned 30 over the summer. You gave a delightfully over-the-top performance, but when you screened the film you thought, "My career is over." I think things have worked out pretty well for you, 30 years on. Does the film hold any sort of special meaning for you?
Despite the car crash of it and its box office immolation, I stayed friends with the person that I played husband to, Sandra Bernhard. For me, that is a 30-year friendship that is worth gold dust to me.
Grant says it was tricky playing Classic Loki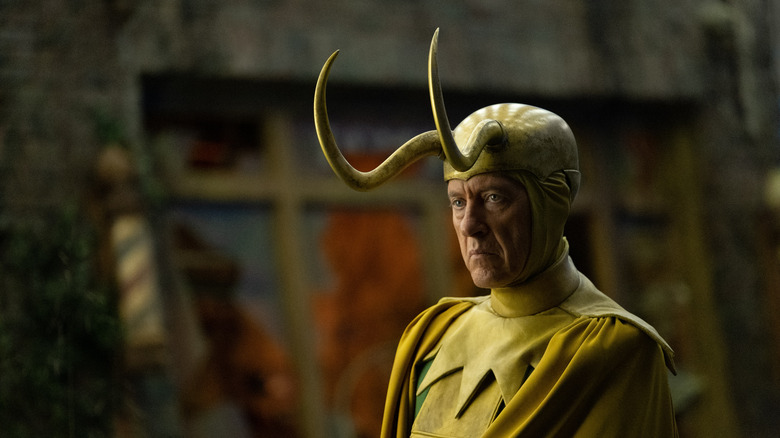 Marvel Studios/Disney+
We talked about costumes earlier, and recently you had the opportunity to suit up as Classic Loki for "Loki" on Disney+. Did that fulfill any sort of comic book-slash-superhero-slash-supervillain sort of dream for you? Of course, you did a Marvel before with Hugh Jackman with "Logan," but this had to have been different. I mean, this is Loki we're talking about here!
Yeah, and Tim, you will understand why, as I'm a man born without any muscles, I haven't seen the Jack Kirby drawings. I thought, "Well, finally, I'm going to have a Marvel muscle suit to fill out this cape and be the classic V-shape [supervillain] with a tiny white front and everything." These costume designers adamantly said, "No, you're just, you're going to have great powers as Loki. You don't have to have the muscles." I said, "Oh my God. This is not how I imagined it." But they were very insistent. I felt bereft that I never got to have the muscle suit, but I travel in hope. [Laughs]
Now, did you happen to take that Loki crown with you when you were done with the role? Because I mean, that is pretty awesome.
Nah. When I was blown to smithereens, it just clunked onto the landscape and that's where it stayed.
Grant admits he was nervous at first working with Tom Hiddleston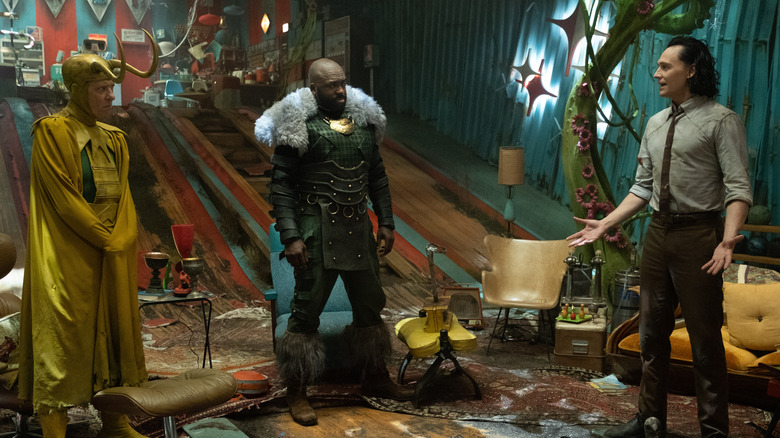 Marvel Studios/Disney+
Tom Hiddleston marvelously embodies Loki in film and television. Now, even with your great deal of experience as an actor, was it nerve-wracking in any sort of way becoming Classic Loki? Because again, you're in the company of a guy who really has defined the role for a generation. Tom lives and breathes this character.
The beginning of every job is nerve-wracking and having the guy that has claimed that role for the last decade — and is the producer of the show and the star of the TV spinoff — to say that was daunting is an understatement. I thought, "Well, the worst thing I can do" — because he's a brilliant mimic as well, Tom — I thought, "It'll be suicidal if I tried to imitate or copy him." What I just latched on to is how Loki says in his backstory that he's been very lonely and wants to be with other people. He is the God of Outcasts rather than just being the God of Mischief. I thought, "Well, I understand that. I will go for the God of Outcast because that's not something that he is zoned in on particularly." He's been the God of Mischief more, so that's the steer I took on it.
No matter the fate of a character in the Marvel Cinematic Universe, there's always room for them to return. Since we have a Season 2 with "Loki," as well as the potential of other MCU projects, you have to be game to come back.
Oh, I'm game, but I've not heard anything.
Grant says Coppola, Scorsese have completely different filmmaking techniques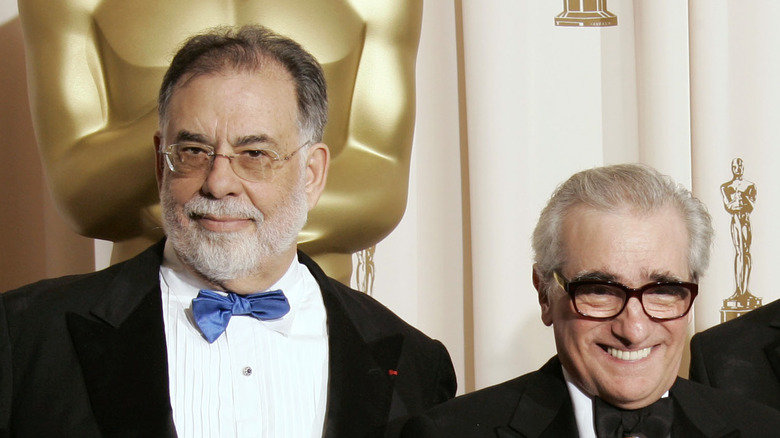 Bloomberg/Getty Images
I love Francis Ford Coppola, and recently watched again his version of "Bram Stoker's Dracula," which of course you were a part of. Looking back on that opportunity to work with Francis, I'm wondering if there's anything you can share with me regarding your memories of working on that film.
I went from "Dracula" to then work with Martin Scorsese on "Age of Innocence." It was amazing because these are two directors that I had absolutely hero worshiped — and still do, as a drama student in the '70s, up until the age I am now, 64. With Francis, when we were rehearsing in his Napa Valley estate, there was this warehouse that had the boat from "Apocalypse Now" in one corner and [also had] "The Godfather" desk, all of these props, which were so iconic. I felt like sort of a talisman going in there. 
I asked him [if we could have dinner] one night, and he said he can't cook for two people but he can cook for 30 people. I thought that absolutely summed up who and what he is. He would play music during the shooting a scene, even if it required dubbing afterwards, to get people in the mood. People's friends and family and pets were there. It was a whole commune or like an Italian dinner, but we were making a movie. In contrast to Martin Scorsese, his fellow Italian American director, who worked in almost monastic silence, where everything is hyper-controlled, quiet, meticulous, Francis is like a circus master in the midst of chaos that he creates all around. It's a very freewheeling atmosphere and I loved him for that.
"Everybody's Talking About Jamie" debuts on Amazon Prime Video Friday, September 17.