Why Doja Cat's New Pepsi Commercial Has The Internet Buzzing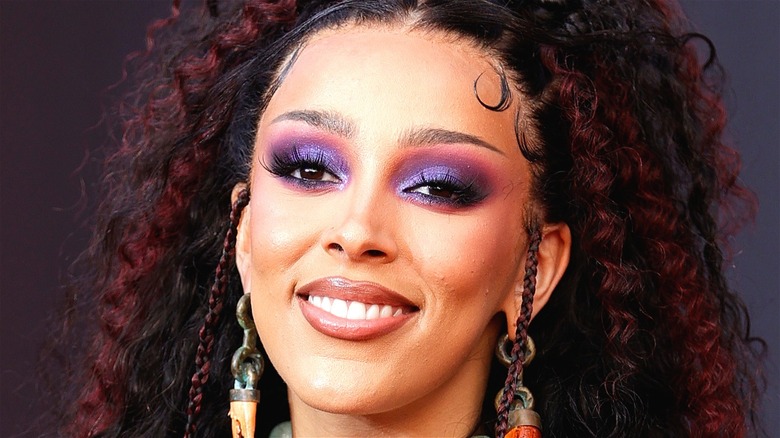 Jason Kempin/Getty Images
On Sunday, Doja Cat served as the host of the 2021 MTV Video Music Awards. The show featured new and old alike, including Madonna, Cyndi Lauper, Foo Fighters, Busta Rhymes, Olivia Rodrigo, Lil Nas X, and Machine Gun Kelly. Between performances, singer and TikTok icon Doja Cat and other presenters kept the fun times rolling. In addition to hosting, she also took home the award for best collaboration for her song with SZA, "Kiss Me More" (via CNN).
But Doja Cat's big night didn't end there. In fact, she participated in the time-honored MTV tradition of appearing in a commercial that premieres during the VMAs (via YouTube). The high-profile celebs who showed up in Sunday night's commercials included Anitta, who featured in a Burger King advertisement. Camila Cabello also appeared in a spot directly after her performance with Shawn Mendes. Then there was Avril Lavigne, who popped up in a Geico ad. And, yes, there was Doja Cat, who starred in a Pepsi commercial that included a song from the beloved American musical "Grease."
Doja Cat's version of a Grease song is the one that fans want
There are tons of musicals out there, but only some of them are legendary enough to become cornerstones of pop culture. One of them is most certainly "Grease," the musical adapted into a 1978 movie starring John Travolta and Olivia Newton-John. The movie's final number, "You're the One That I Want," was featured in the Pepsi commercial that premiered during the VMAs on Sunday night, with Doja Cat singing the entire song.
The singer admitted she struggled with performing "You're the One That I Want" in an interview with Billboard: "Back then, music was so different and so carefully done. It wasn't just loops and beats, which is why I feel like this was a bit harder for me."
Doja Cat's struggles didn't show in the "Grease"-inspired Pepsi commercial. Instead, it proved to be a massive hit with viewers. Fans of Doja Cat seemed happy with the results and took to Twitter to share their feelings about the spot. Twitter user @nodeadnobread reacted with a short and simple comment: "Doja ate thatttt." 
Fans also shared their hopes for the song to be released officially. "You gotta release this cover respectfully," tweeted @Jay55851446. "If she [doesn't] put this on streaming platforms..." Twitter user @blackfatteen agreed.
It's hard not to see why the song is such a hit with fans. Not only is it a tried and true classic, but Doja Cat's modern spin on the song makes it a version worth hyping up.