Cinderella Director Kay Cannon Reveals What It Was Really Like Working With Camila Cabello - Exclusive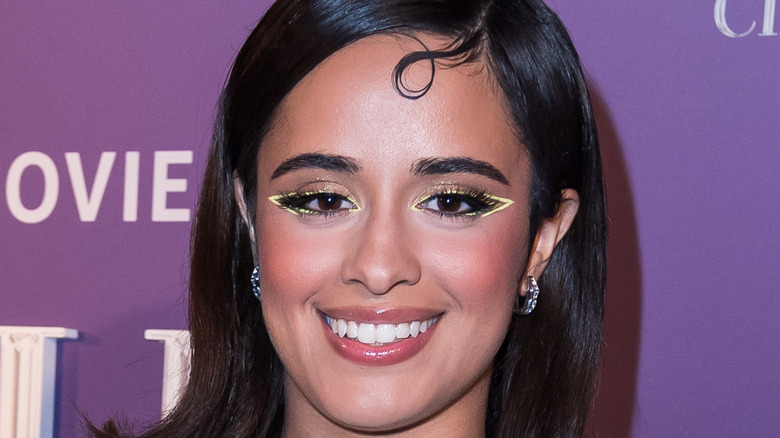 Jason Koerner/Getty Images
Amazon Prime Video's "Cinderella" is finally here, and with it, fans can watch Camila Cabello's breakout acting role as Cinderella herself. While Cabello dipped her glass slippers into new waters, so did director Kay Cannon. The movie marks Cannon's second directing role after her directorial debut for the 2018 film "Blockers." 
However, Cannon was familiar with musical blockbuster sets, as she wrote the hit 2012 film, "Pitch Perfect" — and it shows. Her version of "Cinderella" offers a much-needed update to the traditional tale. And who better to take on the role as Cinderella (known as Ella to her friends) than the seasoned pop star and former Fifth Harmony member, Camila Cabello?
Looper spoke with Kay Cannon in an exclusive interview during which she dished on what it was like working with Camila Cabello, and revealed some of the hurdles Cabello overcame coming from pop stardom to acting in a major film. 
Turning a pop star into a princess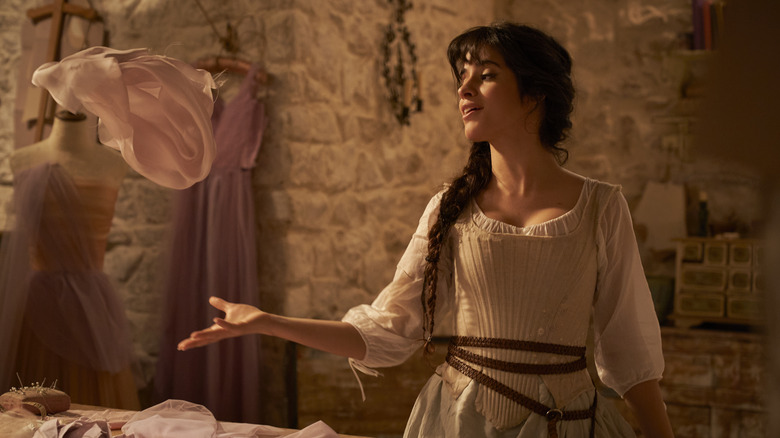 Amazon Studios
Cannon revealed what it was like working with Camila Cabello, saying, "Well, it was amazing working with her. I mean, really, truly. I felt like we were a perfect match. I think we both had a lot at stake. It was her first time acting. And then her first time acting, she's playing Cinderella, this iconic character." 
She added, "And it's a big movie for me, too. I had never directed a musical. So we really connected and we really trusted each other. We have very similar senses of humor, and I think what she brings to the table is this rawness. She's a really hard worker. She's very smart, so she sees the world through these young eyes, but they're informed young eyes, where she's always trying to learn and everything." When playing a character like Cinderella, that newness is certainly an advantage to help get into character. 
Working with an A-list cast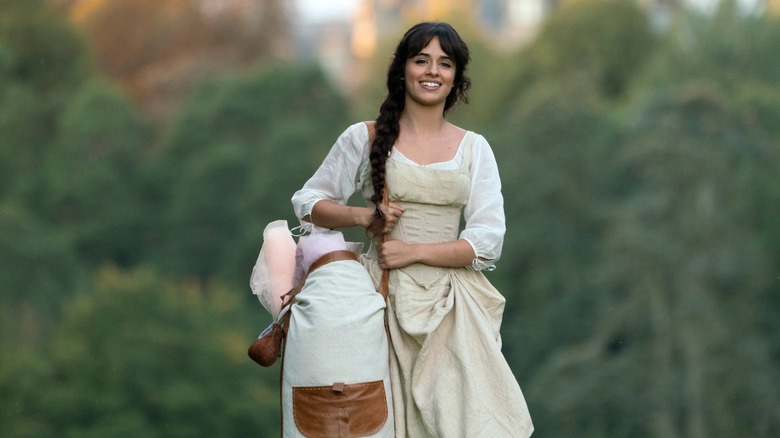 Amazon Studios
On some of the greatest challenges Cabello faced as a new actress, and what perspective she brought to the role, Cannon said, "I think, you'll have to ask her this, but from my vantage point, some of the hurdles were when she would be doing amazing, and then maybe she was in a scene with Pierce Brosnan. And she has that moment like, 'I'm in a scene with Pierce Brosnan.' And I could see her maybe tighten up a little bit, and then it would be, 'Let's hold on a second. Hey, let's go talk.'"
"We had a lot of chats and stuff, where she's like, 'I'm just really nervous.' It's like, 'Yeah, of course you are. You're in a scene with Bond, James Bond.' It was always, 'Let's come back to just being a good listener. Let's just come back to being present. Let's just come back to being in the scene and not having this inner dialogue saying, 'That's James Bond, and oh my gosh, he's done a million movies,' because it can be quite intimidating,'" Cannon explained. "And not that anybody around her was ... They all were in awe of her. It was really great. And so nobody was trying to be intimidating. It was just the nature of the fact that there's a lot of newness." It's pretty safe to say that anyone would be nervous with a cast like Pierce Brosnan (King Rowan), Idina Menzel (Vivian), and Billy Porter (Fab G).
Fans can check out Cannon and Cabello's version of "Cinderella," now streaming on Amazon Prime Video.