Live-Action She-Ra Series - What We Know So Far
Netflix
On Monday, September 13, 2021, Variety announced that Amazon is in the early stages of development on a live-action fantasy series about Princess Adora aka She-Ra. This will be the second new TV show about the rebellious princess of Etheria, after the Netflix animated reboot "She-Ra and the Princesses of Power." 
This new incarnation of She-Ra won't be a simple rehashing of that show, however. It is already being described as a new story that will stand apart from its predecessors. Details are scarce, but that makes sense — after all, the live-action She-Ra series is currently in the very early stages of development. For now, we do know it's a collaboration between Amazon Studios and Dreamworks Animation, which also produced "Princesses of Power." Otherwise, there's very little in the way of specific information available at this point, and there's no guarantee that it will even make it to series. 
Still, this is great news for any fans of the legendary princess. Here's everything we know about Amazon's upcoming She-Ra project.
What is the release date for the live-action She-Ra series?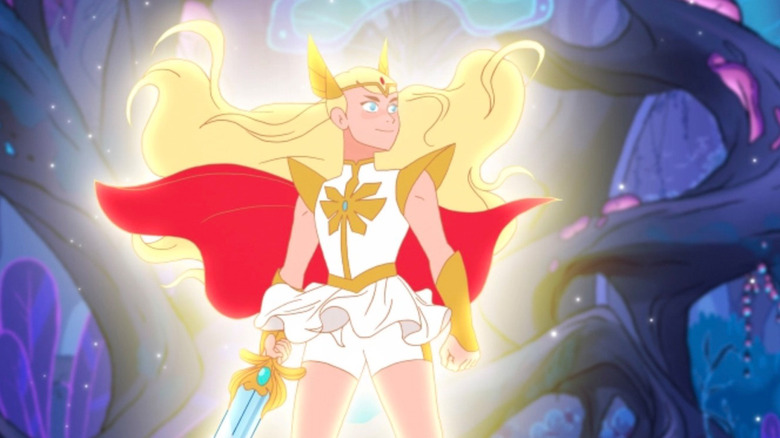 Netflix
At this point, Amazon hasn't yet announced a premiere date for the live-action "She-Ra" series. The project is still in the early stages of development — no screenwriter is currently attached, and no casting announcements have been made either — so it's likely it won't debut for at least another year, minimum, but probably longer.
Nonetheless, we can make a ballpark estimate on the production timeline based on Amazon Studios' other projects, like another recent live-action fantasy series, "The Wheel of Time." Although that project had been under consideration for several years, Amazon officially ordered it to series in October 2018 (via Deadline). Principal photography began the following September, (via The Wheel of Time on Twitter). The COVID-19 pandemic halted production for about six weeks, from March 13, 2021 (according to Variety) to April 28 (via Deadline), before finally concluding in May 2021 (as reported by SyFy). That's an overall production timeline of about 18 months. Now, "The Wheel of Time" is set to premiere on November 19, according to TV Line, adding another six months to the tally.
So, if "She-Ra" follows a similar production schedule, the earliest it could premiere is September 2023, but that's assuming everything falls perfectly into place from the start.
Who is in the cast of the live-action She-Ra series?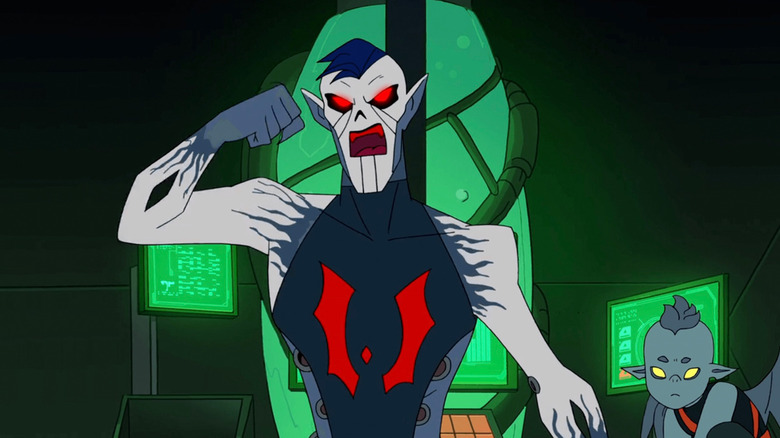 Netflix
Amazon hasn't yet made any casting announcements about the upcoming "She-Ra" live-action series, and at this point it would be premature to speculate. For example, we don't yet know enough about the project to even say how old the main character is going to be.
Right now, all we can do is note which characters from the He-Man and She-Ra universe might be making an appearance. She-Ra is an obvious pick, as is her traditional nemesis, Hordak, the ruler of the Evil Horde. It's possible we might see other familiar faces from the two previous She-Ra animated series, like Catra, Glimmer, or Horde Prime. However, as outlined below, there's no guarantee that the latest incarnation of the series will look anything like the first two.
It's likely that Amazon will share plot details and casting news in the coming months, which should give us a clearer idea of what to expect. This article will be updated when that happens.
What is the plot of the live-action She-Ra series?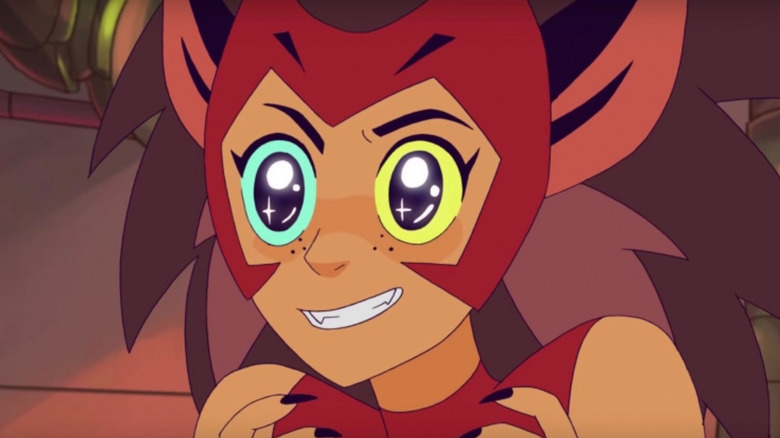 Netflix
Amazon has not yet revealed any plot details — which is not unusual, considering the script has yet to be written. Amazon did say that the live-action version of the She-Ra series won't be connected to the animated reboot, "She-Ra and the Princess of Power," which ran for five seasons on Netflix between 2018 and 2020, and that it'll be a standalone series.
"She-Ra and the Princess of Power" is a reboot of the 1985 series of the same name. Both shows to date have focused on a teenaged version of the character, Princess Adora, the rebel hero who wields the Sword of Protection that allows her to transform into She-Ra. In both of those shows, She-Ra led the Great Rebellion to overthrow the despotic Hordak and liberate her home planet of Etheria (via Deadline). It's too early to say whether the upcoming live-action show will also follow a teenaged Adora, or whether it might age her up into adulthood. Either way, it sounds likely that the new show will show us a side of the character we have never seen before, particularly with the move to live-action.