The Surprising Props That Simu Liu Kept From The Shang-Chi Set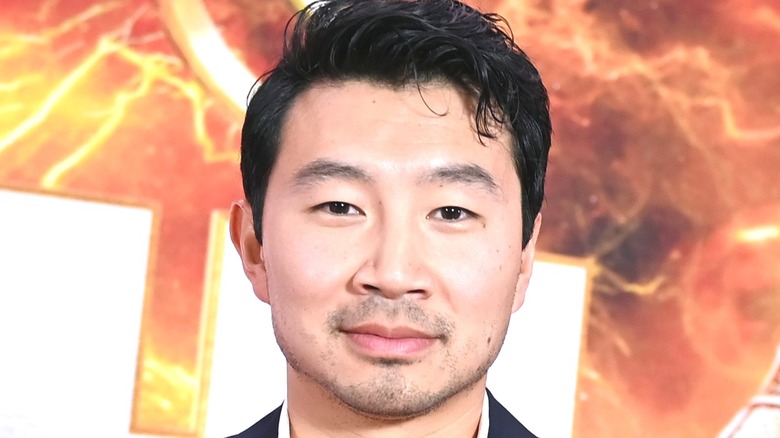 Ryan Emberley/Getty Images for Disney
While it may not always be strictly allowed, actors have a penchant for keeping memorabilia from the set after shooting is over, and Simu Liu, Marvel's newest leading man, is no exception. During an episode of GQ's "My Essentials," the "Shang-Chi" star stopped by to dish on his favorite Asian snacks, boba tea, and his designer shades. But he also brought a true collector's item in the form of a particularly covetable prop from the set of his Marvel debut.
One of the standout moments from "Shang-Chi and The Legend of The Ten Rings" is the exhilarating fight scene against Razorfist on an out-of-control bus through the streets of San Francisco, and one of the best elements of the scene is Shang-Chi's outfit. From the letterman jacket to the understated black Air Jordans, it's a look that perfectly captures the hero's sense of style before he gets outfitted with his signature dragon scale suit in the third act. On his way out, Simu didn't keep his nunchaku or super suit. Instead, he nabbed what every hypebeast was drooling over in that bus scene.
Simu Liu kept his Jordans from the bus fight scene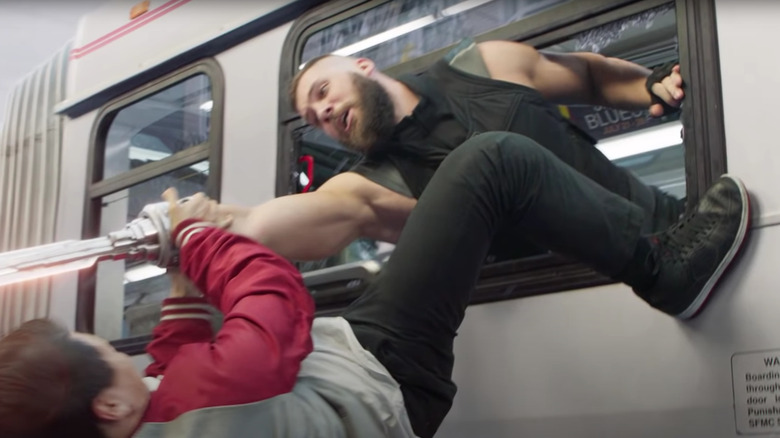 Marvel Studios/Disney
Turns out Simu Liu, presumably with the grace afforded him by Marvel's intense martial arts training, swiped the retro Air Jordan Access pair from that bus fight for himself on the way out. Speaking to GQ, he joked, "There's a Marvel PA out there somewhere, still trying to track these down," Liu said. "On my last day of shooting, I did manage to swipe them." If he was going to steal anything, the Jordans seem like the right choice. They're a gorgeous pair of shoes, black hi-tops with red soles that subtly match the red Jumpman logo on the sides.
While they look roughed up, Liu says that's just movie magic. "These have been artistically scuffed," he explained. "This is not even real dirt...I split-kicked two bad guys with these shoes." The pair would be the pride and joy of any sneakerhead with a collection but Liu doesn't plan on selling them. "They're definitely going to go in a case, displayed somewhere," the actor said, turning them lovingly in his hands, "until somebody I live with tells me I that I can't keep these around anymore."