Ascendance Of A Bookworm Season 3 - What We Know So Far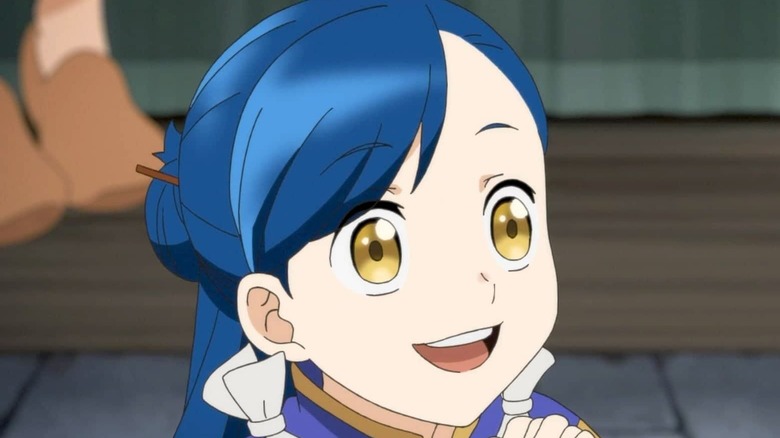 Ajia-do Animation Works
Do you ever dream of what you'd like to do in your next life? In "Ascendence of a Bookworm," the anime produced by Ajia-do Animation Works, college student Urano Motosu faces this question when her life constantly reading books is ended after being crushed by the items she loves so much. Thinking about what she'd love to do next if she could choose, Urano only wishes that she can keep reading. Unfortunately, she wakes up in the body of a sickly young girl named Myne, in a world where there are few books, and those that exist can only be handled by nobles since they're so rare. 
Determined to make the most of her new life, Myne decides that she will just have to make the books herself, kickstarting a mission to learn the world's language and find a suitable material to write stories on. Meanwhile, Myne discovers that she has a sickness called the "Devouring," meaning she has a high amount of "mana," or magic, but with no outlet or way to control it, it might consume and kill her. The desire to make and read books and her problem with mana come together for Myne, leading her to an apprenticeship as a priestess, which just so happens to give her access to a huge library. 
If you like fantasy anime like "Little Witch Academia," or stories that combine the normal world with the magical, like "Restaurant to Another World," "Ascendence of a Bookworm" is a great next watch. The anime released Season 1 in late 2019, with Season 2 following in spring 2020. Now fans are awaiting the third part of Myne's adventure to see what happens next. Here's everything we know so far about "Ascendence of a Bookworm" Season 3.
What is the release date for Ascendance of a Bookworm Season 3?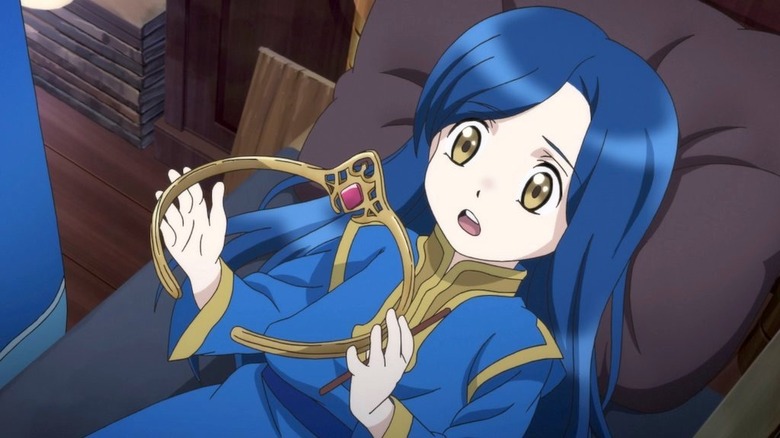 Ajia-do Animation Works
Generally, anime don't reveal the exact release date until shortly before it premieres. In the case of the third season of "Ascendence of a Bookworm," we now know that the new episodes will come out in spring 2022, but nothing more specific (Anime New Network). For international audiences, Crunchyroll has aired the previous two seasons and will likely do the same with Season 3. The first season aired on Crunchyroll simultaneously with its release in Japan. 
For anime fans who prefer to watch shows with an English dub, "Ascendence of a Bookworm" does have an English dub, but it tends to come out months after the original version, so expect to wait a while before you can see this version of Season 3. Like with many other shows, not just anime, "Ascendence of a Bookworm" probably faced production delays due to the pandemic, which is why Season 3 is taking so long to come out compared to Seasons 1 and 2 of the series. 
What characters will be in the anime's third season?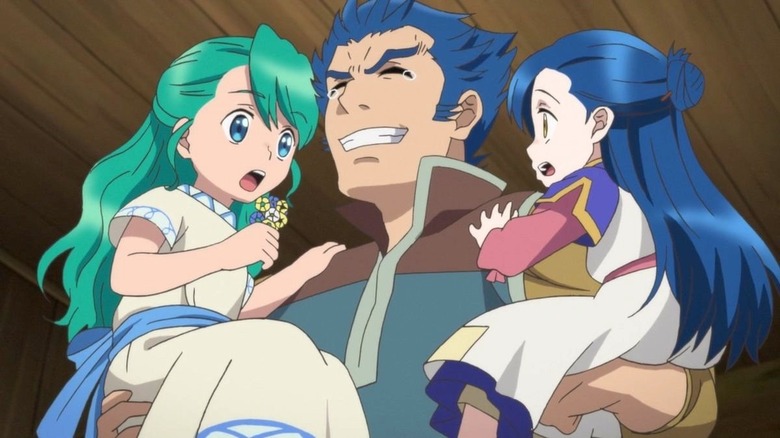 Ajia-do Animation Works
Going into Season 3, fans can expect all of the same characters to show up in the new episodes. Alongside Myne, voiced by Yuka Iguchi, there's Ferdinand (Show Hayami), the High Priest of the city of Ehrenfest, who now knows about Myne's previous life and sees her as extremely valuable to the kingdom. Myne is very close with her family, which includes her father Gunther (Tsuyoshi Koyama), her mother Effa (Fumiko Orikasa), and her sister Tuuli (Megumi Nakajima).
While Myne slowly becomes more involved with her priestess training, she still keeps close ties with her best friend Lutz (Mutsumi Tamura), who finds out who she really is at the end of Season 1 but decides to stay friends with her. Myne and Lutz work with a man named Benno (Takehito Koyasu), a merchant who is helping them make and sell paper for books. As Myne has a lot of ideas for inventions to help improve daily life, Benno helps her produce them while she's stuck at the temple with the priests.
What will happen in Ascendance of a Bookworm Season 3?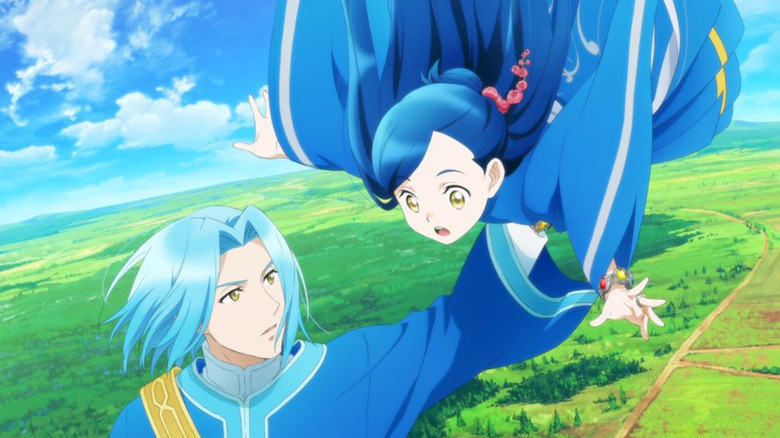 Ajia-do Animation Works
While Season 1 of "Ascendence of a Bookworm" focuses on Myne's determined mission to make her own books and read, Season 2 focuses more on her mana, the Devouring, and her life at the temple. Through her work at the temple, Myne comes across an orphanage that she decides to help in any way she can, including through books and her accessory making. After the temple fires the priestess who runs the orphanage, basically leaving the children to starve, Myne becomes the new orphanage director by folding the establishment into her paper and book making business. 
At the end of Season 2, Myne uses her mana in public for the first time, exhibiting her power in front of a bunch of knights by completing a healing ritual. Going into Season 3, Myne's role in the kingdom and with the nobles will likely grow, with Ferdinand involving her in politics and social aspects of the temple more and more. Although Myne doesn't want it to happen, it's possible that this will take over more of her life, drawing her further away from her family and friends. What else will Myne change for the better in the kingdom of Ehrenfest?