The Cast Of Castlevania Is Gorgeous In Real Life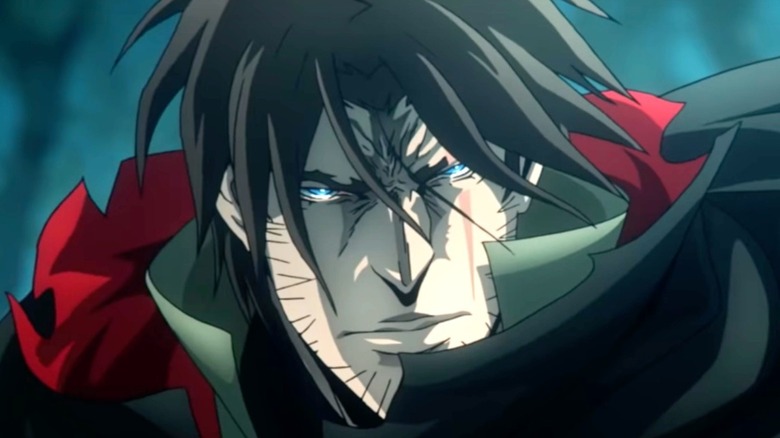 Netflix
Based on the classic video game franchise, "Castlevania" is an action-packed anime series on Netflix that has blown fans of horror fantasy away for four incredible seasons. The series depicts the adventures of Trevor Belmont, Alucard, and Sypha Belnades, as they fight against the dark powers of the infamous Dracula and his evil minions. Yet even after the vampire lord's defeat, the friends find themselves confronted with even deadlier stakes, which will test their resolve as well as their inner strength.
The anime style of "Castlevania" is not only gorgeous to watch, but it allows the show's creators to get down and dirty with the use of supercharged fantasy violence and gore. The animation team behind the series, Powerhouse Animation Studios, would go on to do more projects with Netflix, including "Blood of Zeus" and "The Masters of the Universe: Revelations." As for the actors in the recording studio, it's almost a shame that they didn't get to appear on screen, since they are just as pleasing to the eye — if not more so — than their animated counterparts. Here is what the voice actors of "Castlevania" actually look like.
Richard Armitage is as charming as he is handsome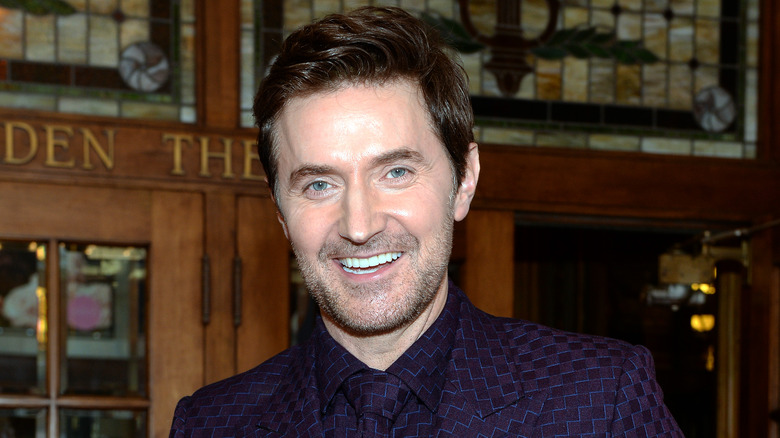 Gp Images/Getty Images
Trevor Belmont is arrogant, sarcastic, and a force to be reckoned with throughout the show. At the beginning of the series, he is a selfish loner who would rather drink himself into a stupor than follow in his family's footsteps as a legendary vampire hunter. Yet as the series progressed, he manages to put aside his self-serving ways and become the hero he was meant to be.
The actor behind the voice of Trevor Belmont is Richard Armitage, a man who is no stranger to the fantasy genre. Most movie fans may know him for his performance in "The Hobbit" trilogy, where he played Thorin Oakenshield, the wandering king looking to restore his rightful place in the halls of the Lonely Mountain. Even beneath all the makeup and prosthetics used to turn him into a dwarf of Middle-earth, Armitage's smoldering good looks are impossible to hide.
In an interview with Frederator Studios in 2018, Armitage described his experience of playing Trevor Belmont. "Trevor is just fun to voice," Armitage said. "He is rude and impatient, a bit lazy. A bit drunk. Hard bitten and when necessary a total kick ass. But he feels world weary which makes for a great obstacle. He's searching for the why and wherefore of his life. The developing relationship with Sypha may well bring some answers."
Armitage also appeared as Heinz Kruger in "Captain America: The First Avenger," and in the cult series "Hannibal" as Francis Dolarhyde. He can also be seen in the Netflix original series, "The Stranger," a mystery thriller based on the novel by Harlan Coben.
Alejandra Reynoso can't hide her natural beauty, even in the recording studio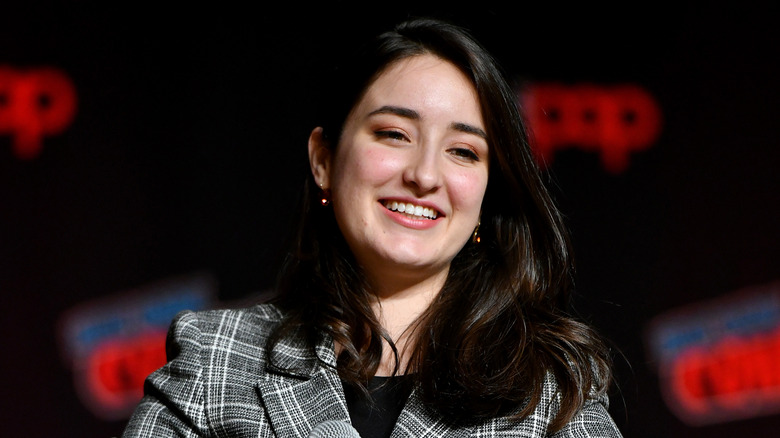 Craig Barritt/Getty Images
Teaming up alongside Trevor Belmont is the powerful sorceress and queen of sass, Sypha Belnades. When they first met, Sypha had been turned to stone by a Cyclops, but Trevor managed to break the spell and bring her back to the world of the living. Although they butt heads when they first meet, the two come to realize that they make a great team — and, of course, inevitably fall for one another.
Sypha is played by Alejandra Reynoso, who is no stranger to the world of voice acting. The lovely and talented 27-year-old and Los Angeles native has been featured in both animated series and video games, including "Winx Club" as Flora, as well as roles in "Red Dead Redemption II" and "Legends of Runeterra."
In 2019, the cast of "Castlevania" gathered together to discuss the series in a panel at Comic Con. When asked about what it was like to be a part of such a groundbreaking show, Reynoso had this to say: "I think it's worked because it's so evident how much the creators behind it, how much they love and respect the property and the story and the characters. And first and foremost, it is about making a great story with great characters that are fleshed out and they're all well rounded, complex individuals. So it wasn't about making a video game adaptation, and it wasn't a cash grab for anyone, it was a project that was really important to the people who did it."
James Callis smolders whether he is on or off screen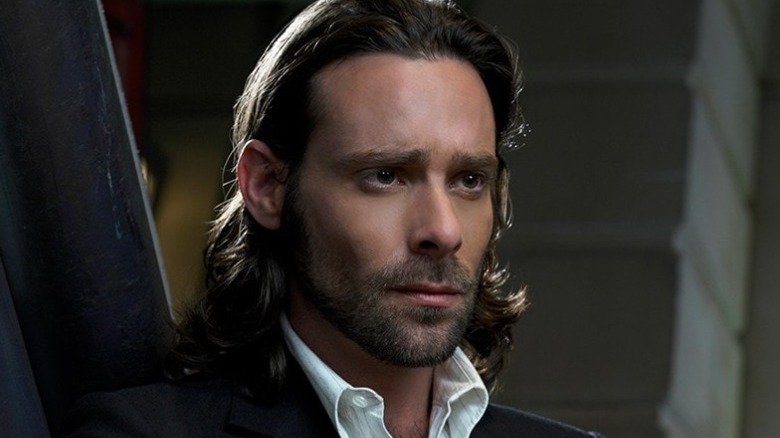 SyFy
Rounding out the trifecta of the main team of heroes in "Castlevania," Alucard is perhaps the most complex of all the characters. Even as the son of Dracula and Lisa Tepes, Alucard knows he must put an end to his father's reign of terror. As a half-human, half-vampire, Alucard walks a lonely road with very little chance at happiness, and yet he finds comfort in the friendships he makes with Sypha and Trevor.
English actor James Callis has had a varied career for the last few decades, and not just thanks to his handsome features. He made his film debut as Tom in the "Bridget Jones's Diary," and appeared in the later sequels as well. He was also a regular in the 2004 cast of "Battlestar Galactica" as the womanizing Dr. Gaius Baltar. Callis has many other TV credits to his name, including "Eureka," "CSI: Crime Scene Investigation," "12 Monkeys," and "Blood and Treasure."
During the same 2019 Comic Con panel mentioned earlier, Callis shared his thoughts on the show's impact and what it meant to him: "For me, it's interesting that something that is anime can be so truly scary, so really worrying — disturbing, I would say, [which] I think then makes it important. [We're] chronicling something, there's some, no pun intended, but like some real meat on the bones ... And it's not just about the characters, who are in the show, it's about society, and about the ripping apart of that society. So it's pretty serious stuff, and it's very exciting to be a part of it."
We can't look away from Theo James' penetrating gaze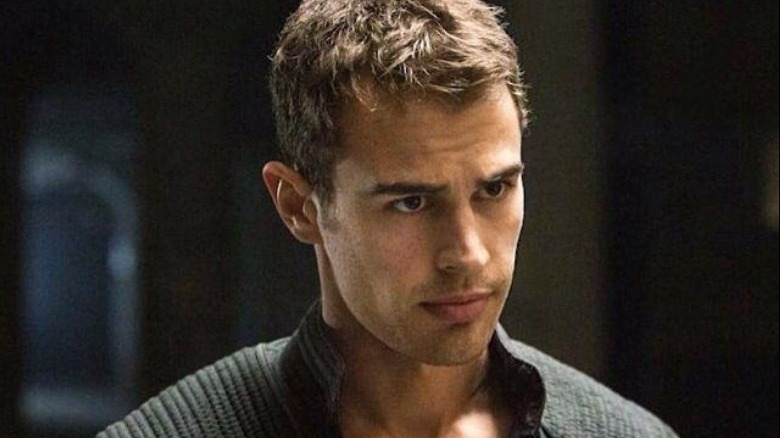 Summit Entertainment/Lionsgate
Aside from our main heroes, "Castlevania" also closely follows the storylines of Isaac (Adetokumboh M'Cormack) and Hector, the human Forgemasters and Dracula's loyal generals. Hector is ignorant of Dracula's plans to do away with them once his war against the humans is won, and this revelation leads to the betrayal of his master — yet his actions ultimately end in him being betrayed as well, as he is made a slave by Carmilla and her sisters.
Theo James plays Hector in the series, and fans will likely remember his puppy dog brown eyes and chiseled jawline from the "Divergent" films, where he played Four. James also was a guest star on "Downton Abbey," playing the devilishly handsome Kemal Pamuk. He can be seen in other feature films such as "Underworld: Blood Wars," the Amazon original "Zoe," and Netflix's "This is the Way it Ends."
James also lent his voice to the Netflix animated feature, "The Witcher: Nightmare of the Wolf," as Vesemir. A character who will be appearing in Season 2 of "The Witcher," Vesemir is a mentor to Geralt (Henry Cavill in the live action series), and the leader of the School of the Wolf at Kaer Morhen, the home of the witchers. Beau DeMayo, the screenwriter for both "The Witcher" series and "The Witcher: Nightmare of the Wolf," gave James very high praise for his portrayal in the animated feature. "Theo completely just brought the charm and charisma that we had imagined for Vesemir," DeMayo told Screen Rant.
Jaime Murray is stunning in real life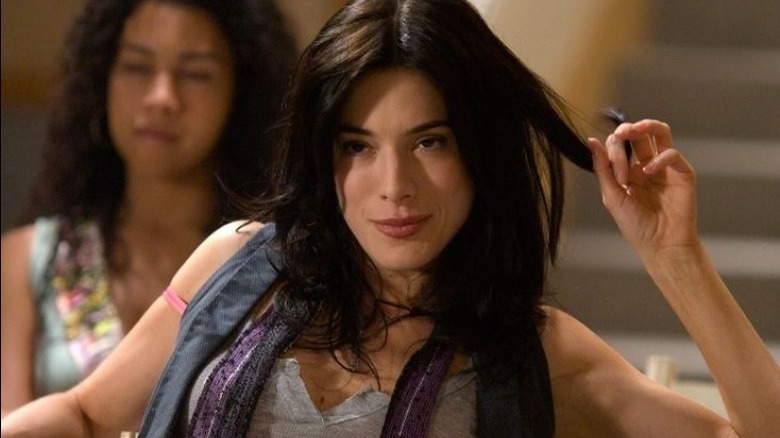 Showtime
Dracula's defeat in "Castlevania" Season 2 gave rise to an evil more formidable foe — Carmilla, the bloodthirsty vampire queen with an insatiable lust for power. Unlike Dracula, who wished to wipe out the entire human race, Carmilla plans to conquer the world and enslave humans as chattel. Her designs for reaching her ultimate goal lead to the deterioration of her mind, so much so that even her allied sisters worry about her sanity. Befitting her primal nature, Carmilla meets her end in an extravagantly gory fashion in the final season of "Castlevania."
London, England native Jaime Murray voices the villainous Carmilla, and although the character she plays is a truly despicable and horrifying figure, Murray herself is as gorgeous as they come. Murray trained at Drama Centre London in 2004 before making her way to Los Angeles to take on the role of Lila Tournay in Season 2 of "Dexter" in 2007 — playing yet another beautiful but deadly psychopath. In 2013, Murray offered her thoughts on the series and her character, stating, "Sometimes I play these very bad characters, [but] for me to play them, I can't judge them as being bad, I have to be the best lawyer for those people as possible. And it just makes you realize that everybody is on a journey, everybody has a story to tell, and, you know, it just has this humanizing quality."
After "Dexter," Murray went on to star in several other American TV shows, such as "Warehouse 13," "Once Upon a Time," and "Gotham."