How Tom Holland Helped Jon Bernthal Become The Punisher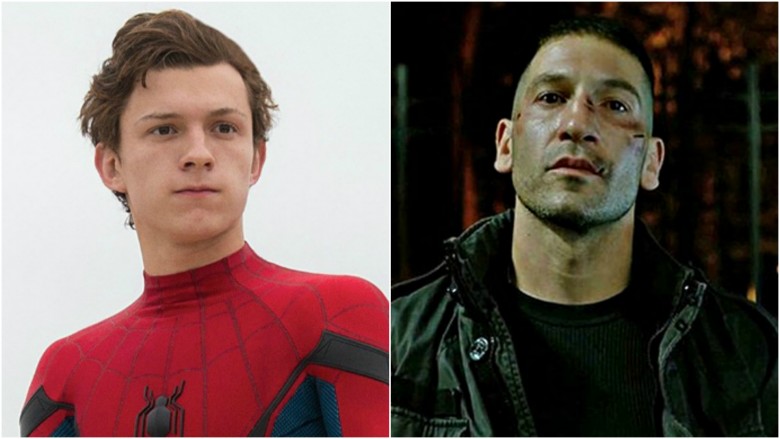 Sony/Netflix
The Punisher made his first appearance in a Spider-Man comic book, and it turns out that Peter Parker helped bring the iconic vigilante to TV, too.
Jon Bernthal, who debuted as the Punisher on the Netflix series Daredevil and who will star as the character on his own Netflix show, told Variety that Tom Holland, the MCU's new Spider-Man, played a significant part in helping him land the coveted role.
The pair were shooting the upcoming medieval action film Pilgrimage as they were both trying to land their Marvel roles. During breaks while filming in Ireland and Belgium, they helped each other out with their audition tapes. Bernthal said he would read lines to Holland off-camera for his Spider-Man tapes, while Holland got a little more involved for Bernthal's clips: he acted in a scene.
"They use mock scenes, but it was a man telling this young boy about shooting a deer–describing the moment of killing a deer, I believe," Bernthal said. "We had to play that the deer was there, and I see him getting ready to kill it. [Holland] was off camera and we were like, 'Get in here and do it with me.'"
Whatever they did worked. Holland debuted as Spider-Man in Captain America: Civil War, and Bernthal played the Punisher in the second season of Daredevil.
"I can't say enough good things about Tom," Bernthal said. "He's got strength and talent and fortitude that's not only remarkable for someone his age, but for someone period."
The former Walking Dead cast member also feels a little responsible for Holland becoming Peter Parker. "We were all part of him nailing and tracking down the Spider-Man role," he said. "We got to see his determination. I've never seen anything like that–how hard he fought for it–and that's how he approaches his work everyday."
Will we ever see the pair onscreen together in the Marvel Cinematic Universe? It would be tricky to combine the Netflix shows with the movies, but Marvel Studios president Kevin Feige told io9 it's not impossible. "As those [shows] come out, as those get into the culture, I think they're, just like what happens in the movies, tools in the toolbox for some of those shows," Feige said. "And what happens on those shows could be tools in the tool box of the movies. I think that'll happen at some point."
Rumors of Holland and Bernthal's audition tapes first surfaced about a year ago, and Bernthal told CinemaBlend the tapes still exist. "You can call Marvel and ask for it, but that's like breaking into Fort Knox," he said.
We'll see Holland back in his Underoos in Spider-Man: Homecoming on July 28 and the first season of The Punisher will hit Netflix sometime this year. Until then, check out some clues from Daredevil that hint about what we can expect from Bernthal's upcoming series.