This Is How They Hid AnnaSophia Robb's Arm In Soul Surfer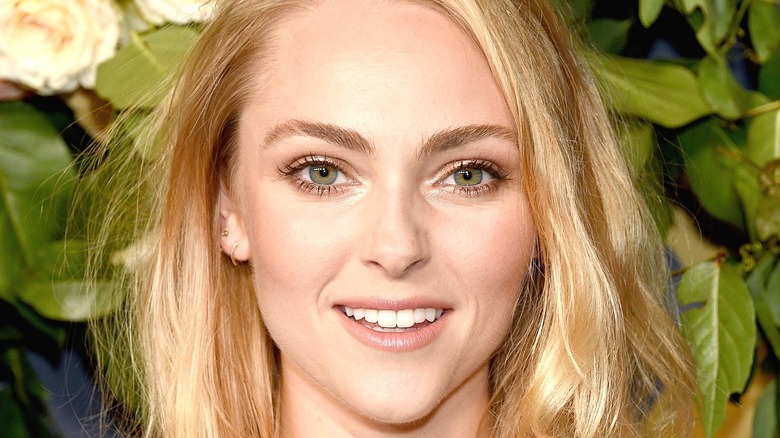 Gregg DeGuire/Getty Images
In 2003, the life of a 13-year-old Bethany Hamilton changed while out surfing in Hawaii. A tiger shark attacked Hamilton which resulted in her losing her left arm. However, despite the attack, Hamilton continued her surfing career and eventually became a champion-winning pro. It's an inspirational story that was adapted for the big screen in the 2011 film "Soul Surfer" directed by Sean McNamara, starring AnnaSophia Robb as Hamilton.
Since "Soul Surfer" is based on a true story, it's little wonder that McNamara aimed for as much authenticity with the movie as possible. In an interview with Variety, the director noted that he placed the actors in the actual ocean while filming and relied on experts to keep the cast and crew away from dangerous surf. One of the most critical, complicated aspects of realism in the film was having Robb's arm mirror that of Hamilton's wound. So how did "Soul Surfer" manage to hide the actor's arm?
Soul Surfer used a mix of prosthetics and digital editing
The effort to hide AnnaSophia Robb's arm during the shark attack scene and afterward for the rest of the film included a combination of visual effects methods. According to Animation World Network, Engine Room, the VFX production team that worked on "Soul Surfer," had Robb wear a sleeve with green or blue acrylic paint on her arm, which allowed them to digitally edit out her arm. Director Sean McNamara told Variety that Engine Room had to perform "450 arm removal shots, from all angles."
Robb was also fitted in prosthetic sculptures based on Bethany Hamilton's wound during the shark attack, and residual limb following the attack. During the shark attack scene, Robb's real arm was placed through an opening of the surfboard so that only the prosthetics were shown on camera.
For most of the surfing scenes, the filmmakers were able to rely on Hamilton, who revealed in a 2011 interview that she did the stunt surfing scenes for Robb after the shark attack portion of the movie. "I was very insistent that I wanted to do the surfing for the rest of the film," she said.
Beyond doing the surfing stunts, Hamilton was very involved in the making of the movie. In the same interview, she also said she suggested Robb play as her after seeing her performances in "Bridge to Terabithia" and "Charlie and the Chocolate Factory."