Rumors Of More Drama Swirl Around American Pickers' Mike And Frank
When you think of drama-filled reality shows, your first thoughts probably turn to the dinner fights of the "Real Housewives" series or maybe something like "Hell's Kitchen" with Gordon Ramsey screaming at anyone within earshot. When compared to the rest of what reality TV has to offer, driving around looking for old antiques sounds like a walk in the park, right? 
Since 2010, things seemed peachy-keen on History's "American Pickers." Mike Wolfe and Frank Fritz came across as good friends who enjoyed searching through junk in the hopes of coming across treasure. Things took a turn when Fritz had to step away from the show for a while as he dealt with back surgery and addiction, but based on reports, it sounds like the plan was always for him to return. Fritz would later say that Wolfe stopped returning his calls, and the two haven't spoken in years. 
The newest "American Pickers" episodes have gone on without Fritz, and while fans hope the show can put its unpleasantness behind it, more news from behind the scenes materialize.
Several scandals unfold behind the scenes of American Pickers at once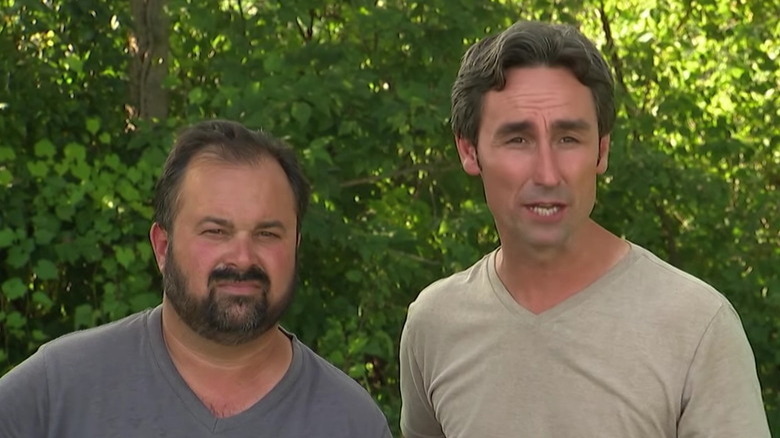 History
Most fans are already aware of the drama between Wolfe and Fritz, but OK! just dropped an exclusive exposé with an anonymous industry insider, who goes into details about how there's more than one thing upsetting the show's producers at the moment. 
Apparently, many people who work on the show think Mike Wolfe was in the wrong for never reaching out for Fritz. Whatever his personal problems with addictions were, he went through the process of getting help, and people seem to think Wolfe should've given him another chance. Compounding matters is the fact Wolfe is reportedly flaunting his new girlfriend, Leticia Cline, in public places even as he's in the midst of divorcing his ex-wife, Jodi Catherine Wolfe (via TMZ). The insider states, "People not only think it was mean-spirited of Mike not to stick up for Frank, but it seems like he's too wrapped up in his new romance to even care about him."
Wolfe isn't the only one reportedly making waves behind the scenes. The insider goes on to explain how Danielle Colby has upset network executives by selling risqué photos and videos of herself online. They explain that "American Pickers" fans tend to lean conservative, so her actions have reportedly upset many. Suffice to say, there's a lot of tension over on the show, and hopefully, everything can get worked out soon so that everyone can focus on the picking.