The Office Character That Fans Wanted To See Get More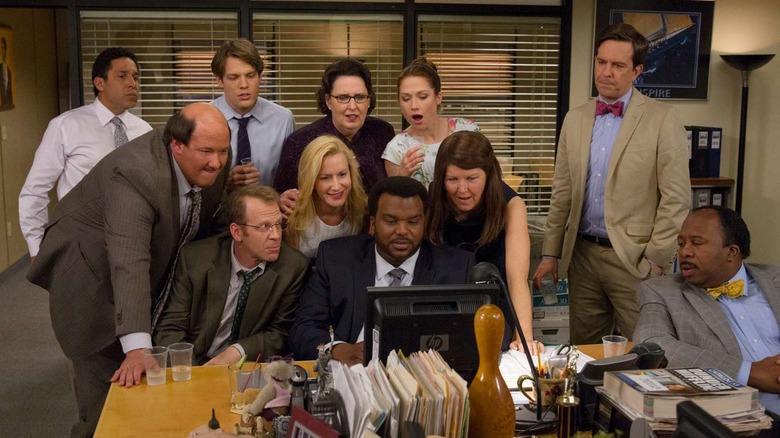 NBC
There are plenty of reasons to love "The Office," but it's the ensemble of quirky characters that give the show its heart. While Jim Halpert (John Krasinski), Pam Beesly (Jenna Fischer), Dwight Schrute (Rainn Wilson), and Michael Scott (Steve Carell) are the most followed employees at Dunder Mifflin Paper Company, Inc, "The Office" features an array of supporting characters who are just as lovable and memorable in their own right. That's why we're still talking about Creed Bratton (Creed Bratton) and his horrible antics all these years later.
That said, any show that features a multitude of characters is bound to overlook or mistreat some of them from time to time. "The Office" is no exception. Even the most die-hard fans of the beloved NBC comedy series will admit that some supporting players are overlooked, mistreated, or easy to forget about. However, there is one character that appeared in the final season who some fans believe deserved better.
Esther and Dwight weren't meant to be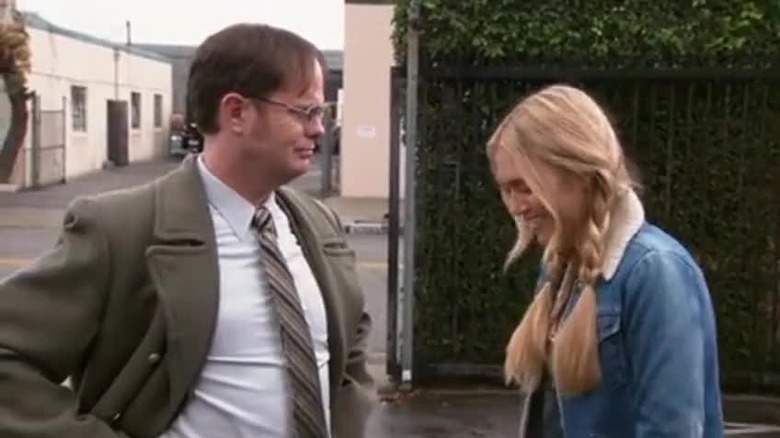 NBC
Jim and Pam aren't the only hot couple in "The Office." There are many romances in the show, though some of them are quite dysfunctional and questionable at times. When it comes to strange romances, however, Dwight is arguably the poster boy for them. His romantic legacy will forever be tied to his complicated relationship with Angela Martin (Angela Kinsey), which might be why his fling with Esther Bruegger (Nora Kirkpatrick) doesn't get talked about often.
Esther shows up in Season 9 and enters into a short-lived relationship with Dwight, and they seem like the perfect match at first. It's revealed that they grew up in the same farming community and are technically third cousins. However, since they aren't related by blood, they decide to make a go of it. Unfortunately, the relationship comes to an end when Dwight decides to propose to Angela instead. But did he make the right decision?
Some fans wish Esther and Dwight ended up together at the end of The Office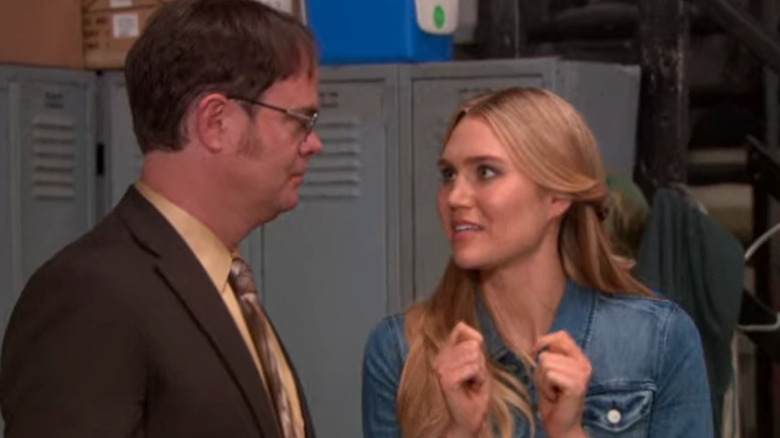 NBC
While Esther's tenure in "The Office" didn't amount to much in the grand scheme of things, she did make a positive impact on some viewers, so much so that they wish she was given a more substantial role in the final season. The general consensus of a recent Reddit thread indicated that the character's lack of development was a symptom of the show's lackluster writing in the later seasons. "I hate how they just tried throwing so many new characters in the last two seasons just to be forgotten about," wrote one user.
Despite the mixed reception to her arc, some fans wish that she and Dwight lived happily ever after, mainly because they think Esther was a better — and more trustworthy — fit for him than Angela. As 69_WetBulb pointed out, "[she] wasn't sleeping around like Angela was," suggesting that Esther might have been less likely to hurt Dwight.