Does Tom Holland Voice Peter Parker In What If...? Episode 5?
Disney+/Marvel Studios
"What If...?" Episode 5 showed us what would have happened if Janet Van Dyne had contracted a virus in the quantum realm. When she was brought back to our world by Hope Van Dyne, the virus spread and turned the entire Pacific Northwest into zombies in a matter of 24 hours. A group of the Avengers — including Captain America, Black Widow, Hawkeye, and Iron Man — went to fight the virus but were overcome. Without their assistance, the world slowly started to succumb to the zombie apocalypse.
The surviving MCU characters who work together to fight the virus include Peter Parker, Happy Hogan, Bucky Barnes, Okoye, Sharon Carter, Bruce Banner, Kurt (from X-Con), and Hope. Later in the episode, we learn that Vision, Scott Lang, and T'Challa are still alive and in their respective synthezoid and human forms. Fans of the MCU should have recognized most of the voices in the episode. The actors behind many of the live-action MCU characters we love lent their voices to Episode 5. Jon Favreau, Sebastian Stan, Danai Gurira, Emily VanCamp, Mark Ruffalo, David Dastmalchian, Evangeline Lilly, Paul Bettany, Paul Rudd, and Chadwick Boseman all recorded their parts for "What If...?" Episode 5. You might realize one MCU star who is missing from that long list.
Nope, Tom Holland does not voice Peter Parker in What If...? Episode 5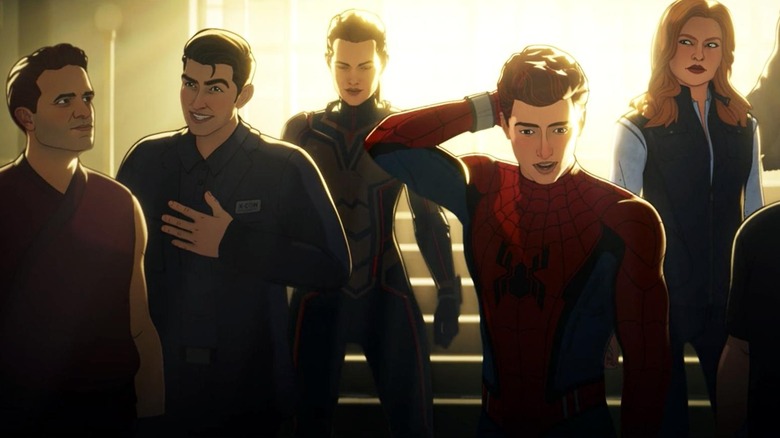 Disney+/Marvel Studios
We can confirm that Tom Holland is not the voice behind Peter Parker in "What If...? Episode 5. According to the credits, Spider-Man is voiced by Hudson Thames. The actor only has a few recognizable credits to his name, including a one-off appearance on "Mad Men" and an eight-episode run on "Malibu Country." Thames did a pretty solid job of impersonating the squeaky voice of Mr. Holland, though.
Several other big MCU actors did not voice their characters in "What If...?" including Robert Downey Jr., Scarlett Johansson, and Chris Evans. Additionally, Dave Bautista did not voice Drax in Episode 2, and the actor revealed on Twitter that the studio never asked him to do so. In that episode, Chris Pratt did not record lines for Peter Quill, but his character only had minimal dialogue, so it wasn't too noticeable. Episode 3 features Betty Ross and General Ross, who are not voiced by their original "The Incredible Hulk" actors — Liv Tyler and William Hurt. Brie Larson does not voice Carol Danvers in that episode either and will not do so in further episodes.
While it's a major bummer that so many major MCU players didn't participate in "What If...?," we're thankful the studio brought in other talents who did their best to match the character's voices we've come to know.