The Multiversal Sci-Fi Hidden Gem You Can Watch On Amazon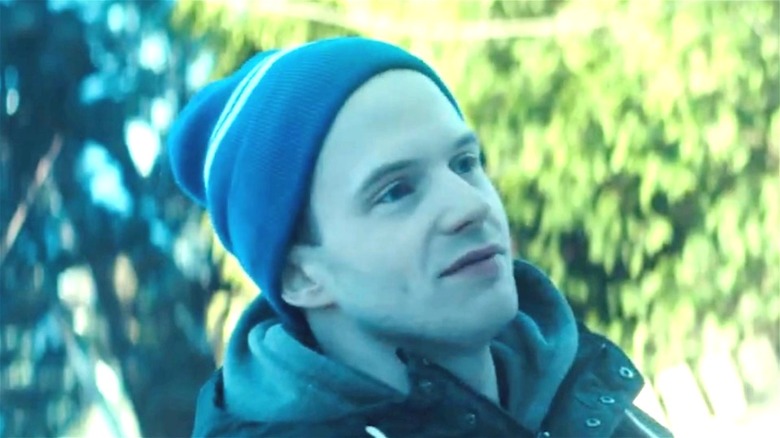 Vertical Entertainment
The next arc of the MCU looks poised to embrace the multiverse that has always been there, simmering beneath the surface of the franchise's meta-story. That shift became visible when the finale of the Disney+ series "Loki" explored a multiverse war, and will continue in "Spider-Man: No Way Home" and the tellingly entitled "Doctor Strange in the Multiverse of Madness."
While the multiverse concept might be particularly en vogue at the moment, it's far from new. Filmmakers have been coming up with inventive ways to explore the idea of parallel dimensions and their possible implications for years. Sony Pictures, of course, dipped its toe in those waters in a big way with 2018's excellent "Spider-Man: Into the Spider-Verse," while even J.J. Abrams' 2009 "Star Trek" reboot acknowledged multiple timelines by including Leonard Nimoy's portrayal of Spock in the film.
Of course, not every depiction of a multiverse needs to come attached to a major film franchise. Indie moviemakers have also been more than willing to dive into stories that explore the consequences of interacting with a world that might sit slightly to the side of reality, just as Mexican director Isaac Ezban did in his 2018 English language debut. 
Here is the hidden sci-fi gem that viewers interested in exploring the multiverse can watch on Amazon Prime Video right now.
Parallel explores a multiverse connected to a world that feels very real
Anyone who missed "Parallel" when it was first released wasn't alone. While the film first premiered in 2018 (via IMDb), it didn't find a distributor in the United States until late 2020, when it arrived in select theaters and on VOD services, per Variety.
However, now that "Parallel" is available on Amazon Prime Video, viewers interested in seeing a multiverse with horror influences have easy access to what director Isaac Ezban described to Rue Morgue as "human sci-fi" that was inspired by "The Twilight Zone." In "Parallel," four friends discover that the house they are renting contains a hidden room with a mirror that leads them to a reality much like their own, but with tiny differences. While they first use the portal simply to beat an impossible deadline for their start-up company, things soon get out of hand, with deadly consequences.
While the multiverse action of "Parallel" is a decidedly lower-budget affair than anything coming from the MCU, it is ultimately a well-crafted story that was received positively by critics, according to Rotten Tomatoes, where it sits with a respectable 82%. Anyone looking for a quick multiverse fix should be able to find what they're looking for in "Parallel."