Is True Grit Based On A True Story?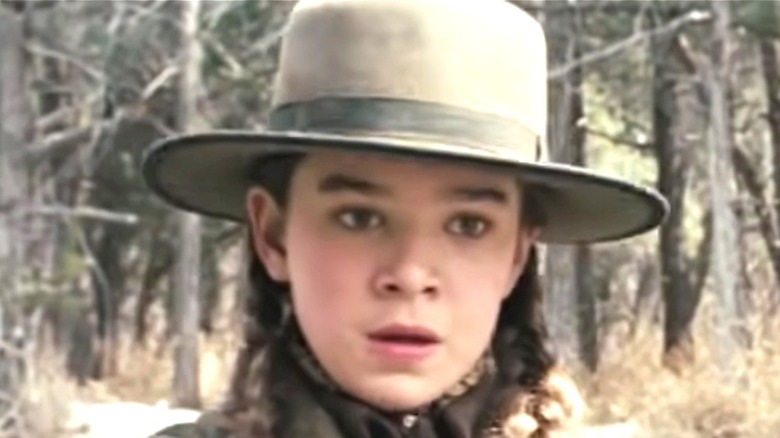 Paramount Pictures
For a directing duo so widely reputed for the sheer strangeness of their sensibilities, the weirdest move in all of Joel and Ethan Coen's careers may have been the choice to helm a straightforward Hollywood remake of a beloved 1960s western. But, ever as consistent as they are unpredictable, the Coens were able to weather the bafflement of critics and fans and make 2010's "True Grit" one of their most successful films ever.
The multi-Oscar-nominated film, which tells the story of a determined 14-year-old Arkansas girl (Hailee Steinfeld) and the U.S. Marshal (Jeff Bridges) she hires to capture her father's murderer, was both highly acclaimed by critics and — rare for a Coen Brothers film — incredibly successful at the box office, grossing $252 million worldwide against a $38 million budget (via The Numbers). It could be said that it was just as much, if not more, of a success than the John Wayne and Kim Darby-starring 1969 original; in both cases, Mattie Ross' peculiar, yet warmly familiar frontier journey captivated millions of viewers across America and the globe.
But was that journey ripped from the actual reality of the Old West? Did Mattie and Rooster Cogburn really exist? The answer would be no, but that doesn't mean there isn't historical truth to the tale both versions of "True Grit" were based on.
True Grit is based on a fiction book by a reclusive author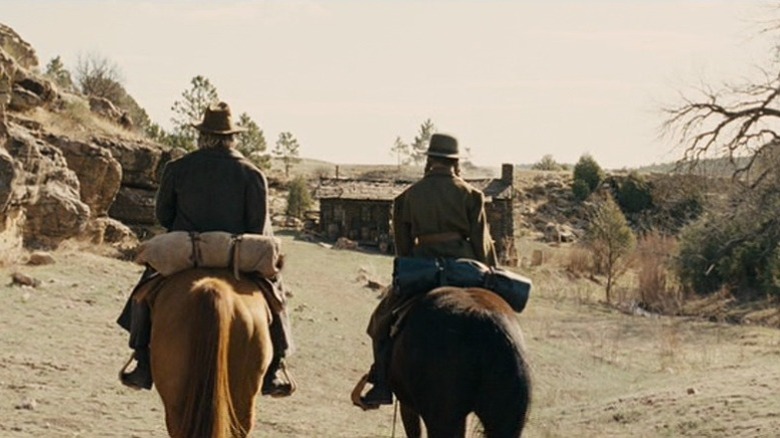 Paramount Pictures
Both the Coen brothers' "True Grit" and the Henry Hathaway-directed 1969 original were adaptations of the same source material: the eponymous 1968 novel by Charles Portis.
A classic of the Western literary genre in its own right, "True Grit" originally ran in several installments in the Saturday Evening Post before being published in full by Simon & Schuster later in the same year, per The Believer. A reclusive, celebrity-averse novelist, Portis became notable for his commitment to authenticity and local color, writing dialogue so old-fashioned and ornate that critics wondered if it was all straight-faced or just the Arkansan writer's elaborate way of parodying the genre (via The New York Times).
While "True Grit'"s observant teenage protagonist was a thinly-veiled avatar for many of Portis' own thoughts and feelings about the Old West, the novel was otherwise fictional; Mattie Ross, Rooster Cogburn, and La Boeuf are all Portis' brainchildren. Therefore, neither Marguerite Roberts' 1969 screenplay nor the Coens' 2010 one bear any direct link to real life. But, even though "True Grit" is not based on a true story per se, that doesn't mean it didn't take from real life in many significant ways.
There is truth to True Grit's historical background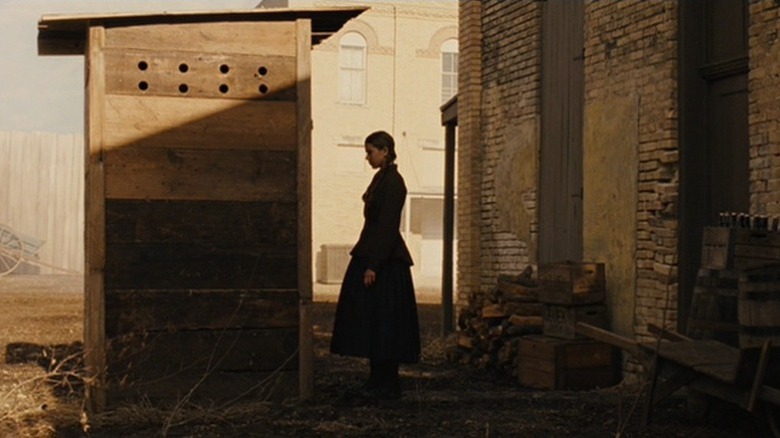 Paramount Pictures
Charles Portis began his career as a journalist at the Northwest Arkansas Times. During that time, he received an assignment that would go on to inform his famous approach to dialogue in "True Grit:" Tasked with editing the dispatches from women correspondents — or "lady stringers" — in the Ozarks, he became dazzled by the folksy extravagance of their prose, and revolted at having to iron it out. This experience would later inspire him to take revenge on the "drab neutrality of newsman's English" by giving Mattie a similarly unique and authentic voice (via Open Letters Monthly).
In addition to that bit of real-life inspiration, the Booneville Democrat described in 2019 a presentation by Cody Faber, park ranger at the Fort Smith National Historic Site, concerning the matter of fact vs. fiction in Portis' novel. According to Faber, Mattie Ross echoes famous Fort Smith women such as Mary Rutherford Cravens, "whose letters have provided historians insight into how [Fort Smith] looked" during the Civil War. Rooster Cogburn, meanwhile, was an amalgam of several historical Fort Smith deputies (via National Park Service).
Faber also pointed out that there is a character in "True Grit" with a real-life equivalent: Judge Isaac Parker, the "Hanging Judge," portrayed by Jake Walker in the 2010 version. However, executions in real life were not public spectacles, and the real Parker wasn't happy about overseeing so many of them, as he believed the death penalty to be morally wrong and only really enforced it to comply with the law.