This New Last Night In Soho Trailer Teases A Bizarre Ride
Director Edgar Wright made a name for himself satirizing the tropes and conventions of various movie genres. "Shaun of the Dead" took aim at zombie movies, while "Hot Fuzz" poked fun at buddy-cop action flicks. However, the filmmaker's proven he's more than just a funny guy, as evidenced in 2017's "Baby Driver," which had some of the most genuinely thrilling car racing set pieces out of any movie in the 21st century. 
It appears he rather likes making movies that aren't parodies of others, which is evident from the most recent trailer for his upcoming film, "Last Night in Soho." There aren't really any laughs to be found within the 150-second teaser, but it does give us our best look yet at what looks to be one of the most disturbing psychological thrillers of 2021. With a voiceover that wasn't present in the first trailer, we now know for sure the movie follows a young woman, played by Thomasin McKenzie, who enters the body of an old starlet who was brutally murdered. It's up to her to solve the decades-old case, provided her visions don't kill her first.
Will you be able to sleep at night?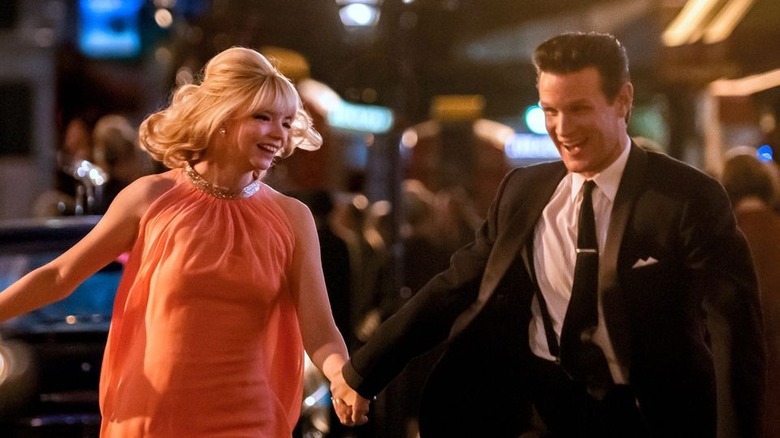 Universal Pictures
Time and time again, Edgar Wright has proven himself a master of tone, and with this "Last Night in Soho" trailer, he demonstrates he can take a high-concept horror concept and make it palatable to general audiences. While the idea of inhabiting the body of your idol may seem like an enticing prospect initially, things naturally take a darker turn as Eloise's dreams soon turn into nightmares. 
The trailer does an excellent job of selling the premise of the unusual plot, which incorporates both horror and time travel elements. It's appropriate considering Wright did an interview where he cited Nicolas Roeg"s "Don't Look Now" and Roman Polanski's "Repulsion" as influences on his latest film (via IndieWire).
The trailer also confirms two crucial details regarding the movie's release. It's set to come out on the appropriately spooky date of October 29, 2021, just a couple of days before Halloween. It will also be a theatrical exclusive. No doubt the higher-than-anticipated debut of "Shang-Chi and the Legend of the Ten Rings" has assuaged fears in Hollywood that people still don't want to go to the movies amid a continuing pandemic. Still, anything can change, so keep checking back for updates on "Last Night in Soho" if they materialize.