Patrick Wilson Is Unrecognizable In This Aquaman 2 Set Photo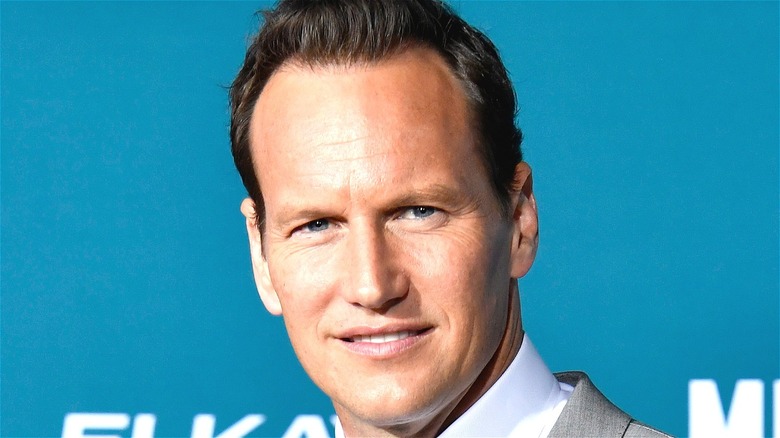 Frazer Harrison/Getty Images
Patrick Wilson has remained one of the most consistently solid franchise actors in Hollywood over the last decade. Most actors dream of landing one film series, but Wilson has multiple to his name, most notably the "Insidious" and "The Conjuring" movies. James Wan directed the first film in each of those franchises, and when Wan made the leap to superhero fare with "Aquaman," he brought his lucky charm with him.
It wasn't Wilson's first time in a superhero flick; he could previously be seen in 2009's "Watchmen." He also lent his voice to "Batman v Superman: Dawn of Justice" to play the President of the United States. But it was his premiere chance to show what he could do as an over-the-top villain. He portrayed Orm, a.k.a. Ocean Master, the half-brother of Arthur Curry (Jason Momoa). The two duke it out on multiple occasions, ultimately ending with Aquaman sparing his brother's life. Orm's reprieve keeps the doors open to allow him to return in other DC installments, and based on a recent Instagram pic, it looks like Wilson will sport a decidedly different look when "Aquaman and the Lost Kingdom" comes around.
Ocean Master has a beard now in a behind-the-scenes pic
Things are progressing nicely with "Aquaman 2" to meet its December 16, 2022 release date. Not much is known about the movie, but judging by the title, it will have to do significantly with the mythical "lost kingdom" mentioned extensively in the first film. And while it's unlikely Orm would be the primary antagonist in the next movie, it does appear as though he'll have a role to play in the follow-up with a distinct look to go along with it.
James Wan took to Instagram to post a picture of him with Patrick Wilson standing on a beach with the caption, "I found this guy @thereelpatrickwilson stranded on a desert beach, doing his Cast Away impression." Standing next to Wan is Wilson sporting a straggly beard and unkempt hair. It appears wherever Orm was sent to pay for his crimes in the first "Aquaman" movie doesn't have any razors, but it does have weights if those abs are any indication. Will Orm have a few action set pieces after all in "Aquaman and the Lost Kingdom?" Only time will tell.
For the time being, fans love the look, as evidenced by the cavalcade of comments pouring in from social media. Further down in the post,  you'll find statements like, "Boooy, you could do laundry on them abs" and "Love this! I can't wait." No doubt, those sentiments are shared by legions of fans who anxiously await December 16, 2022.