Rosario Dawson Really Wants To Play Ahsoka In A Star Wars Movie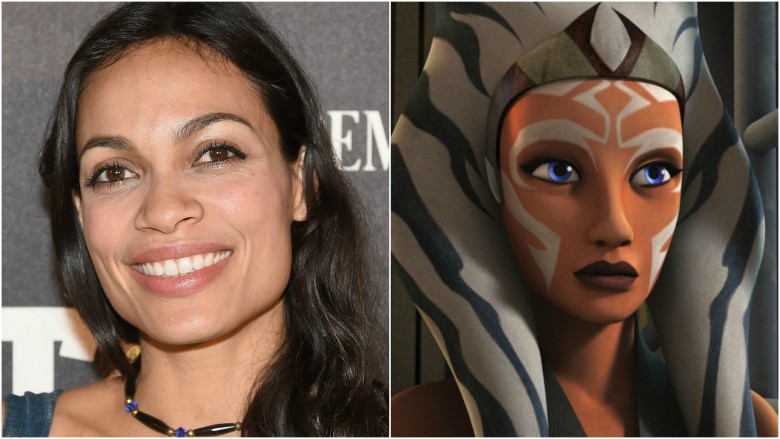 Getty Images/Disney XD
If the animated Star Wars character Ahsoka Tano ever makes it to the big screen, Rosario Dawson will jockey hard to play her. In fact, she's already started.
During a recent appearance on Good Morning America, Dawson said fans have started an online campaign to convince Lucasfilm to cast her in the role of the popular character, and she's definitely glad they did.
Dawson said landing the role would be "amazing" and pleaded for the internet to help her out.
Michael Strahan, a co-host on the show, pointed out that Star Wars follows Dawson on Twitter, to which she replied, "I know! I think it's a good sign!"Of course, there are no concrete plans (none that we know of, at least) to bring Ahsoka to a live-action Star Wars flick. The character was first introduced on the animated series Star Wars: The Clone Wars, then appeared on Disney XD's Star Wars Rebels. She was a Jedi Padawan apprentice of Anakin Skywalker, and she later helped establish a network of rebel cells against the Empire after the Clone Wars.
It wouldn't be crazy to think that the character could wind up in a Star Wars film. Forest Whitaker's Rogue One character Saw Gerrera also originated on The Clone Wars and later showed up on Rebels. And Rebels showrunner Dave Filoni recently said he's interested in helming a live-action movie when Rebels ends after season 4.
However, Lucasfilm has a funny way of ignoring the popular consensus when it comes to casting, and we have a feeling that a fan campaign could make Dawson a little too obvious of a choice. We'll let you know if producers prove us wrong.
While we wait, find out why the final season of Rebels won't include two significant events from Rogue One.