Why Shang-Chi May Not Release In China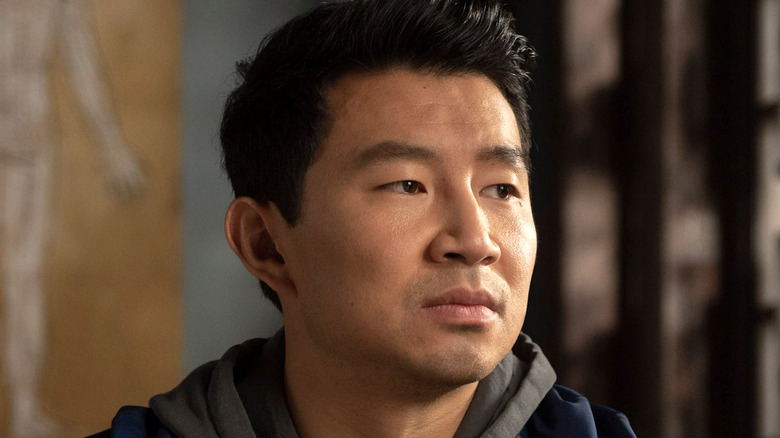 Marvel Studios
Marvel's most recent release, the highly-anticipated "Shang-Chi and the Legend of the Ten Rings," starring Simu Liu as the title character, is already super successful. According to Box Office Mojo, the movie's first weekend profit of over $71 million in the US broke Labor Day weekend records, while critics also love the film. "Shang-Chi" has a 92% Certified Fresh rating on Rotten Tomatoes, with Wendy Ide of The Observer stating, "It's vanishingly rare for a film to actually deserve its hype. But 'Shang-Chi and the Legend of the Ten Rings' does so, and more."
While "Shang-Chi" is sure to achieve more success in the coming weeks, there's one major obstacle standing in the way of the movie's worldwide box office returns, and that's China. As of right now, the newest Marvel film has not been approved to be released in China yet, and this could have a major effect — and not a good one — on the overall financial success of "Shang-Chi." Unlike most other countries that have a free market for cinema, China enacts strong censorship and requires a film to be approved in order to be shown within the country. As China continues to grow and become a key movie market, evident in CNBC's table showing the increasing percentage of box office sales from China in MCU profits, a film not being approved for distribution there will definitely affect its overall success. 
While it's still possible for "Shang-Chi" to get a release in China, it's looking less and less likely. But why exactly is China so opposed to the film? 
China takes issue with the original Shang-Chi comics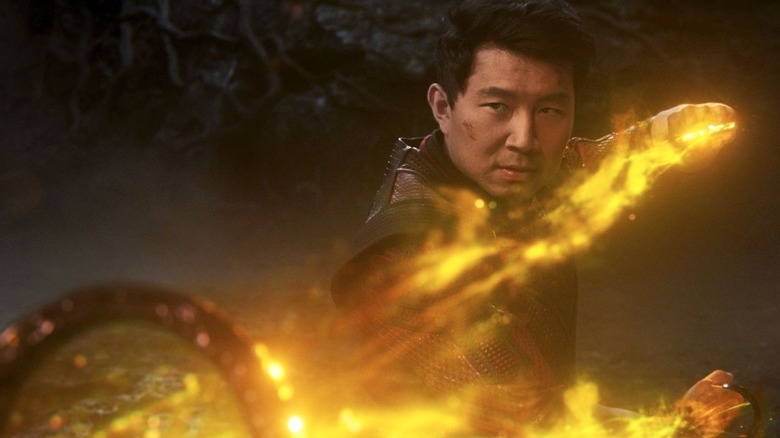 Marvel Studios
The main backlash surrounding "Shang-Chi" actually doesn't completely have to do with the film itself. Instead, Chinese audiences and the government find issue in the source material for the movie, the original Marvel comics that came out in the '70s and '80s, with the basis of Shang-Chi's father in the comics, Fu Manchu, going back all the way to a book by Sax Rohmer called "The Mystery of Dr. Fu-Manchu," released in 1913. As The Washington Post explains, the comics — which were written by white creators — focused on the racist idea of "yellow peril," which revolves around "a long-held fear of East Asia as a threat to Western civilization. Seeing them as simultaneously culturally inferior and dangerously cunning, the press and politicians portrayed Asian immigrants as a menace to the nation."
While Marvel attempted to retcon the comics' history by making multiple key changes, including removing Fu Manchu entirely and replacing him with Tony Leung's Wenwu, there are arguably still echoes of past racism that cling to the plot and characters. Some have noted how, despite the film presenting a modern, complex origin story with compelling characters, it still largely revolves around martial arts, playing into the "Kung Fu master" Chinese stereotype commonly seen in media. China likely connects this with Hollywood's poor depiction of Chinese stories in the past, leading to hesitation in approving "Shang-Chi." On the other hand, the original story is changed to present Shang-Chi as a Chinese-American growing up in California, played by a Canadian-Chinese actor, which also doesn't align with China's more traditional, nationalistic beliefs (CNN). 
The country has a lot of restrictions and rules about the entertainment industry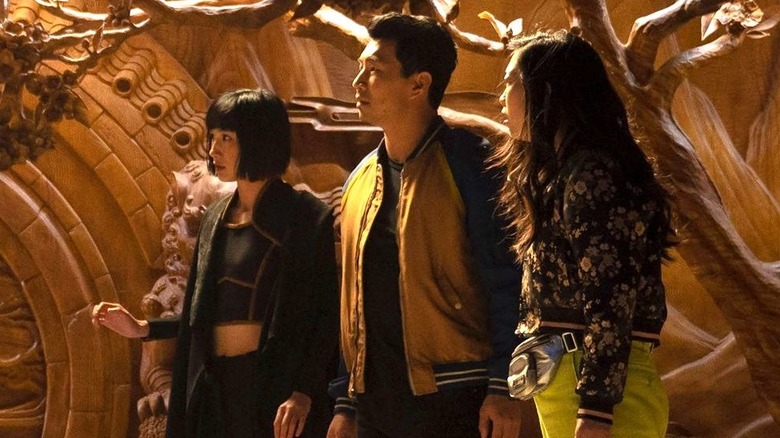 Marvel Studios
Another reason "Shang-Chi" and future Marvel films like "Eternals" face further opposition from China has to do with the country's increasing control over the sort of imagery that its citizens take in. Just recently, China's government enacted a ban on effeminate men on television, telling broadcasters to "vigorously promote excellent Chinese traditional culture, revolutionary culture and advanced socialist culture," instead of what they call "abnormal esthetics" and "vulgar internet celebrities" (NPR). One recent example of this policy is China's increasingly restrictive response to Korean entertainment, and in particular K-pop. As China becomes more conservative, Korea is doing the opposite, and China is continually banning bands like BTS for their unique style, which the country sees as the sort of "effeminate" imagery the policy references. There has also been censoring of BTS specifically for their music's progressive messages and past statements from members about politics and society that don't align with China's views (Deadline). 
This is also happening with "Eternals" director Chloé Zhao, who faced backlash in China after an old interview with Filmmaker Magazine resurfaced in which she spoke of growing up as "a teenager in China, being in a place where there are lies everywhere." Before this, Zhao was often referred to as "the pride of China," like in Global Times, but her past comments led to the Oscars ceremony being banned in the entire country, not streamed anywhere, with CNN reporting that "in Hong Kong, a leading broadcaster opted not to air the Oscars for the first time in more than half a century." China strongly connects media and the entertainment industry with its political and social image, and considering America's more diverse and liberal ideals, this is sure to affect more movie releases — and their profits — in the future.