The Emotional Scene John Krasinski Had Trouble Filming On The Office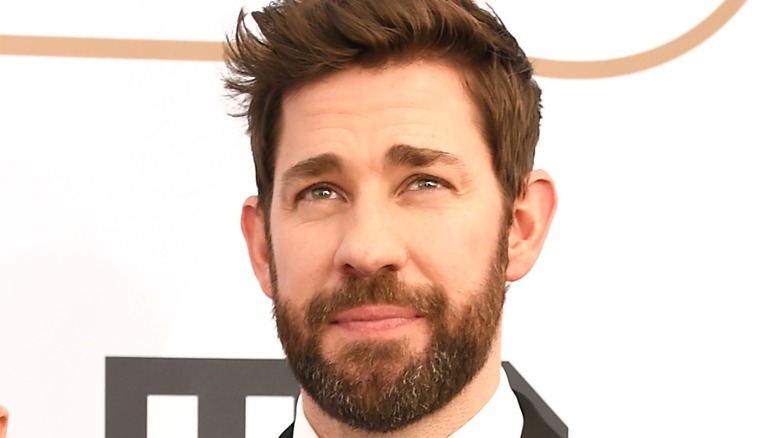 Gregg DeGuire/Getty Images for Turner
"The Office" wrapped in 2013 — closing out nine glorious seasons of workplace comedy. Throughout its tenure, we witnessed the employees of Dunder Mifflin navigate their mindless jobs, love lives, and complicated friendships. The characters were easy to fall in love with, whether it be a lead like Michael Scott (Steve Carell) or more of a supporting star like Stanley Hudson (Leslie David Baker). The viewers fell hard for the cast, but the actors also grew very fond of each other.
Lifelong bonds were formed while filming "The Office" — like the one between Angela Kinsey and Jenna Fischer. According to Entertainment Tonight, the women who played Angela and Pam trade phone calls and texts every day and host the very successful "Office Ladies" podcast. Carell and John Krasinski — who played salesman and sometimes-manager, Jim Halpert — also formed a strong friendship. The men's adoration for one another was very prevalent during Carell's last day of filming in 2011. The actor left the series in the middle of Season 7, and his final episode was difficult for the entire cast to film. It was especially hard for Krasinski, whose recount of the day is rather emotional.
John Krasinski had a hard time filming Goodbye, Michael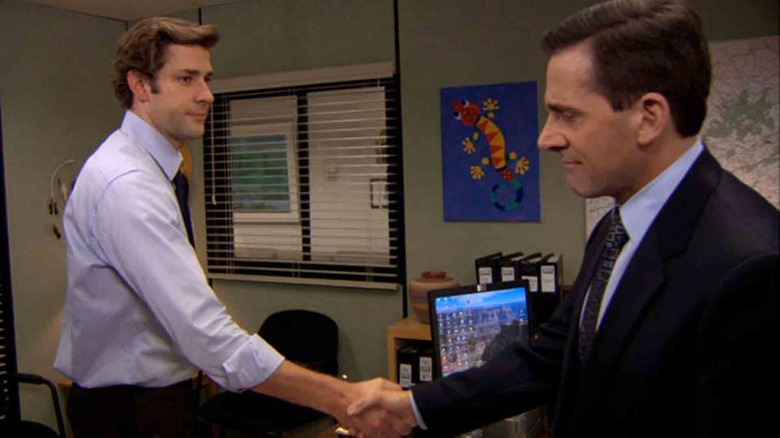 NBC
Season 7 Episode 22 ("Goodbye, Michael") was the farewell episode for Steve Carell on "The Office." Granted, he did appear in the series finale for a guest spot, but Season 7 marked the end of his character's story. In the episode, Michael says goodbye to all of the Dunder Mifflin Scranton branch employees in his own special way. Each farewell is tailored to the relationship between Michael and the specific employee, so we knew the one with Jim would be emotional.
Michael and Jim had an excellent back-and-forth for seven seasons. While Jim didn't seem to respect Michael and his managerial tactics, he eventually grew to love his boss's faults. In the episode, Michael leads his employees to believe he has one more day left in the office, but the current day is really his last. Jim figures this out halfway through the episode and goes into his boss's office to talk to him about it. The two have a wonderful goodbye, where Jim tells Michael he's the best boss he's ever had. Both men are teary-eyed throughout the scene, and it turns out that wasn't just good acting.
Krasinski told Rolling Stone in 2013 that filming that scene with Carell was incredibly difficult. "As soon as they called 'action,' nothing came out but moaning. Two men had a complete emotional breakdown on camera. For the first four takes, I don't think anything was usable," he told the outlet. Krasinski also added that people were "crying all over the place" that day, and he tried to tell his colleagues it wasn't a big deal since they would see Carell again. As hard as he tried to fight it, Krasinski couldn't hold back the tears, and it turned out to be a much bigger deal than he wanted it to be.