Vin Diesel's Baby Groot Voice Is Mostly Unedited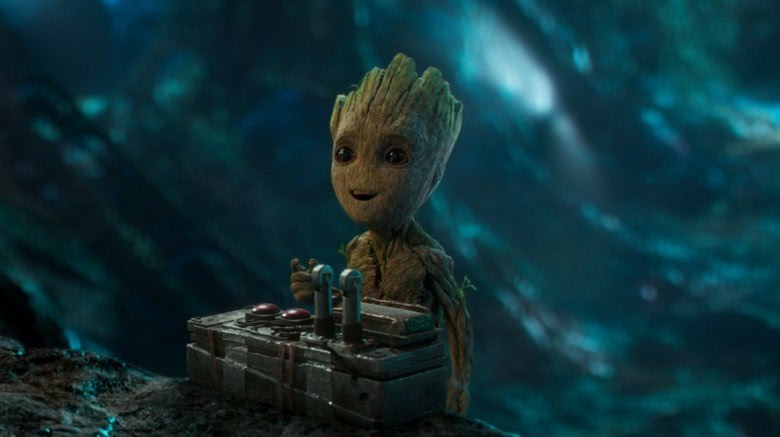 Vin Diesel didn't need much computer assistance to provide the high-pitched voice of Baby Groot in Guardians of the Galaxy Vol. 2.
In a recent interview with Entertainment Weekly, Gunn said that Diesel required "very little" help to embody Baby Groot. "I mean, there's a tiny amount of processing that we do on a few of our characters, but it's very little," he said. "It's mostly just Vin's voice. He's able to, you know, speak in a much higher register than he normally does."
Gunn continued to say, "One of the reasons I was interested in working with Vin is I like Vin's early [work], when I first saw Vin come around in movies like Boiler Room." He added that he would love to see Diesel in different kinds of roles in the future. "He's a real actor! He's become this sort of larger-than-life action figure. But he's actually are a real actor who can do a lot of different things."
This fits with comments Gunn made last year on Twitter, saying, "Vin is an actor capable of doing all sorts of voices."
Diesel, for his part, said that he loved taking on the challenge of playing Baby Groot in Vol. 2, noting that he's always had an innocence. But making him into an actual baby just made it that much more fun. "Groot is such a fascinating character on so many levels," he said. "For this installment, I needed to not only pitch up the performance, I needed to embed even more wonder than he usually possesses... and he always has a wonder about him already. [I'm] so proud of the character and what James Gunn has done with him."
Groot will be a big part of Vol. 2, with Gunn saying that the film is "all about Baby Groot" as the team is forced to step up and babysit him following the loss of his memories and tall stature.
Diesel's high-pitched performance will be on full display when the movie is released on May 5. In the meantime, find out why Baby Groot is more important than you think.