What The Cast Of Casper Is Doing Today
Even more than it does now, Steven Spielberg's name meant instant success in the 1980s and 90s. Not only did his own movies become blockbusters, but he also had his name on several of those decades' biggest hits as a producer. Many of these movies were produced by Universal Studios and Spielberg's company Amblin Entertainment, including all three "Back to the Future" movies. After Universal and Amblin made movies of the old children's shows "The Little Rascals" and "The Flintstones," they next set their sights on the beloved cartoon "Casper the Friendly Ghost." 
The resulting film, 1995's "Casper," was released in 1995 to solid box office, taking in more than $285 million worldwide. It had an even more prolific life on video, becoming a VHS standby for children throughout the '90s and into the 2000s.
Spielberg's stamp of approval as executive producer meant that "Casper" would attract a sturdy cast of acclaimed character actors, up-and-comers, and promising unknowns. In the 26 years since its release, the careers of the "Casper" actors have become an interesting case study into the diverging ways Hollywood careers can head — some have exploded, while others have made like Casper himself and simply vanished.
Bill Pullman (James Harvey)
1995 was a breakthrough year for Bill Pullman. A handsome, albeit ofttimes quirky actor, he had been working steadily for almost a decade up to that point, most memorably in Mel Brooks' "Spaceballs" and as Meg Ryan's fiance in "Sleepless in Seattle." But the combination of "Casper" (where he was cast as Christina Ricci's eccentric father) and "While You Were Sleeping" (where he played Sandra Bullock's love interest) proved that he could be a bankable leading man in addition to a reliable supporting actor. 
The next year, he cemented his popularity by starring in that year's highest-grossing movie, "Independence Day." But after that, he retreated from the spotlight, taking parts for arthouse directors like David Lynch and Wim Wenders and sticking to supporting roles in bigger productions. His return appearance for 2016's "Independence Day: Resurgence" was an outlier for an actor who has otherwise been content to work on a smaller scale.
Although Pullman's days as a marquee movie star were short-lived, he continues to work regularly. His most recent film appearances were supporting parts in "Dark Waters" in 2019 and "The High Note" in 2020. His most recent lead role was in TV, where he starred in the USA drama "The Sinner." Pullman has been the only recurring cast member across that show's three seasons, as a police detective investigating a new crime each season. He'll return for the show's fourth season.
Christina Ricci (Kat Harvey)
Christina Ricci was already one of the most recognizable child stars of the '90s when she played the lead in "Casper," having just starred in two "Addams Family" movies. She followed "Casper" with a few more years of family films like "That Darn Cat," but in the late '90s she would make a massive pivot to adult, arty films, one that would lay the framework for other actors — particularly women — looking to transition from child star to serious lead actress roles. 
Consider Vincent Gallo's "Buffalo 66," Ang Lee's "The Ice Storm," indies like "Prozac Nation" and "Pumpkin" or Don Roos' "The Opposite of Sex" and John Waters' "Pecker." From Woody Allen's "Anything Else" to Wes Craven's infamously-filmed-twice "Cursed" to Craig Brewer's "Black Snake Moan" (where she spends long periods of time half-naked and chained to a radiator), Ricci's films haven't always been enormous hits, but she has crafted a fascinating career never shying away from provocative, edgy material that pushed back against her "child star" origins. Parts in "Casper" and the "Addams" movies simultaneously established her image as a go-to actor for the macabre and supernatural, making her a no-brainer lead actress for Tim Burton in "Sleepy Hollow."
Ricci has continued working steadily throughout the years, though often not at the same budget and prestige levels that she worked at throughout the '90s and 2000s. Ricci will soon be seen in the much-anticipated sequel "The Matrix: Resurrections", which reunites her with director Lana Wachowski after they worked together on "Speed Racer" in 2008. 
She has also done a lot of TV in recent years, starting early in the 2010s with the lead on the short-lived ABC series "Pan Am" and continuing with shows where she starred as real-life figures Zelda Fitzgerald and Lizzie Borden. Her next TV series is the Showtime drama "Yellowjackets."
Malachi Pearson (voice of Casper)
While established young actors like Elijah Wood and Edward Furlong were considered for the part, the role of Casper the Friendly Ghost instead went to a relative unknown named Malachi Pearson. Pearson was 14 when "Casper" was released, but he had already been working in both movies and TV for nearly ten years by that point. He had done voice work on "The Little Mermaid" and had appeared on "Full House" and "Family Matters", though "Casper" would be his biggest and role to date.
"Casper" would also likely end up being Pearson's legacy as a performer, as it's the only lead role he has received. After "Casper," he reprised the role on the film's TV cartoon spin-off "The Spooktacular New Adventures of Casper," which lasted four seasons from 1996 to 1998. Pearson had two more credits after that, and a guest spot on an episode of "Malcolm in the Middle" in 2000, and he has not worked on a movie or TV show since. 
Aside from a handful of websites publishing photos of what he looks like as an adult, there have been no reports on how he's been filling his time, or if he ever plans to return to acting.
Devon Sawa (human Casper)
Devon Sawa's part as the human incarnation of Casper was the beginning of a prosperous time for him as a '90s and 2000s teen actor.
"Casper" was only his second film appearance, after "Little Giants" the year before, and he then followed it with another film where he starred opposite Christina Ricci, "Now and Then" — which became a cult favorite for young women in the '90s and cemented his reputation as a teen heartthrob.
Sawa further embraced that reputation opposite fellow '90s heartthrob Jonathan Taylor Thomas in the 1997 movie "Wild America." From there, he became an edgier kind of teen star, starring in the horror movies "Final Destination" and "Idle Hands," as well as the R-rated comedies "SLC Punk!" and "Slackers," plus playing the titular disturbed fan in the video for Eminem's "Stan."
Unlike his fellow "Casper" actor Pearson, Sawa has never stopped working. He has made six movies in the last two years alone, including the well-received independent horror movie "Hunter Hunter" and direct-to-video sequels to "Escape Plan" and "Jarhead." He most recently filmed the action movie "Gasoline Alley" with Bruce Willis and Luke Wilson. He also has a recurring role planned for "Chucky," a TV series based on the "Child's Play" franchise that will air on Syfy and the USA Network.
Cathy Moriarty (Catherine "Carrigan" Crittenden)
Cathy Moriarty still retains the honor of being the only member of the cast of "Casper" to have an Academy Award nomination. She received that Supporting Actress nomination, of course, for her work as boxer Jake LaMotta's wife in Martin Scorsese's 1981 masterpiece "Raging Bull." She wouldn't get another part for six years after her nomination, however, largely due to recovery time after a 1982 car accident. She returned and remained busy throughout the '90s, however, working on films both big and small. "Casper," where she plays the main villain, is one of the highest-profile films in this run, which also includes well-remembered studio comedies like "Soapdish" and "Kindergarten Cop."
Moriarty slowed down her pace as the '90s ended, and works more infrequently now. The 2021 indie drama "Last Call" marked her first film appearance since the 2017 Sundance breakout "Patti Cake$." She's had more roles on TV, landing guest spots on "This is Us" and the Gianni Versace season of "American Crime Story." She also has the distinction of appearing on three separate shows in the "Law and Order" universe as four separate characters, including two unrelated characters on "Law and Order: Special Victims Unit."
Eric Idle (Paul "Dibs" Plutzker)
Eric Idle has earned a permanent spot in entertainment history for his initial launch to fame, being a member of the legendary British comedy troupe Monty Python. After Python disbanded in the '80s, he began regularly taking parts in American comedies. His role in "Casper," as Moriarty's bumbling attorney, is part of a run of '90s children movies that includes supporting parts in "Dudley Do Right" and "Quest For Camelot."
Idle has largely been absent from American and international screens for the last several years. His most recent film appearance was in 2015's "Absolutely Anything," where he had a voice role alongside fellow Pythons John Cleese, Michael Palin, Terry Gilliam, and Terry Jones. His only screen appearance of any kind since then is the 2016 BBC special "The Entire Universe," which he also wrote. 
Otherwise, his only output has been the autobiography "Always Look on the Bright Side of Life," published in 2018. In January 2021, it was disclosed that he has been writing a film adaptation of "Spamalot," the Broadway musical he created based on "Monty Python and the Holy Grail," to be directed by the show's original choreographer.
Brad Garrett (Fatso)
From a humble introduction as one of Casper's obnoxious ghost uncles, Brad Garrett would go on to have a robust career. His credits before "Casper" were mostly voice work, including a part in the 1990 film adaptation of "The Jetsons." After "Casper," Garrett reprised his role on "Spooktacular New Adventures of Casper," but the year that show started, he had already found the part that would make him famous. Also in 1996 was the premiere of "Everybody Loves Raymond," the acclaimed CBS sitcom where Garrett played Ray Romano's oddball older brother. By the time "Raymond" ended in 2005, Garrett had been nominated for five Supporting Actor Emmys for the show, winning three.
Post "Raymond," Garrett has continued to work consistently, both in front of the camera and voice-only. He's done frequent voice work for Disney movies, playing Eeyore in "Christopher Robin" and having parts in "Finding Dory" and the two "Planes" films. But he has been particularly prolific on TV, leading his own sitcom with the Fox show "'Til Death," which lasted four seasons. From 2018 thru 2020, he played a main role on the recently-cancelled ABC sitcom "Single Parents." Most recently, he starred in a series of Jimmy John's ads that debuted during the Super Bowl.
Joe Alaskey (Stinkie)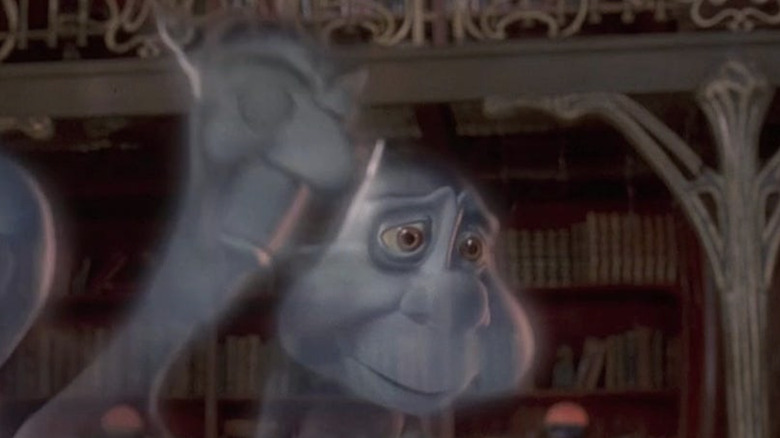 Universal
Joe Alaskey, who plays another of Casper's uncles, was one of the most prolific voice actors of the '90s and 2000s, getting multiple opportunities to voice the most beloved animated characters of all time. 
He got his start in film by voicing Yosemite Sam in "Who Framed Roger Rabbit," and would go on to voice several major Looney Tunes characters, among them Bugs Bunny, Daffy Duck, and Sylvester in direct-to-video specials and the theatrical release "Looney Tunes: Back in Action." He remained the main voice of the Looney Tunes until 2009, when he was replaced by Jeff Bergman.
Alaskey also reprised his "Casper" role in "Spooktacular New Adventures." His most noteworthy animated series credit, however, was his role as Grandpa Lou Pickles on "Rugrats," which he reprised in all three "Rugrats" movies and the spin-off series "All Grown Up!". He continued working on a variety of animated shows until 2016, when he passed away from cancer at the age of 63. His final roles were as the voice of Droopy Dog in five direct-to-video "Tom and Jerry" movies.
Joe Nipote (Stretch)
The IMDb biography of Joe Nipote, the third actor to play an uncle of Casper's, boasts that "Steven Spielberg personally handpicked him" to play the role. He had done no voice work in the time before he was hired on "Casper," mostly earning small parts on shows like "Murphy Brown," "Happy Days," and "Northern Exposure." His most notable role up to that point was a supporting one in "Meatballs Part II." After "Casper" gave him a larger showcase than ever before, he reprised the "Casper" part in "Spooktacular New Adventures," as well as in several "Casper" video games.
Nipote continued voice acting after "Casper," though mostly in video games outside of appearing in one episode of both the '90s "Spider-Man" cartoon series and the 2000s "Justice League Unlimited." Otherwise, in the last two decades he has mostly made small appearances on live-action TV shows like "Curb Your Enthusiasm" and "The Suite Life On Deck." He has also had a long-running career as a stand-up that continues to this day.
Garette Ratliff Henson (Vic DePhillippi)
By the time he was cast as the object of Christina Ricci's affection in "Casper," Garette Ratliff Henson already had a claim to fame for the film's young audience. After a few years of small parts, including one in another Spielberg production, "Arachnophobia," Henson was cast as a member of the titular hockey team in "The Mighty Ducks," as was his older brother Elden. The movie was a surprise hit, and both Henson brothers reprised their roles in the subsequent two theatrical sequels. Garette Henson's part in "Casper" was sandwiched between the two "Ducks" sequels, "D2" in 1994 and "D3" in 1996.
Henson didn't often return to the screen after the "Mighty Ducks" franchise ended. He appeared in just two more movies, one in 1997 and one in 2007, and began instead working behind the camera, first as a gaffer on a few short films and then as a post-production assistant on "The Butterfly Effect." But in 2021, both Henson and his brother returned to screens with a one-episode appearance reprising their "Duck" roles on the Disney+ TV reboot of the franchise, "The Mighty Ducks: Game Changers."
Jessica Wesson (Amber Whitmire)
Jessica Wesson, who plays Christina Ricci's rival, got her start with a seven-episode recurring part on "Home Improvement." That role was notable enough to get her a Young Artist Award nomination, and from there she started doing movies. Her one film credit prior to "Casper" was the poorly-received Melanie Griffith/Ed Harris film "Milk Money." The year after doing "Casper," she played a larger role in another Universal adaptation of an old children's TV show "Flipper," opposite Elijah Wood and Paul Hogan. She received another Young Artist Award nomination for "Flipper."
After "Flipper," Wesson appeared in one more movie, the 2001 comedy "Longshot" written by convicted Ponzi schemer Lou Pearlman and featuring cameos by several popular 2000s pop acts. That same year, she appeared on five episodes of the series "Judging Amy," opposite fellow "Casper" actor Amy Brenneman. She has not acted since 2001, and only has two credits of any kind since then, alongside jobs as a script supervisor on two short films in 2010. She is now retired from the film industry.
Amy Brenneman (Amelia Harvey)
Amy Brenneman first came to the public's attention in 1993, when she landed a major role on the first season of ABC's top-rated police drama "NYPD Blue." She was nominated for an Emmy for the part, and she followed that success by beginning to make movies in 1995.
That year saw her first three film appearances, including a small part in "Casper" as the ghost of Pullman's wife — and the role of Robert De Niro's love interest in the Michael Mann crime classic "Heat". Her part in "Casper" would become a significant one to her personally, however, because it marked the film debut of her writer/director husband Brad Silberling, whom she met when he directed several "NYPD Blue" episodes. Silberling would also give her a cameo in his next film, the Nicolas Cage/Meg Ryan "Wings of Desire" remake "City of Angels," and the two remain married to this day.
Brenneman continued making movies in the '90s before she landed the lead role on another TV hit, "Judging Amy". She received three more Emmy nominations for the show and took film roles much more infrequently during its six-season run. In recent years, Brenneman has remained more involved with TV than movies. She's made a handful of independent films in the last decade, but has had major parts on five different TV shows including "The Leftovers" and the "Grey's Anatomy" spin-off "Private Practice." In 2021, she has two streaming series: The Amazon drama "Tell Me Your Secrets" and the FX on Hulu show "The Old Man" starring Jeff Bridges.