The Star-Studded First Teaser For Red Notice Has Finally Arrived
When do you get when you cross two master thieves and a determined Interpol agent who is dead set on bringing them down? You get Netflix's "Red Notice," the new action-packed movie starring Dwayne Johnson, Ryan Reynolds, and Gal Gadot, which fans can bet will be a nonstop ride of thrills and fun. The film was written and directed by Rawson Marshall Thurber, who has teamed up with Johnson before in both "Central Intelligence" and "Skyscraper," and this time the filmmaker has added even more star power to his latest action thriller.
Fresh off the success of "Free Guy," Ryan Reynolds goes from playing an unassuming hero to one of the most wanted criminals on the globe — a thief named Nolan Booth. Johnson is FBI agent John Hartley, who has been tasked with taking Booth down — however, the two may get more than they bargained for when they both go up against a beautiful master thief named Sarah Black, played by "Wonder Woman" star Gal Gadot.
Today, the teaser for "Red Notice" was released by Netflix, and if what we see in this sneak peek is anything to go by, fans are in for a wild ride.
The Red Notice teaser promises lots of action and explosive thrills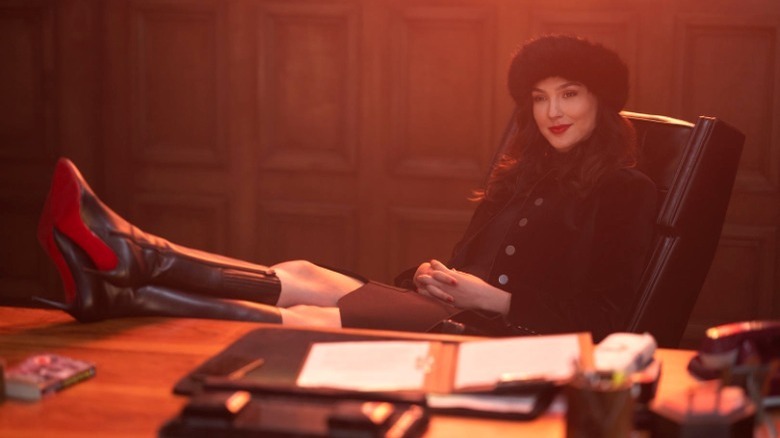 Netflix
The opening of the "Red Notice" teaser displays a series of exotic locales, from the pyramids of Egypt to the Louvre in Paris, so right off the bat we know that this movie is planning to take things to a global scale. We hear Dwayne Johnson's voiceover as John Hartley, who has been tracking the thieves from city to city in an effort to stop them once and for all. A clip shows Hartley holding Nolan Booth (Ryan Reynolds) at gunpoint, and Booth — in true Reynolds fashion — makes a glib remark while complimenting Harley's leather jacket just before the clip cuts to the two of them crashing through a stained glass window.
Gal Gadot's character, Sarah Black, is introduced a moment later as Hartley and Booth enter a room filled with her stolen treasures, the main centerpiece being what appears to be a Fabergé egg. After Hartley tells her she is under arrest, Black dares him to try before effortlessly taking down both Hartley and Booth with her expert fighting skills. Booth and Hartley are forced to team up to bring Black down, although it seems they have their work cut out for them.
The teaser also reveals the trouble that Hartley and Booth seem to find themselves in, including high speed car chases, being trapped in a bull-fighting ring, and escaping a military prison fortress. Fans can check out all the action when "Red Notice" hits Netflix on November 12.