The Real Reason Oscar Isaac Signed On To Appear In The Card Counter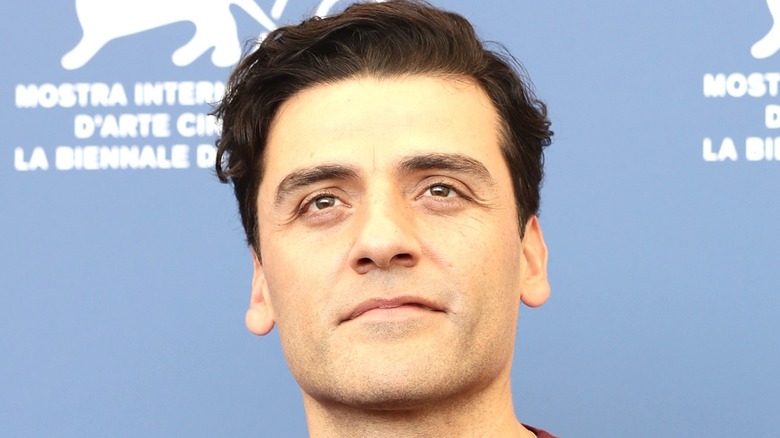 Vittorio Zunino Celotto/Getty Images
Right now, you probably recognize actor Oscar Isaac from a few key roles. For one, you know him very well as Poe Dameron, one of the new generation of protagonists of the "Star Wars" sequel trilogy. Alternatively, you might remember him as Apocalypse in "X-Men: Apocalypse," or as Nathan Bateman in 2015's "Ex Machina." You might even recognize his name as a star in upcoming projects such as the "Dune" remake, Marvel's "Moon Knight" television series, or the film adaptation of the video game, "Metal Gear Solid."
If you are familiar with Isaac's career, you might have noticed that most of his well-known roles are in big-budget mega-franchises where he plays supporting characters, or is part of an ensemble. Aside from his breakout role in the Coen Brothers' "Inside Llewyn Davis," Isaac just hasn't gotten many opportunities to really flex his acting chops for moviegoers. 
However, the tide might turn for this "Star Wars" alumni with his next leading role in Paul Schrader's new film, "The Card Counter." In fact, the real reason Isaac took the role was to break away from his current mega-movie trend.
Oscar Isaac joined The Card Counter just to do a character study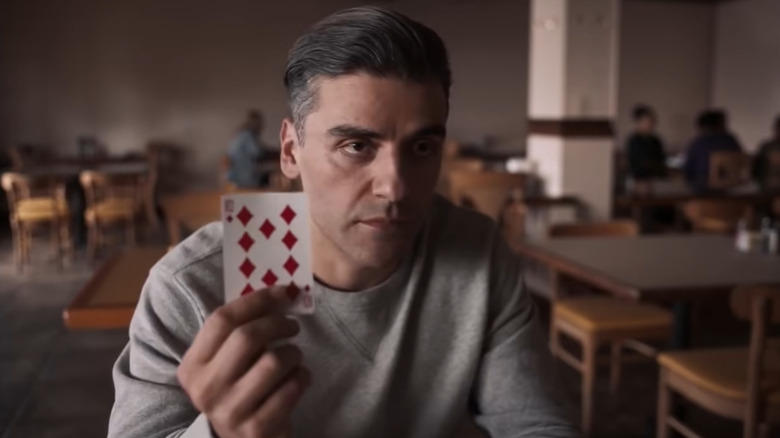 Focus Features
As you might expect of a filmmaker such as Schrader, whose fingerprint is smeared all over projects such as "Taxi Driver" and "Raging Bull," "The Card Counter" is a deeply driven and character-focused story. It focuses on William Tell (Oscar Isaac), a former military interrogator who is framed and imprisoned at the bidding of his Colonel (Willem Dafoe). After his release, Tell becomes a professional gambler, and teams up with characters played by Tye Sheridan and Tiffany Haddish to even the score with his former commander.
In a recent press conference, Isaac was candid about his desire to work with Shrader, specifically for something more character-focused (via Deadline). "I've been in green screen space land for quite a few years and I was desperate to do a character study," Isaac said.
He had even emailed Schrader years prior, looking for a role. When Schrader told him about "The Card Counter" a year later, Isaac went back to his roots to prepare. "In prep I wore a mask," he said. "I went back to my theatre school at Juilliard and worked with one of my favourite teachers there who does a lot of body work. We did three days in a studio where I put on a neutral mask."
The fruits of Isaac's labor already premiered at the 78th Venice Film Festival. However, fans can catch the film's wider release when it comes out in theaters on September 10.