The Bachelorette Season 18 - What We Know So Far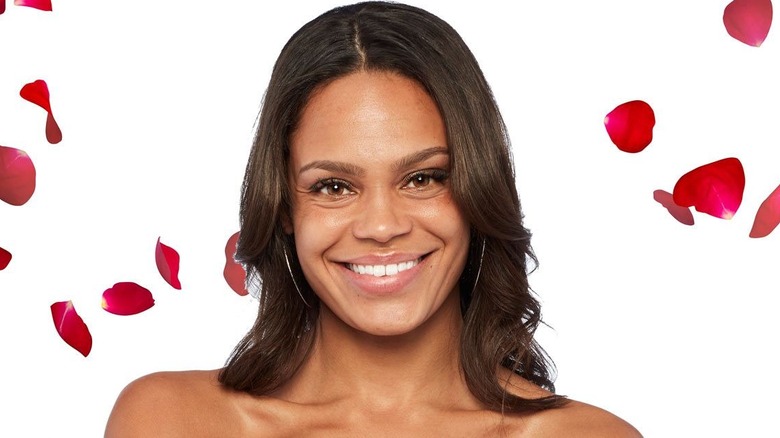 ABC
It's time to start filling out those date cards, because "The Bachelorette" is coming back — again. Yes, it's only been a few weeks since Season 17 of the romantic reality franchise ended in early August with Katie Thurston choosing returning contestant Blake Moynes as her future husband, but Season 18 is already on the way.
The unusually early arrival of a new "Bachelorette" season is a direct result of the surprise announcement that capped the landmark 25th season of "The Bachelor," when it was revealed that not one but two of leading man Matt James's rejected lady loves would headline back-to-back "Bachelorette" seasons. 
With Thurston's season having wrapped up on August 9 and Season 7 of "Bachelor in Paradise" keeping the timeslot warm while we wait, Season 18 of "The Bachelorette" is set to arrive in October — marking the first time in franchise history that two iterations of "The Bachelorette" will air during the same year. ("The Bachelor" has aired two seasons during the same year in the past, but this will be a first for the ladies.) Now, with the season just over a month away, more information is being released and Bachelor Nation is getting hyped.
Who is the Bachelorette and when can we watch?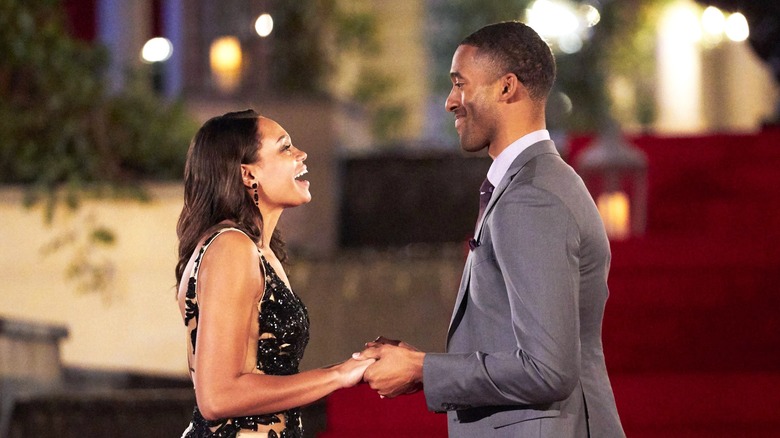 ABC
Michelle Young, a fan favorite who came in second place in the battle for Matt James's heart despite being a late arrival, will be the Bachelorette for Season 18. Her impending arrival was heralded by a short teaser video (that didn't show her full face) that aired during "Bachelor in Paradise" in August. The video asks viewers one simple question: "Are you ready?" The answer had better be yes, because they also announced that Season 18 will premiere Tuesday, October 19 at 8 p.m. on ABC. This week, "Bachelor in Paradise" viewers were treated to the extended full teaser during a commercial break, which shows off Young's full face, stunning gown, and pro basketball moves. 
Young, a former Division 1 basketball player, is a kindergarten teacher from Minnesota. In fact, the reason there are two back-to-back "Bachelorette" seasons is that the show agreed to accommodate Young's teaching schedule. Young explained this on the "After the Rose" finale episode of James's season when both Katie Thurston and herself were announced as the next Bachelorettes. Young will be only the third woman of color to take the lead as the Bachelorette.
Who will join Michelle's season of The Bachelorette?
In July, ABC revealed photos of 35 men contending for the 25 slots to be Michelle Young's suitors. Although the original Facebook post of those 35 hopefuls appears to have been deleted, Us Weekly reported on the announcement and reposted the guys' pics — and fan favorites are already developing on social media. After three seasons filmed in a quarantine bubble due to the pandemic, Young's season will also mark the franchise's return to travel, at least domestically (per Cosmopolitan), which means actual hometown dates!
One person who won't be there is longtime franchise host Chris Harrison, who was ex-communicated from Bachelor Nation after making racially insensitive comments during James's season. Returning to the show after successfully co-hosting Thurston's season are former Bachelorettes Tayshia Adams and Kaitlyn Bristowe. Viewers will have to wait to find out who scores Michelle's final rose but based on positive fan reactions to her teaser video, it looks like Michelle is definitely getting Bachelor Nation's first impression rose.