Sarah Paulson Breaks Her Silence On The American Crime Story Controversy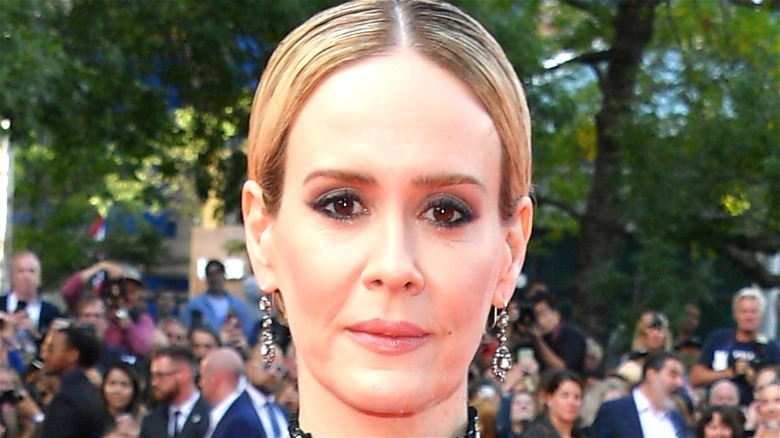 George Pimentel/Getty Images for TIFF
With the recent additions of "American Love Story" and "American Sport Story," Ryan Murphy and co. have expanded the "American Story" franchise. The first season of "American Horror Stories" just concluded, Season 10 of "American Horror Story" just premiered, and the third installment of "American Crime Story" is on the horizon.
"Impeachment" will follow the media frenzy and court proceedings caused by former President Bill Clinton's abuse of power and affair with then-intern Monica Lewinsky. Even decades later, it's still a scandalous subject. And while causing controversy is nothing new for the FX franchise, the upcoming show has received substantial backlash for Sarah Paulson's portrayal of former civil servant Linda Tripp. The source of the outrage appears to be Paulson's choice to don a fat suit and extensive makeup to replicate Tripp's appearance.
An article from Jezebel addressed this, explaining the history of the problematic prosthetics and the harm they've caused. "Fat obscures the actor's real form and face, the implication is that they are erasing their identity as a name-brand actor for the greater good of the project," Hazel Cills wrote. "But instead of truly disguising a celebrity for an immersive role, the fat suit becomes a spectacle that only draws attention to how thin the star really is, upholding the harsh dichotomy between what bodies are acceptable for actors in Hollywood and what bodies are acceptable only as a costume.
With conversations regarding weight, appearance, gender, and race receiving more coverage, it's not surprising that the "Impeachment" transformation faced scrutiny. So, what did Sarah Paulson finally say about her controversial "American Crime Story" costume?
Paulson regrets her Impeachment costume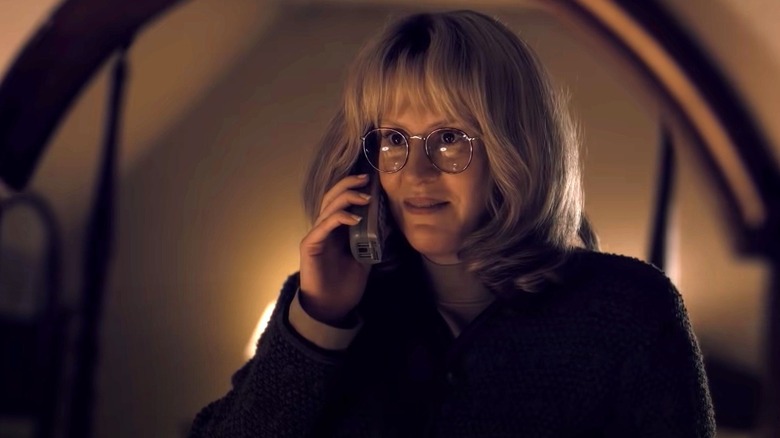 FX
In an interview with the Los Angeles Times, Sarah Paulson said "Fatphobia is real" and that she "regrets" contributing to the narrative by wearing a fat suit for "American Crime Story." 
"It's very hard for me to talk about this without feeling like I'm making excuses," she told the outlet. "There's a lot of controversy around actors and fat suits, and I think that controversy is a legitimate one." 
She brought up the question of how much responsibility "falls on the actor for choosing to [take the role that is] the challenge of a lifetime," pointing to the "magic" of hair, makeup, and costume departments. "Was I supposed to say no [to the part]?" she asked rhetorically. "I also know it's a privileged place to be sitting and thinking about it and reflecting on it, having already gotten to do it, and having had an opportunity that someone else didn't have."
"You can only learn what you learn when you learn it," she added, saying that she "wouldn't make the same choice going forward." On August 26, Paulson tweeted the article, and fans thanked her for addressing the controversy and explaining her commitment to the role. Others said that she had nothing to apologize for, prompting the debate to wage on in her replies.
"American Crime Story: Impeachment" premieres September 7 on FX.