Why Mortal Kombat Legends' Shaggy Reveal Has Fans Howling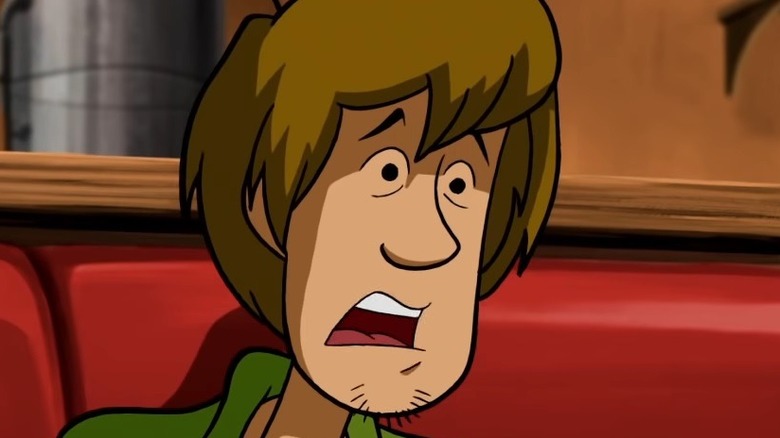 Warner Bros. Television
The recent "Mortal Kombat" games are known for incorporating characters from outside the iconic franchise, such as Freddy Krueger and the Xenomorph from "Alien," into their rosters. With the new animated movie "Mortal Kombat Legends: Battle of the Realms" it appears that a new krossover kombatant has entered the arena. Prepare to meet the brutal fury of ... Shaggy from "Scooby-Doo"?
The opening of the recently released movie presents a very peculiar take on the classic WB logo gag. After watching Scorpion show off some of his moves, the logo itself swings open, revealing a green, glowing Shaggy with Scooby by his side. "Get over here, man!" Shaggy yells as he grabs Scorpion and drags him away.
When co-creator of the original "Mortal Kombat" game Ed Boon threw the opener up on Twitter, it was met with an enthusiastic fan response. However, it's not merely the absurdity of it all that commenters were responding to. The inclusion of Shaggy has fans hopeful that, as Twitter user @SMGxPrincessirl puts it, "The prophecy shall be fulfilled!¡"
Here's why fans are so hyped to see Shaggy popping up in "Mortal Kombat Legends."
The very specific reasons fans have been clamoring for Shaggy to join the Mortal Kombat roster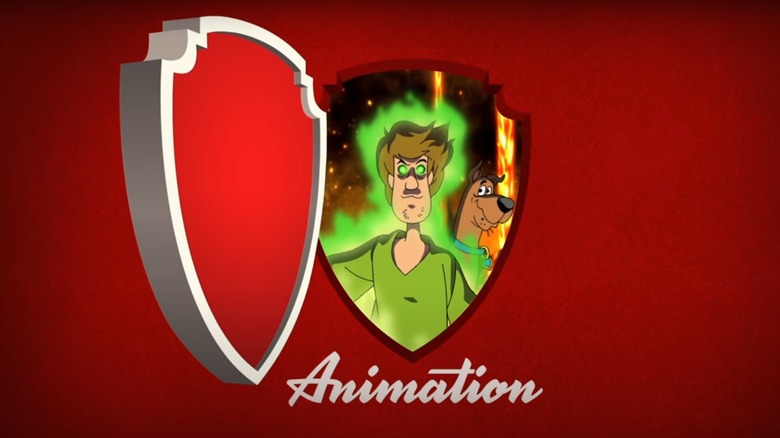 Warner Bros. Home Entertainment
When Ed Boon tweeted the Shaggy logo gag, esports team Panda responded with the question: "I wonder what Ultra Instinct Shaggy's fatality would be[?]"
According to Know Your Meme, Ultra Instinct Shaggy is an internet sensation that got its start thanks to a scene from the movie "Scooby-Doo! Legend of the Phantosaur" where a normally wimpy Shaggy brutalizes a gang of bikers after having his perpetual timidness hypnotized out of him. The comically over-the-top nature of Shaggy's beatdown led an ingenuitive fan (a YouTube user named Midya) to remix the scene. In the "Dragon Ball" universe, "ultra instinct" refers to that moment when one of the characters transforms into a superpowered fighting machine (via Dragon Ball Universe Wiki). Midya added a "Dragon Ball Super" battle song to Shaggy's biker brawl and thus, Ultra Instinct Shaggy was born.
Considering Shaggy is a Warner Bros character, some fans have been clamoring to see his Ultra Instinct form appear in a "Mortal Kombat" game. There has even been, as Michael McWhertor of Polygon notes, a popular fan petition to get him added to "Mortal Kombat 11." That hasn't panned out so far, but with the latest WB logo gag, it seems that hope springs eternal for Ultra Instinct Shaggy to be introduced as a kombatant.
"I'm beginning to believe that this might actually happen," tweeted @rueda_tavo2402, while @Eman419Boyd had an even more optimistic prediction: "Well I guess we know who is showing up in MK12 lol."
We'll have to wait until "Mortal Kombat 12" is released to see if Shaggy makes the cut. In the meantime, "Mortal Kombat Legends: Battle of the Realms" is currently available on VOD.