One Of Us Is Lying - What We Know So Far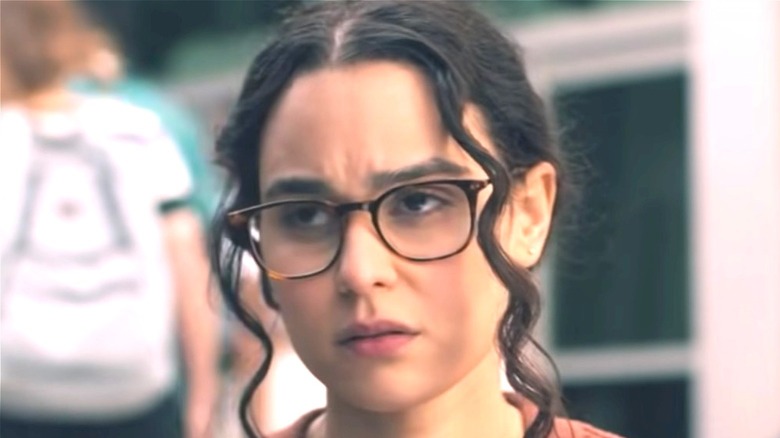 Peacock
Over the years, there have been many young adult novels adapted into movies and television series, with varying success. But one of the most popular genres for these adaptations with both critics and viewers is definitely mystery thrillers, and Peacock is just about to add another show to the mix. The upcoming series, called "One Of Us Is Lying," is based on the novel of the same name by bestselling author Karen M. McManus, about a group of five students who attend detention one day after school, only for it to go horribly wrong. 
Although originally set up to premiere on E!, "One Of Us Is Lying" moved over to the then-unreleased Peacock, becoming the streaming platform's first official pilot order (The Hollywood Reporter). With Darío Madrona of "Elite" as showrunner and executive producer, Erica Saleh of "Evil" executive producing and writing the pilot, and Jennifer Morrison, an actress known for "House" and "Once Upon A Time" who recently jumped into directing, helming the pilot, there's a lot to be excited about (via THR). Whether you've read the book or not, "One Of Us Is Lying" is a thought-provoking mystery that's bound to have audiences addicted.
Here's everything we know so far about Peacock's "One Of Us Is Lying."
What is the release date for One Of Us Is Lying?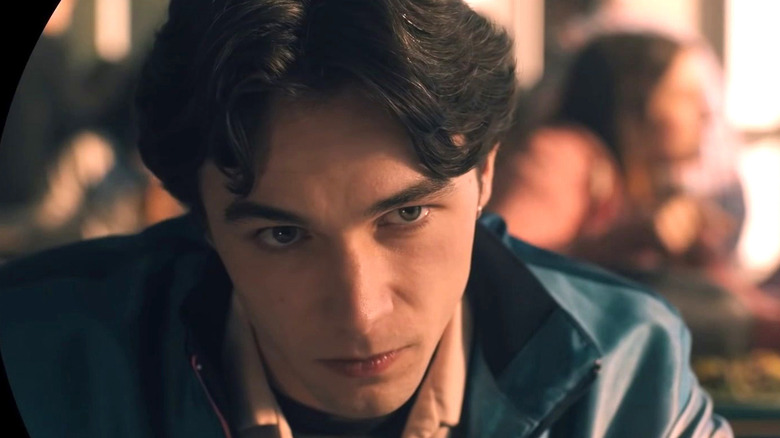 Peacock
As for any official word on when people can expect "One Of Us Is Lying" to drop on Peacock, the official page for the television series confirms that the show will premiere in 2021, but there's no mention of a month or date. Despite that, both TV Insider and Rotten Tomatoes have a release date of October 7, 2021 listed for the upcoming series. It's unclear exactly where the two sites sourced this information as no articles or press releases from Peacock have included an exact date, but hey, we'll take what we can get, right? 
If the October release date is correct, than it's not long until the show will be here. Looking at other Peacock original series like "Dr. Death" and "Departure," it appears that the streaming platform tends to release the entire season of new shows at once, so for any binge watchers out there, that's great news. According to the IMDb page, the first season of "One Of Us Is Lying" will have nine episodes, which will all be around an hour long. So far, Peacock has only released a short teaser for the upcoming series. 
Who is in the cast of One Of Us Is Lying?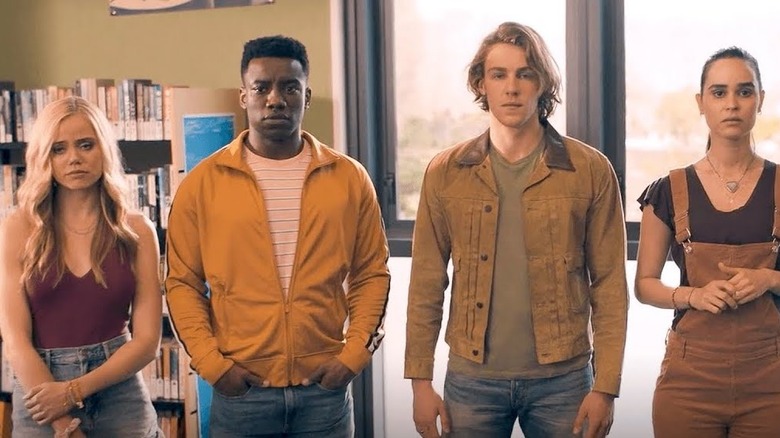 Peacock
In "One Of Us Is Lying," the story centers around five people, but one is quickly killed off at the beginning, kickstarting the mystery that unravels over the course of the show. But the character who dies, Simon, played by "Mark McKenna," looms over the others the whole time. Simon is an outcast at school, and he runs a gossip site about other students with his close friend Janae, played by Jessica McLeod. After he dies from a peanut allergy in detention, evidence suggests that one of the other four teenagers there is at fault. 
The others in detention seem like typical high school stereotypes at first, with the popular girl Addy, played by Annalisa Cochrane, a baseball player named Cooper, played by Chibuikem Uche, a boy with a history of selling drugs named Nate, played by Cooper van Grootel, and the girl with straight A's, Bronwyn, played by Marianly Tejada. 
As the police start investigating the group of students, more of their personal life is revealed, along with any reason they might want to hurt Simon. Playing important supporting roles are Melissa Collazo as Bronwyn's younger sister Maeve, Barrett Carnahan as Addy's boyfriend Jake, Martin Bobb-Semple as Bronwyn's boyfriend Evan, Karim Diane as Cooper and Nate's friend Kris, and more. 
What is One Of Us Is Lying about?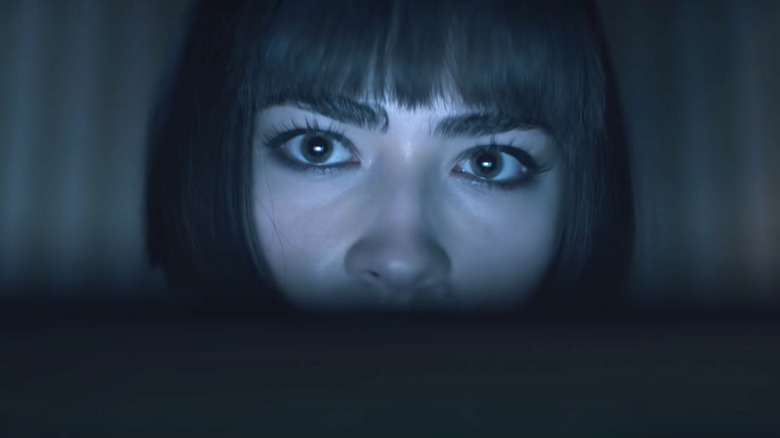 Peacock
In "One Of Us Is Lying," a murder investigation leads four teenagers, who at first seem like your typical jock, cheerleader, troublemaker, and brainiac, to reveal their true personalities, dreams, and faults hidden underneath. One day in detention, Simon dies after drinking a glass of water that has some form of peanut mixed in to set off his allergy. Although he is rushed to the hospital, he eventually dies later that day. The nature of Simon's death causes the police to investigate it as a homicide, with Bronwyn, Nate, Cooper, and Addy the main suspects. Over the course of the investigation — both the official one and that done by the four suspects, all of whom claim they have nothing to do with the death — dark secrets are uncovered, relationships broken and formed, and lives forever changed. 
The upcoming teen mystery series deals with many difficult yet common struggles that teenagers and people of any age deal with, while also breaking down the idea that you can really know anything about someone based on how they look. A twisted version of "The Breakfast Club," "One Of Us Is Lying" might just be the next big series for fans of shows like "Elite," "Dare Me," and "Outer Banks." Watch and see if you can figure out who's really behind Simon's death before anyone else does.