How Much A Hat Signed By Pat Morita Was Actually Worth On Pawn Stars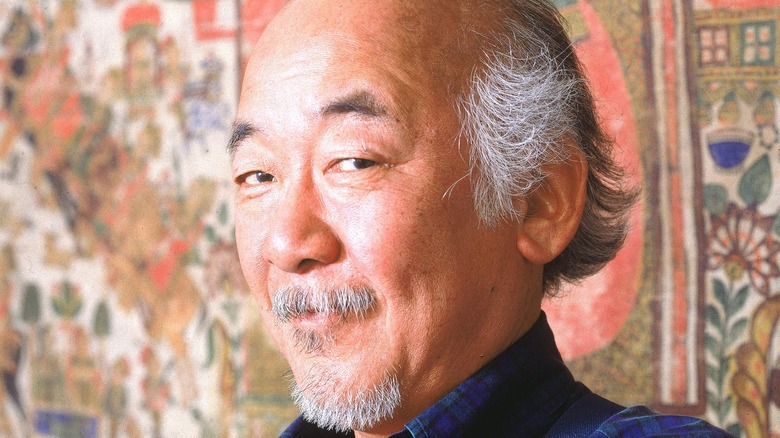 Nancy R. Schiff Getty Images
Thanks to the overwhelming success of the Netflix series "Cobra Kai," "The Karate Kid" renaissance is hotter than ever with a fourth season on the way and a fifth one in the pipeline. It's a remarkable feat, considering the original film was released in 1984 and was followed by two successful sequels before the franchise fizzled with "The Next Karate Kid" 10 years later. No matter the popularity of a franchise, some memorabilia holds its value — and a fan of "Karate Kid" merchandise was willing to find out how much her collection was worth on recent episode of History's "Pawn Stars,"
"The Karate Kid," featured notable performances — but anchoring the film was revered actor Noriyuki "Pat" Morita. Playing the sensei Mr. Miyagi to Daniel LaRusso (Ralph Macchio) after the new teen in town is bulled by Cobra Kai dojo student Johnny Lawrence (William Zabka), Morita's performance was so powerful in "The Karate Kid" that it earned him a Best Supporting Actor Oscar nomination. The nod was a major career achievement for Morita, considering how he was relegated to character roles for much of his career. For many, Morita before "The Karate Kid" was most famous for his recurring turn on the classic ABC sitcom "Happy Days," where he played the loveable restaurant owner Arnold.
With his roles in "The Karate Kid" films and his Oscar nomination cementing his legacy, any memorabilia featuring Morita's signature has grown in value over the years. Sadly, Morita passed away from kidney failure in November 2005 at age 73, making any signed items associated with the actor that much more valuable. Whether those items are worth thousands — or mere hundreds — of dollars was something a collector named Amy found out on "Pawn Stars." 
Rick Harrison had an in-person encounter with Pat Morita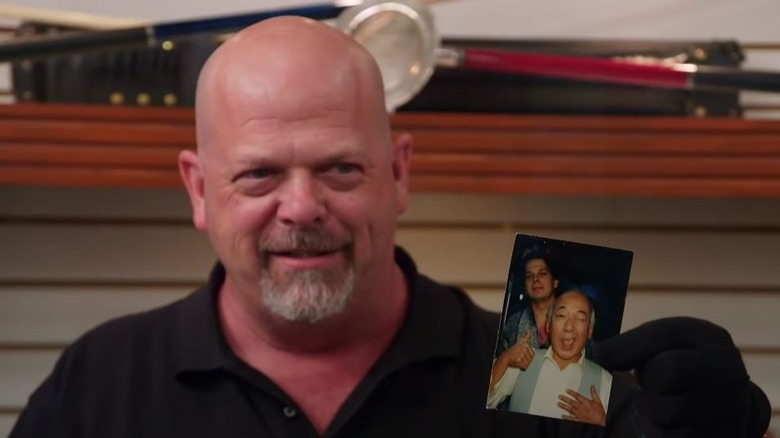 YouTube/History
In an August 2021 episode of "Pawn Stars," Amy decided to part with her cherished items after 20 years. Included in the collection were a Mr. Miyagi action figure, as well as a photo from "The Karate Kid" signed by Morita and Macchio, but the item that sparked the most interest from World Famous Gold & Silver Pawn Shop owner Rick Harrison had nothing to do with "The Karate Kid" at all. Instead, it was a denim hat from Morita's Pat's Hats business that featured the actor's signature.
Harrison, naturally, explained Morita's illustrious career history for the "Pawn Stars" audience, as well as a little personal history. As it turns out, Harrison said that he rented out the pawn shop for use in television and movies in the 1990s, and among the stars who appeared in a sitcom shot there was Morita. As proof, Harrison showed a picture he took with Morita.
The pawnbroker was also aware of Pat's Hats, which a side business owned by Morita. The hat resembled a train engineer's cap, with the notable difference being that it was autographed by Morita on the bill. Amy verified that it was signed by Morita after a comedy show featuring the actor. Amy noted that hats from Morita's business were on sale after the show, but since she liked the denim version, she asked the actor, "I really like the one you have. Do you have any more of those?" In a gracious move, Amy said Morita took off the hat and put it on her head, saying, "It looks better on you."
The verification of Pat Morita's autograph brought good news and bad news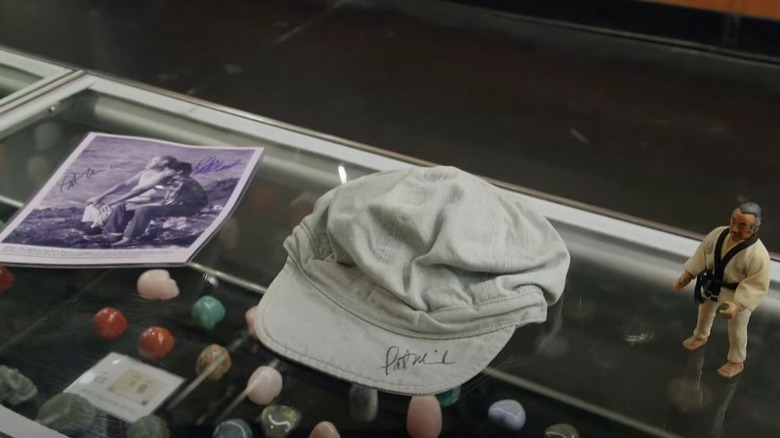 YouTube/History
While Amy had a touching personal story to go with the Morita hat, Harrison still need to verify the authenticity of the signatures. Especially in question was the signed "Karate Kid: Part II" photo, since Amy was told — but did not see — that Morita signed the black-and-white still at the film's premiere.
Amy was asking $1,000 for the items, but since Harrison had no idea how much Morita's signature was going for, he called in his buddy, Steve Grad, to make an assessment. Grad said signed Morita items, since they are rarer, have a "pretty good deal of value if it's on the right piece." After examining the items, Grad had a bit of good news — and bad news — for Amy. He was able to verify Morita's signature on the hat as authentic, but due to inconsistencies with the inscription on the photo, Grad advised Harrison to "stay away" from the item.
As such, Rick was only interested in purchasing the hat with Morita's signature on it. While Grad thought it was "a neat collectible," he told Rick that he'd need to find "a super niche collector" to buy it. Ultimately, Grad placed the value of the signed Morita hat at $100. Left deflated by the Grad's appraisal and Rick's offer of $60 for the item, Amy said that she had to keep the signed Morita hat for its "sentimental value."